Summer Camp For Grownups — A Day At BMW Performance Center West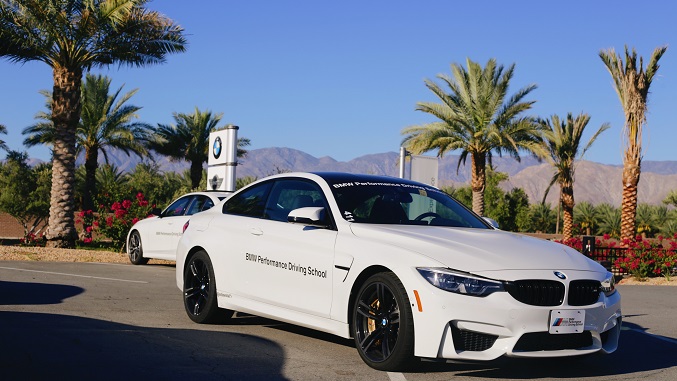 All photos by Peter Nelson
July always makes us think of going to Summer day camp when we were youths. Fond memories of being occupied all day with craft projects and outdoor activities, hangin' with friends, alternating between the hot Summer sun and a frigid, over-air-conditioned gymnasium – it was one of the funner parts of growing up.
As adults we don't really get to experience stuff like this as much, at least not during our normal, 50-or-so-week-per-year work schedule. Though occasionally, opportunities arise to experience the grownup-version of Summer day camp, which are not only incredibly fun, but also double as professional development (for us at WR at least).
Recently, we had the opportunity to take part in BMW Performance Center West's One-Day M School located at their facility attached to the beautiful Thermal Club outside Palm Springs, California. If you're looking for a great opportunity to get acquainted with some of BMW's best chassis, practice and learn performance driving techniques in them, and then hoon them around a world-class facility, this is a great way to do so.
The day's agenda was chocked full of performance and track driving activities, which started with basic classroom instruction, and ended with some spirited lead-follow around Thermal's South Palm Circuit. The cars we went to school in were the BMW M2 Competition, M4, and M5. To say we were excited would be an understatement.
The fact that we had the South Palm Circuit all to ourselves for a good chunk of the day was a pleasure in itself. Combining that with top-level instruction made this was one of the most memorable driving school experiences we've ever had. Here's how it all went, and what to expect if you sign up for one of their programs, especially the One-Day M School.
Classroom Basics
After arriving around 9 AM, and re-energizing after the 2.25 hour drive with a cappuccino and breakfast snack, we headed into the classroom for introductions, agenda discussion, and going over the basics of high performance and track driving. By the way, the two other participants scheduled for the day ended up being no-shows (who in the world would want to miss this?), so it turned into a day of impromptu one-on-one instruction.
Our instructor, David McMillan, has a driving resume that's stacked at least 2 inches thick. He's done off-road racing, raced formula cars at the amateur and pro level, has been an instructor for over 20 years, raced motocross as far back as the 70s, and more. Throughout the entire day he was very friendly, patient, positive, and was receptive to what we wanted to get out of our experience at the BMW Performance Center. He took into consideration that this writer had a little track and autocross experience under our belt, and adjusted instruction accordingly. Though, he still made sure that we understood the topics and concepts that the class covers, and could demonstrate our abilities on track as well.
Classroom instruction covered everything from how to sit in the seat properly and steering technique, to apexes and string theory (steering wheel position vs. gas pedal pressure). Despite our experience, there were some basics discussed that were great refreshers, such as performance driving steering input, how to quickly find the ideal driving position in any car, and the proper hand-over-hand steering input for tight turns.
Hospitality
The staff at the BMW Performance Center West provided excellent hospitality. Everyone was friendly, everyone followed COVID-19 protocol carefully, and the food that was prepared was excellent. There was also plenty of chilled bottled water around to help combat the Coachella Valley desert sun; the mercury reached 115 degrees Fahrenheit by 2 PM.
In the morning, we felt no shame going for cappuccino no.2, and later one for the road in the afternoon; the staff ensured we were comfortable and never hungry (or in our case, never lacking sweet mother caffeine). The lunch they served up was a delicious spread of grilled chicken, seared vegetables, rice, and a dessert (they asked prior to the class if we had any dietary restrictions).
David McMillan demonstrates how to quickly find the proper seating position in an M2 Competition
Getting Acquainted out on Course
Slalom and braking exercises were our first tasks behind the wheel. These served as a way to quickly get acquainted with the M2 Competition and M4's tendencies and characteristics, and also a great way for less-experienced drivers to get comfortable with higher speed maneuvers. Keeping in mind that we'd commented earlier that we were used to trail braking the heck out of momentum cars on track, David explained that these cars didn't like trail braking as much, and did better with braking in a straight line, then gradually feeding the power as the wheel was unraveled.
It was fun getting quickly acquainted with both cars, and it also served as a bit of test drive; we were quickly developing preferences between chassis, and despite being heavier, we preferred the M4 over the M2 Comp as it was more comfortable for our long-legs-long-torso, awkwardly-tall stature. It's one thing to cruise around in these cars during normal street driving; being able to cut through slaloms, thoroughly learn their inputs, and experience how the weight shifts on track was a brilliant first impression. The next activities -the autocross course, skid pad, and South Palm Circuit- were the best ways to get substantial seat time inside of an 8-hour class.
Turning Up the Heat
We were ahead of schedule, so a quick lead-follow session around South Palm Circuit was thrown in. Even at 5/10ths just scouting apexes and pointing out braking points, the M4 was so much fun.
Shortly after, with a feel for how the M2 Competition behaved slaloming between the cones, David put us up against a few more cones and had us take a few runs through the high-speed autocross course. The baby M sliced through technical sections and braked with all the precision, making setup for some smooth corner-exit power a breeze. It really is a great little car: having the same twin-turbo S55 under the hood as the M4 (albeit with slightly-less power) and a shorter wheelbase with less weight makes it fun anywhere, but especially in technical sections of track.
Following a short break in the air conditioning, we got behind the wheel of the M5 to attack the skid pad. We were fascinated by the polished-concrete surface that required no water, and our jaw dropped when we were told how much it costs to re-polish it. The lesson behind this part of the day was to get an idea of what happens when the tails comes out, and how to either safely stop in a controlled manner, or hold it and have a ton of fun.
We opted to take as much time as they'd allow for the latter. It was surprisingly tricky at first, especially due to part of it having an ever-so-slight downhill that is meant to trip participants up. Though, with proper instruction and guidance along the way, we got the hang of it and vastly improved before it was time for lunch. We legitimately could've spent all day rotating between chassis on the skid pad, and sure enough we were able to revisit it a tad later in the day in the M4.
South Palm Circuit in the M5 and M4
After an introduction to the circuit earlier in the day in the M4, we then got in the M5 and headed back for a more thorough session. Following David in his instructor's M5 (all in-car instruction for the day was via handheld radio by the way, per COVID protocol), we started out slow, and gradually turned up the speed and braking pressure every lap thereafter.
Huge props to David for not only keeping an eye on moving swiftly through the circuit, but also keeping an eye on his rear-view mirror, examining our lines and exit speeds. As he increased speed and we were able to get a tad closer, he'd gradually increase it a tad more. Engine temperatures occasionally climbed a bit high, which were remedied with a 3/10ths lap to let the hot v turbos under the hood of the M5s turn back to grey, and extinguish warning messages from our infotainment screens. This is no knock on BMW's engineering; we were hustling around the track with the A/C on in each car, in 110+ degree desert heat.
This was tons of fun, though coming from miniscule momentum cars on track to an M5 took a little adjusting. We were also used to early-apexing and trail braking as much as possible, to the point of hopping over any and all curbing with gusto. We were also told to actually pretty much all of the curbing on South Palm, as it would upset the car in most sections (it was of the gator skin variety, not the fun, smooth variety). With solid instruction containing an emphasis on precision and patience for late apexes, our comfort behind the wheel of the 600 horsepower, 3,900+ lb., all-wheel drive beast grew quickly.
Later, after a break and brief return to the skid pad in the M4 (we seriously couldn't get enough of the skid pad), we returned to South Palm behind the wheel of M4 as a culmination of the day's activities.
This was by far our favorite part of the day. We dug the dynamics, size, and engine tone of the M4 a tad more than the M5, and after getting a lot of seat time throughout the day, we were as prepared as ever to end on a very high note (exhaust pun intended). After a lap to get the mighty S55 engine and the sticky Continental tires up to temperature, the pace was a bit quicker than previously in the M5.
Screaming down the front straightaway reaching 120 MPH, followed by some hard braking at the 5 mark, the M4 easily pulled into turn one's technical late apex, and corner-exit was a blissful experience as we tracked out to the edge of the curbing with a mild touch of oversteer. Getting through the rest of the technical turns until the back straightaway were equally as fun; the increased agility of the M4 over the 5 was quite apparent. Then, the back straightaway came and went quicker than earlier in the day. Finally, the mild trail braking utilized to get the car turned, maintenance throttle to keep a fast, smooth line, and foot to the floor back onto the front straightaway, felt utterly brilliant. The M4 was a total blast. The reward for keeping the final two corners tidy was hearing the S55 scream up to near-redline as it tracked out to a quarter of the right-side curbing (the only curbing that was actually usable) and seeing what our next top speed down the front straight would be. The M4s held up incredibly well in the desert heat; even as we shortened our braking zones and kept hustling through the track at 8/10ths, neither their big twin-turbo I-6s nor their brakes got too hot.
A Fun, Memorable Day
We definitely recommend anyone who's interested in hustling some Bimmers around a track and various handling courses, for either fun or to build skill, go check out the facility's programs. The BMW Performance Center and its staff were world-class, we have no qualms whatsoever about our experience. The agenda of the One Day M School was to build and refine some solid performance driving skills, and we'd say we walked away feeling more competent than before. For more information, visit BMW Performance Center's website, we definitely recommend it. Agenda might vary depending upon time of the year, schedule, class size, and more.
Check out our POV video of the day's activities! Unfortunately our equipment had issues right before heading out on track for the final session; we promise it was a total blast.