Spec MX-5 SimRacing Challenge Driver Profile: #42 Michael Borden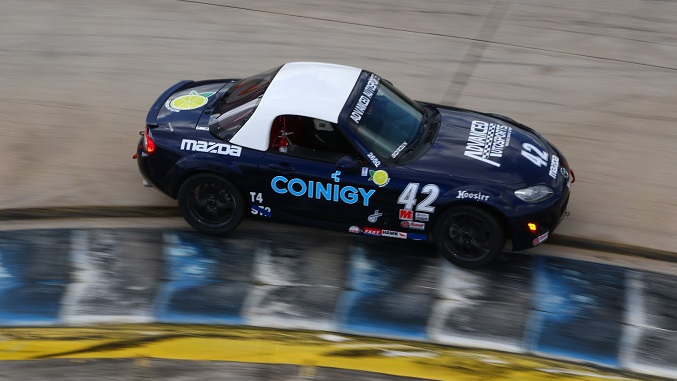 Michael is a returning driver with a solid record of top-10 finishes in 2019 and finished 6th overall in the 2019 Spec MX-5 SimRacing Challenge season. He's a hard-charger and is not afraid to put his elbows out and fight for a position. With a single win in the 2020 season, he's sitting in 3rd, only 8 points behind 2nd place with one regular season event to go.
What's your name and where are you from?
My name's Michael Borden and I was born and raised in Milwaukee, Wisconsin.
What line of work are you in?
I am a software developer at an insurance company (National Insurance Services). I'm on an in-house team that develops a large majority of the applications used throughout the company.
How old are you?
33
What was your motivation for participating in the Spec MX-5 SimRacing Challenge?
Challenging myself by driving with some of the best sim racers around is one of the best ways to improve, and when I can't race in real life it's a definite plus. Aiming for the prize of a weekend in a real Spec MX-5 gets me excited too.
Do you have any previous non-virtual motorsports history?
Yes, I started autocrossing in 2014 with the SCCA here in Milwaukee in a Subaru WRX STI. The next year, I started to do some track days and bought an NC Miata. In the spring of 2017 I attended the SCCA driver's school in a Spec Miata from Advanced Autosports and got my racing license. In 2019, I found another NC Miata and built as much of it as I could in my garage, then had Advanced Autosports do the rest of the work in anticipation of Spec MX-5 becoming a stand-alone class in the SCCA.
Do you feel virtual motorsports is becoming a valid starting point for participation in actual motorsports?
Absolutely. It is obviously different from the real thing but if you treat the simulator like a real driving experience instead of just a video game, you can learn a lot. Things like: how to drive the car, race craft, set up, and keeping calm and focused. While competing in this series last year, I would get more nervous at the start of the Spec MX-5 Sim Racing Challenge races than my SCCA races in real life. The competition was always so intense!
Are you a 'gamer' or do you mostly only sim-race?
I used to be a huge gamer putting in many hours on Halo 1 – 3 online. It was very competitive and I made my way up the ranking systems for both Halo 2 and 3. I also played a lot of RPGs and racing games. Once I started getting into sim racing I started to play less and less of these. I still have a few games I play here and there, but much more of my time is going into sim-racing with everything happening in the real world.
Do you consider sim-racing a game?
That's a tough one. If it simulates real life as much as possible… it's not, but it depends more on your mindset while playing in my opinion. Games like Gran Turismo and Forza Motorsports are not really sims to me, there's just too much you can get away with that is too unrealistic. While all sims have their issues, iRacing is by far the closest you can get to being on a real track in a virtual sense.
How long have you been sim-racing?
While I played Gran Turismo since the day the original came out, I didn't actually start sim-racing until 2012. I really wanted to have clean races without having to join a league and commit to a set schedule. iRacing really drew me in for those reasons.
Are you very active in sim-racing?
I was extremely active when I started. I would spend almost 40 hours a week in the sim for the first few months. When I started to race with the SCCA and Advanced Autosports, I didn't have nearly as much time.
Do you run in many leagues?
Last year the Spec MX-5 SimRacing Challenge was the only series I drove. Now that the quarantine has affected things and there is no racing in real life, I have more time for it again. I am running the SCCA Hoosier Super Tour esports league, and another series with TransAm cars and drivers.
What's your favorite car or series to compete in?
My favorite car is any MX-5 really. Those are all I've driven in real life since I bought an NC in 2015. I daily drive it even through the winter up here in Wisconsin and have won overall at Road America's Winter Autocross multiple times. I drive an ND in the Summer. The NB Spec Miatas from Advanced Autosports are a blast. I did some testing on an NA Enduro MX-5 last year that was like driving on rails and I built my own NC (as mentioned above) that I now race in the T4 class with the SCCA. I plan on converting the NC into a Spec MX-5 next year. Right now I own three Miatas including my racecar, so I am all in on them!
How much time would you say you put into sim-racing?
During Summer it's not much at all since I spend so much time at the track driving, helping with car prep, and coaching. During the winters I normally spend about 15 hours a week in the simulator which has now increased due to the quarantine.
How do you rate your chances of winning the driver development test at the end of the season?
I think my chances are a lot better than last year. I had a rough start with some hardware issues early on, but towards the end, I had some good finishes including a crazy win at Road America. I have high expectations this year, but with so many great drivers it won't be easy.
Anything else of interest you'd like to share?
Not really, racing is life for me right now and it's been that way since 2017. The only other thing I really do is ride a road bike a lot. I put in about 80 miles a week on average, but it is really just to stay in shape for the racecar.