Secondhand Gems: $30,000 Truckin'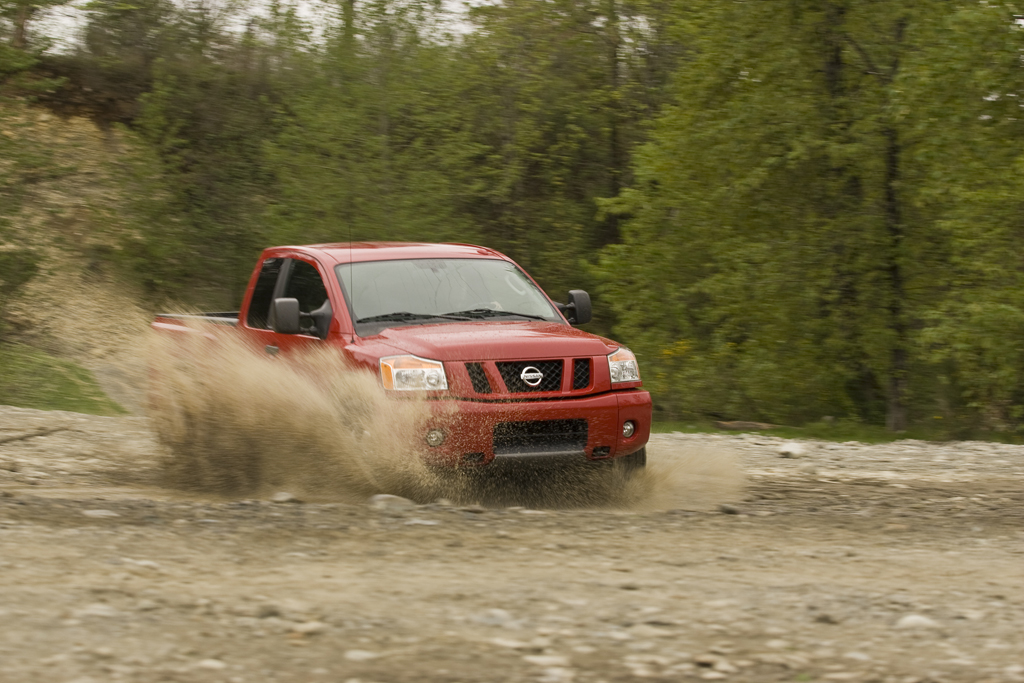 Here is a subject not often discussed at Winding Road, especially in the world of Secondhand Gems: trucks. And that's a shame, because of all the vehicles one can purchase with some history already showing on the odometer, slightly used pickup trucks offer more savings from new than just about anything else on the market. This is especially true now, with fuel prices headed for the outer solar system and many current two- or three-year pickup leasers hoping to bail out of machines that might hit 16 or 17 miles per gallon on a good day. Such is the price for driving 2.5 tons of bad boy truck, but if you can handle $120 fuel stops every couple weeks, there are some deliciously nice two-year-old rides that are selling for almost half their as-new sticker price.
So why don't we talk trucks very often? To be completely honest, they aren't necessarily fun-to-drive machines, at least not in the same kind of Lotus Elise, Porsche 911, smoosh-your-internal-organs-into-your-lovehandles way that we tend to favor.
And that's just fine—trucks were never intended for such duties, though we did offer up some performance praise for the
Chevy Silverado SS and Toyota Tacoma X-Runner
way back in Issue 60. More recently, the Ford SVT F-150 Lightning won a Secondhand Gems trophy in
Issue 74
as a quarter-mile hero, so we're not blind to the fun that can be had behind the wheel of something designed to transport cargo. But none of those comparisons were pickup-specific, and with the intensity and unabashed pride truck enthusiasts carry for their machines, we're long overdue in a Gems feature that focuses on what pickup trucks do best—work hard, get dirty, show off, and haul something other than ass.
We'll consider style, toughness, guts, and since many trucks now serve as primary family vehicles, we'll look at interior appointments as well. That means everything on the list will be a full-blown four-door pickup. Everything will have four-wheel drive, and though flat-out performance isn't a key point in this contest, we'll still be aware of machines that make us grin. We'll stick with half- and three-quarter ton trucks since they represent the majority of truck sales, and we'll showcase both gasoline and diesel options. The following three machines can be had for about $30,000, but take heed die-hard truck fans: we do list an import (even though it's built in Canton, Mississippi) among our group. Please don't murder us.
2010 Ford F-150 SuperCrew
We're not exaggerating when we say the F-150 can be optioned in hundreds of ways, but perhaps that's why it's been the best selling pickup truck since the first passengers flew on the now-retired Concorde. If you're not sure what year that was, think orange shag carpeting, Starsky And Hutch, and lines of people waiting to see ABBA in concert.
$30,000 will net you a well-optioned secondhand F-150, easily an XLT or possibly the Lariat if you're a good negotiator. All tricked out with twenty-inch wheels, heated/cooled front and rear leather seats, rear-view camera, navigation, CD/MP3 player, power moonroof, two-tone paint, massive amounts of chrome, and about 50 other options usually found on high-end luxury vehicles, this was a $50,000 vehicle when new. So if you're not a good negotiator, get practicing because this truck is worth it.
Thusly appointed, the F-150 is a very warm and welcome place for the entire family to ride in comfort and style. A mix of colors and textures with the simple-yet-attractive gauge cluster makes for one of the most inviting interiors currently available in a pickup truck. The center stack can be a bit busy with buttons, and some might find the chrome trim a bit tacky, but for a vehicle that can also tow over 11,000 pounds and actually conquer serious off-road terrain, the accommodations are positively exquisite.
The 2010 SuperCrew is available with the teeny 5.5-foot or the more traditional 6.5-foot bed, but either can be had with pickup bed dividers to partition the cargo space, bed access steps to easily reach things without actually climbing in, and built-in cable locks to secure everything in place. It's these kinds of common-sense, utilitarian features along with everything else that make the F-150 the perfect one-size-fits-all half-ton pickup.
The only downside—and we're really using that term loosely here—are the F-150's engine options. The Lariat comes standard with the top tamale 5.4-liter V-8, but at 310 horsepower it's outclassed by everything else on this list. The smaller 4.6 three-valve engine is standard on the XLT, and we won't talk about the other 4.6 V-8 that gets outgunned by most V-6 mills. Opt for the 5.4 if at all possible (the smaller engines won't do any better at the pump) because it's still a great mill with a strong powerband and honest-to-goodness usable low-end torque.
That engine works harmoniously with one of the best six-speed automatic gearboxes available in a pickup, and with Ford's trailer sway control system, this is hands down the best half-ton rig on the market for towing. Nor is it bad without a trailer; even with heavy-duty off-road suspension the F-150 has a firm yet comfortable ride, and behind the wheel it feels very manageable and confident.
Meet up with just about any other modern full-size truck at a light and the F-150 will see tailgate. But in pretty much every other way it rules the half-ton segment.
2010 Nissan Titan LE Crew Cab
Whereas the Ford offers more chic options than Princess Kate's wardrobe, the full-size Nissan isn't quite as endowed. Four trim levels are offered as either an extended King Cab or a full-on four-door Crew Cab. SE models can be equipped with a longer 6.5-foot bed regardless of the cab, otherwise you'll have to manage with the smaller 5.5-foot cargo bay. Two rear-end ratios are available, depending on whether or not you get the towing package, but all Titans receive the same 5.6-liter, 32-valve V-8 with a five-speed automatic transmission.
This might sound unimpressive, but let's break it down in a slightly different way. Body-on-frame construction? Check. Rugged four-wheel-drive system? Check. Shiny chrome grille? Check. Chrome packages named after the state of Texas, side steps, twenty-inch wheels, and ostentatious badging? Check. 317 horsepower and 385 pound-feet of torque with a 9600-pound towing capacity? Check. Comfortable seating for five professional wrestlers in a wide, chunky cab? Check, check, and check again, and that's just the must-have truck stuff. If we hadn't already mentioned the name, would you have guessed this was a Nissan?
The top-of-the-line LE offers leather seats, navigation, a DVD entertainment system, a moonroof, and though the interior trim isn't quite as snazzy as the Ford, it's still relatively attractive for a truck cabin. With fully loaded examples clocking in for as little as $27,000, it is the bargain of this group.
Outside, the Titan still has a bold, muscular look despite a design that's almost 10 years old. We won't call it appealing, and with such a big cab connected to a short bed, there are some angles at which the Titan looks not unlike something you'd see in a funhouse mirror. But it's somehow satisfying to behold at the same time, and adorned with the Texas Titan Package (we weren't making up that Texas comment earlier) it has just enough chrome to fit in with the other truck on the block.
So, for some of you this all still might sound a tad unimpressive. Consider, then, that despite all these truck-ish attributes the Titan feels surprisingly anti-truck behind the wheel. It's surprisingly quick for starters, easily out-hustling the F-150, and it performs the act with a V-8 aural soundtrack that could land a record contact. On the road it feels smaller than it is, doling out some appreciable feedback through the suspension bits and steering wheel. It turns when you ask it to, without undue play or the vagueness usually found in vehicles not of a sporting nature. It's not a 370Z with a pickup bed—heck it's not even an Altima with a bed. But it is lively and informative on-road while still having serious off-road chops. It makes us grin; we said in the beginning that we wouldn't ignore such attributes, and that's why the Titan is here.
With cargo capacities and trailering capabilities that fall well within the duties of a half-ton truck, the Titan is unquestionably the real deal. Consider it the half-ton truck of choice for those whose other car has two sets of tires—one for the road, the other for the track.
2010 Dodge Ram 2500 SLT Crew Cab
Apologies to the Ford and Chevrolet faithful (especially the Chevy guys, since none of the General's linebackers made our cut), but when it comes to big rigs outside of 18-wheelers, we'll take the 3.5-ton Ram 2500 packing a bona fide Cummins 6.7-liter I-6 oil burner, bolted to a six-speed manual transmission. There's nothing civil about this machine, nothing car-like. It's large in every sense of the word, from its overall length of 20 feet (and that's for the short bed) to its 29.5-quart cooling system capacity. From the driver's seat, mid-size sedans look like subcompacts, and subcompacts look like lunch. It sounds like George Thorogood. It won't fit in most average-size garages. And best of all, we can choose our own gears at will.
The Hemi V-8 is synonymous with Dodge, and rightfully so. But those seeking real power from their Ram pickups turn to the legendary Cummins inline-six that has powered these trucks for over 30 years. The 6.7-liter turbocharged mill in the 2500 only makes 350 horsepower, but its 650 pound-feet of torque is ready at 1500 revs. Imagine, then, engaging the Ram's 5.94:1 first-gear ratio to send power back to a 3.73 rear-axle ratio. The question isn't what you can pull, it's what can't you pull. And the answer is, not much. The Ram will tug 13,500 pounds maximum, but for daily trips towing even half that weight, the 2500 makes much more sense than stressing a half-ton truck.
There is a price for attaining this level of macho. The Cummins clatters very much like the diesels of old, whereas the Ford Powerstroke and the Chevy Duramax diesels are notably quieter and smoother. The big Dodge with its big suspension rides, predictably, like a big truck, though a long wheelbase helps to quell the chatter and general thrashing over rough terrain. Its sheer size makes maneuvering in tight quarters an extreme sport, and though eBay Motors is packed with Cummins cold air kits and engine management tuners that promise mega fuel mileage, don't count on breaking out of the mid-teens for an overall average.
The other price is, well, the actual purchase price. Finding a 2010 Ram 2500 SLT Crew Cab as described with the diesel and the manual will be tough, and then you should expect to pay every bit of $30,000, because average prices on these machines are actually running a couple grand above that figure. Once again, patience is a virtue and your diligence in shopping will be worth it.
For that price you can expect an SLT with cloth seats and a modestly upscale interior. Seating is comfortable fore and aft with acres of legroom, and though fancy gadgets similar to those in the Ford's option sheet are available in the 2500, it will be tough to find them at $30,000. The one option we highly recommend is the rear-view camera, for obvious reasons. Sadly, the best prices might be found by ditching the manual in favor of the six-speed automatic. The manual equipped trucks seem to be in greater demand, which kind of makes us happy and sad at the same time.
Pickup trucks offer some of the greatest secondhand savings in all of motoring. If you can resist the urge to be the first on your block with the latest and the greatest urban machinery, you'll be truckin' in style with cash to spare.