I Want To Go Racing: Getting Started
(Photo Credit: Grant.C)
Racing is something that people tend to think is expensive or only for professionals. Well, truth be told, it's not. For interested beginners, all that's really needed is the entrance fee to your local motorsports venue in your pocket and your daily driver. You don't need any kind of racing experience for many events and you don't need a sports car (although having one can make events so much more fun).
All over the US there are local car clubs and racing enthusiasts that organize and participate in amateur events. Once organizers or race officials know that you're a first timer, they'll often help you out a little extra with your registration, rules and regulations, and understanding of the course or track. Most events are held on weekends or holidays, and in locations that are easily accessible to the public.
Through this new series we hope to help the racing-interested to become actual participants. It doesn't have to be hard, intimidating, or particularly expensive. And, the more you try it the better you're likely to get. In subsequent articles, we'll discuss licenses and certifications that can be earned, series to compete in, and vehicles that stand out on the track.
For now though, let's get acquainted with some of the forms of racing that provide an easy way to get your feet wet in the motorsport pool.
Autocross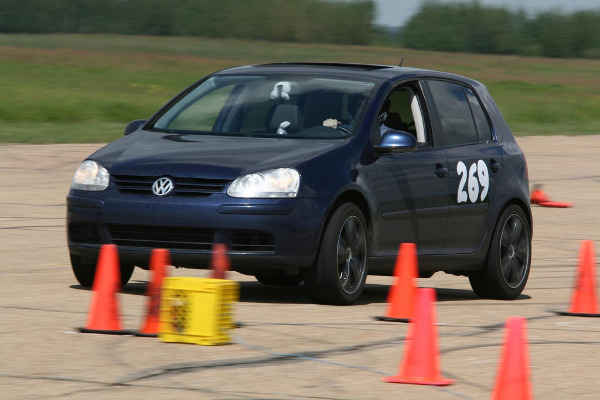 (Photo credit: Grant.C)

Autocross, also called Solo II by the SCCA, is usually a one or two day event, held in large parking lots, small airports, or similarly open and paved spaces. Organizers lay out a "track," usually consisting of orange traffic cones, that drivers are challenged to navigate. These races are based on a time trial style of competition, rather than the more dangerous wheel-to-wheel style racing found in advanced disciplines. Time trial racing also allows for one to drive practically any car on the track. The basic rules are simple; go around the track as fast as you can without disturbing any of the traffic cones (knocked cones incur time penalties) that make up the course. Fastest car wins.
• Typical Vehicles: Mazda MX-5, Mini Cooper, Honda Civic, Ford Mustang, Dodge Viper, Nissan 370Z, Chevrolet Corvette, etc. Really, any good-handling car, in race-ready condition is welcome.
• Equipment Needed: Helmet
• Cost: Approximately $40 to $70 per event

• Contacts: SCCA, AutoCross.com, Midwestern Council of Sports Car Clubs
Road Rally
(Photo credit: RamN)

Road rallies can be Time-Speed-Distance (TSD) rallies which give drivers an itinerary, or clues to a route, along with timings that they have to attempt to abide by. Puzzle rallies, which involve finding and solving clues by driving around a specified route, is the least competitive version of rallying and each race can have a different set of rules. These races are usually held by smaller organizations; however, there are a few national TSD rallies for serious TSD participants.
• Typical Vehicles: Subaru WRX, Mitsubishi Lancer, BMW 3-Series, Volkswagen Golf GTI, Ford Focus, Mini Cooper, Audi S5. Essentially any other car; however, keep in mind that often parts of these rallies can occur on dirt/gravel/mud surfaces
• Equipment Needed: Each race will have its unique equipment list, but we would recommend ralliers always carry a calculator
• Cost: Ranging between $25 to $70
• Contacts: SCCA, Rally Central, List of regional clubs.
Rallycross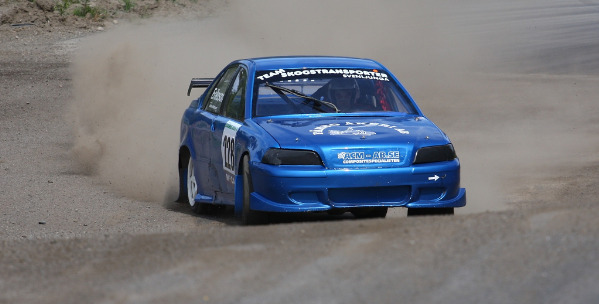 (Photo credit: bengt-re)

Rallycross is great for amateurs as it's an accessible and affordable form of dirt racing. Organizers set up a dirt track using orange traffic cones that racers have to pilot their cars through, as fast as possible. Drivers are judged on several time trials collectively and points get taken off for moving the cones.
• Typical vehicles: Mitsubishi Lancer, Subaru WRX, Mazda RX-7, Mini Cooper, Volkswagen Golf GTI, Audi TT, etc. and basically any other car as well. All cars that run in Rallycross events have to have a hard top
• Equipment Needed: Helmet
• Cost: $25 to $50
• Contacts: SCCA, Rally Central, Formula Rally X, National Auto Sport Association
Drag Racing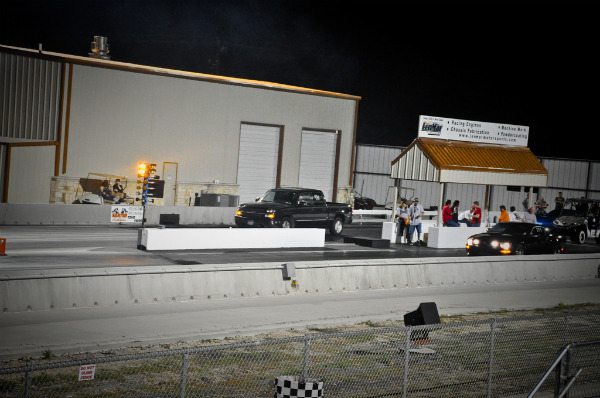 (Photo credit: jtillery)

Thanks to The Fast and The Furious movie series, everyone knows what drag racing on "the streets" looks like. However, in real life there are some legal versions of this kind of racing. (Just in case you've never seen those movies, drag racing is pitting two cars against each other for a measured length of road, which is usually fairly straight.) It tests the car's acceleration and the driver's reaction time. These events are a great place to see and drive cars with after market performance parts.
Drivers keen on trying their hand at drag racing, but don't really want to compete, can take their cars to open track days. These are simply days when tracks are opened up to public where one can pay a small fee and take their car out. Drivers don't really race with anyone; they merely clock and try to improve their own times.
To enter amateur level competitions, without a license, drivers should have a dial-in time that's over 9.99 seconds for the quarter mile, or go slower than 135 miles per hour. At this level, drivers will have to become members of the National Hot Rod Association (NHRA) to be able to complete; as almost all events are organized or sanctioned by them.
• Typical Vehicles: Porsche 911, Mitsubishi Lancer Evolution, Dodge Charger, Dodge Viper, Chevrolet Camaro, Ford Mustang, Chevrolet Corvette, Dodge Challenger, Nissan GT-R, BMW M3, or any other stock or aftermarket fitted vehicles
• Equipment Needed: Like Karting, different tracks call for particular equipment. You could need anything from an ordinary helmet to a certified racing helmet, and possibly have to wear a racing suit, gloves, shoes, and a neck brace.
• Cost: $30 to $100
• Contacts: National Hot Rod Association

Karting
(Photo credit: Laihiu)

There is a wide variety of different kinds of karting. Karts are small, open wheeled vehicles that are driven around a course. They vary greatly: from go-karts, which are like "kiddie" rides for adults and children and are not really racing material, to vehicles that are almost as fast and difficult to drive as racecars. But amateur karts are fun and easy to drive, requiring no prior experience at all to get started.
These events can be held as time trials, wheel-to-wheel races, or endurance races. Different styles of karts can be run for oval tracks, road courses, or even dirt courses. If you've never karted before, try it out at a local karting track, where drivers can pay (approximately $15-$30) for a session. Drivers can even get a league started or join a local league, so that they don't have to buy a kart or driving accessories.
• Typical Vehicles: Karts! You could build or buy a kart but you have to own one to take part in larger, competitive races.
• Equipment Needed: Different karting tracks have various requirements. A helmet is necessary for most racing; racing gloves, racing jackets or full suits, shoes, and neck brace can be mandatory at some events.
• Cost: Races vary between $20 to $70 per event, and buying a kart could cost anything from $500 to $30,000 (don't forget to budget for tires!)
• Contacts: SCCA, International Kart Federation, World Karting Association