Forgotten Racing Heroes: Mike Hawthorn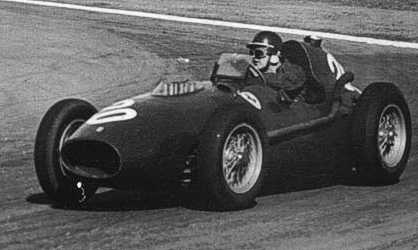 Known as the "Farnham Flyer", Mike Hawthorn was an impressive Formula 1 driver with a tumultuous racing career. Born in April 1929, into a family of racing enthusiasts, his passion for driving was fueled by his father, who ran a garage near the Brooklands circuit in Farnham, Surrey where they modified and primed cars and motorcycles for racing.
Hawthorn studied at a technical college in Chelsea and was an apprentice at a commercial vehicle manufacturer so that he would be well equipped to take over his father's business. In the mean time, his father, Leslie, provided him with motorcycles and later cars to enter local competitions. Hawthorn won his first race in 1950 in a 1934 Riley Ulster Imp bought for him by his father.
In one afternoon at the 1952 Easter Meeting taking place at the Goodwood circuit, Hawthorn's career shot forward from a local competitor to Formula 1 driver. He was up against the famous Argentinian drivers Juan Manuel Fangio and Froilan Gonzalez, driving for the first time ever a Cooper-Bristol single-seater, Formula 2 car that had been given to him by a family friend. Hawthorn won the Formula 2 race from pole position, went on to win in the Formula Libre race, and then came in second in the Formula 1 event.
Until that afternoon at the Goodwood Circuit, Hawthorn would race in everyday clothes and a tie (which would often flap in his face at high speeds). For his debut in the Formula 2 car, he wore overalls and a bow-tie instead, which soon became a fixture under his chin and his trademark. He would later become known as "Le Papillon" (the butterfly), in France, because of his bow-tie and his reputation for loving wine and women as much as he loved racing.
Hawthorn entered the remaining races of the 1952 Formula 1 season and came in fourth in the Driver's Championship. He was immediately invited to drive for Ferrari the next year. In the 1953 season, Hawthorn only won one race at the French Grand Prix at Reims where his Ferrari came in just ahead of Fangio in his Maserati. In Britain, Hawthorn's sudden success was under close study by the British tabloids who accused him of circumventing compulsory military service, for which he had actually been rejected due to a chronic kidney ailment. In 1954 he crashed in a non-championship race in Sicily which resulted in him badly burning his arms and legs. That same year his father was killed in a road accident. Hawthorn only won the Spanish Grand Prix that year and then moved from Ferrari to Vanwall and BRM teams for the next two Formula 1 seasons.
The only race victory he had within those two years was at the 1955 Le Mans 24 hour race where a Mercedes crashed into the crowd, killing over 80 people. Hawthorn, who was co-driver of the Jaguar that won the Le Mans that year, was accused of triggering the crash, though he was exonerated later.
In 1957, Hawthorn returned to Ferrari where he and his co-driver Peter Collins became very close friends. They both loved the fast paced life style that they had and partied together as hard as they raced. The next year, Hawthorn won the Drivers Championship, but by then there was no joy left in it for him. Mid-season, at the 1958 German Grand Prix at Nürburgring, Hawthorn saw his teammate's fatal crash while racing. He was distraught over the death of his friend and he reluctantly completed the season, where he finished one point ahead of Stirling Moss and became the first of many British World Champions.
The win was a controversial one, as Hawthorn was disqualified at the Portuguese Grand Prix of Porto, for pushing his car, against racing rules, across the finish line, to win second place. Stirling Moss took up Hawthorn's cause at the race, and Hawthorn was reinstated as the second place winner for Porto. It was those points that helped him win the Driver's Championship. By now though, Hawthorn had seen and been heavily affected by all the deaths that were part of the sport he loved, and at the end of the 1958 season, he announced his retirement.
However, he continued to drive fast on public roads and a few short months after his retirement, on January 22, 1959, Hawthorn's Jaguar skidded off a wet corner, near his home in Farnham, and he was killed.
Several people believe that Mike Hawthorn would have gone on to win more than one Championship if his flamboyant lifestyle and bad-luck hadn't intervened. However, he is remembered as the man in the bow-tie with enormous talent and capability and a sensational personality that made him loved by all he met and knew.