Flip This Car: 1989 Ford Taurus SHO—Part Five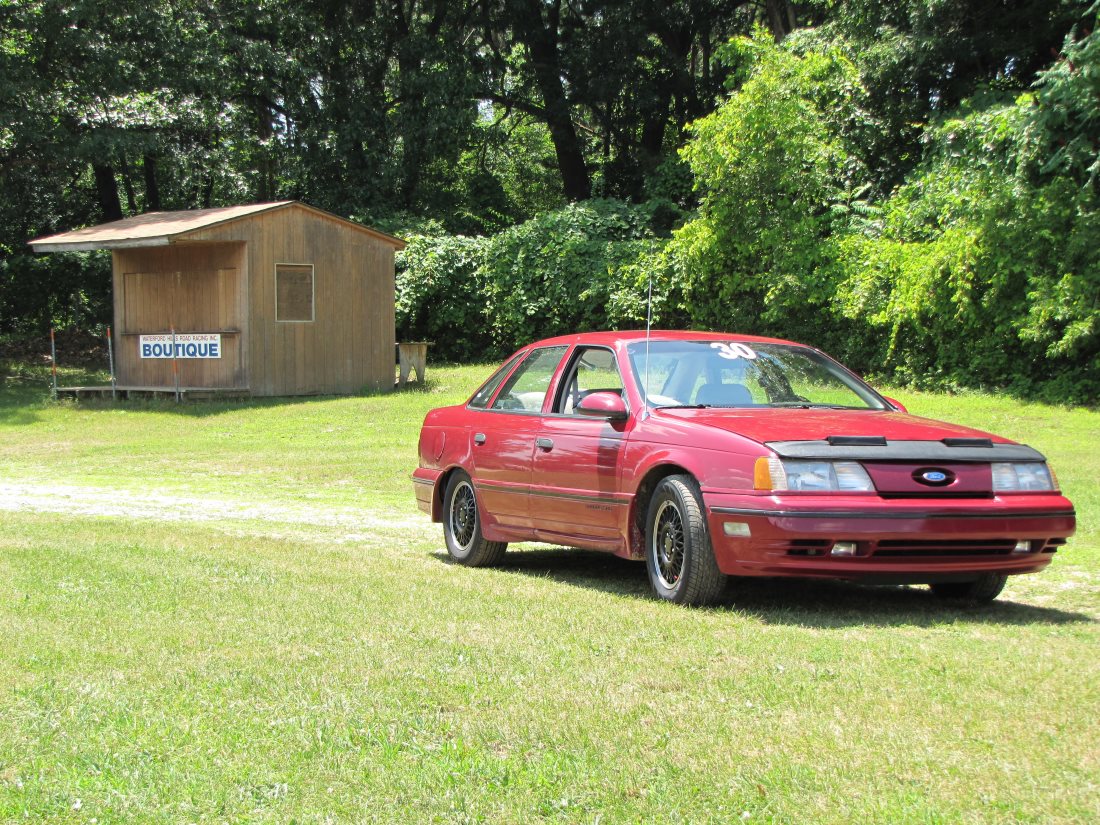 One last hurrah
Life with the Old '89 is winding down, and not just from the standpoint of time. If anything, time is now an ally to this car, as it's long past the point of depreciation from age alone. To that end, many folks in this business think these cars will be something of a collector item in years to come, and judging by some recent 1989 Taurus SHO sales that topped the $10,000 mark (which may have influenced my decision to buy this car), they could be right.
Of course, I'd be fooling myself if I thought the Old '89 was part of that bracket. Age may not be against it, but mileage is, not to mention condition. It's not a lost cause by any stretch of the imagination—the rust belt hasn't totally consumed this ride, but it would take more than a casual effort to right the wrongs dealt by Mother Nature. That's okay, because this old SHO has proven to be an outstanding driver for these past four months, never once leaving me stranded or even suggesting I might be in trouble. Had it been in mint condition, well, I still would've enjoyed driving it. But I'd have also felt guilty about racking up the miles, especially at the expense of vehicle value. As it stands now, I feel very confident in scoring a decent profit on the Old '89—at 160,500 miles it still feels as solid and rattle-free as when I bought it. The engine still pulls with plenty of authority, the transmission actually shifts a bit
better
, and how many sub-$1000 cars can boast a working air conditioner? All I need to do now is get the next cheap car in my sights and start advertising this one, of which both tasks are already underway. And since a few of you have actually expressed interest in taking ownership, contact me at
[email protected]
.
I'm not ashamed to say I had a bit of a sentimental moment a few weeks ago, prepping the SHO for its big week at the national SHO convention in Dearborn. I'd originally planned to take it as-is, with a basic cleanup and nothing else. Two days before the convention I decided that simply wouldn't do—this could be the only major SHO event this machine would ever see, and it deserved something more. So out came the high-speed polisher, sand paper, compounds, touch-up paint, about 20 various cleaners, and 100 variations of detail brushes, all designed to make this car positively glow. Two solid days of work later, as I admired the final product resting in the garage just prior to departure, I marveled at how much shine was still in the finish, how clean the interior was, how much life this car still had to live. It's a cliché for car guys to be tough, and I've played up that image to a degree in the previous four Flip This Car installments. Standing in the garage that rainy morning however, it occurred to me that the Old '89 may never again look as good as it did right then, barring a restoration. I was simultaneously sad and proud, and at that moment it ceased to be a cheap, rusty car. It was my pride and joy, worthy of the world's undivided attention. Melodramatic? Completely. Cheesy? Absolutely. And every true auto enthusiast can attest to having a similar moment in their automotive past, even the most hardened of the bunch. If you've never been a little emotional over a car, then I'm sorry, but you're reading the wrong magazine.
That said, the revitalized '89 carried myself, an extra set of wheels and tires, a bunch of parts for the swap meet, and a case of detailing products to Dearborn, where 99 other Taurus SHOs from across the United States and Canada were waiting. I wasn't there five minutes before several
Winding Road
readers greeted both car and driver with open arms, setting a very positive tone for the entire week. To nobody's surprise, the Old '89 wasn't the prettiest SHO on the scene—in fact a twin to my car arrived with only 10,000 original miles—but not having the best car was of no concern to me at all. Gather a bunch of like-minded enthusiasts, throw them into a parking lot, and good things will happen. I've said it before and I'll say it again; being part of an automotive community when owning an inexpensive performance car is borderline necessity, but it also happens to be a thousand gallons of fun. As for the Old '89, it was rock solid the entire week, and though I passed on the track day due to a torn CV boot, I still managed some on-track antics during the official parade laps. Even when
Winding Road
boss Miersma and Production Editor Snyder killed the air conditioner
during their Thursday test drive
, the SHO magically fixed itself for my 200-mile return trip on Friday, with some help from an extra can of R-134. Yeah, the system has a slow leak.
I was bummed to not take home any prizes; apparently this road warrior wasn't warrior enough to convince the judges despite my epic detailing effort. At the end of the week-long event, however, it didn't matter. I took a car costing less than $1000 dollars to an enthusiast convention, where I met other crazy Taurus SHO owners, received plenty of compliments on the car, sipped the nectar of something called Apple Pie during late-night parking lot parties, and generally had a blast.
I'm also bummed about missing test and tune passes at the drag strip. Don't count me out on that one yet—there was no official drag event at the convention, and various combinations of weather and scheduling have conspired to keep me from other quarter-mile venues. But if I get half a chance in the next few weeks, I at least want to try and confirm what my butt dyno says about this car. I'm thinking a high-14 second pass is doable, which wouldn't be bad at all for a stock 21-year old sedan.
Need a Flip This Car recap? In 35 words or less, I bought the Taurus SHO in
part one
, fixed it for
part two
, road tested it for
part three
, and I prepped it for the SHO convention in
part four
. Part six, most likely the final installment for the Old '89, will be coming soon. That is, unless I experience seller's remorse. This grand old sedan has definitely set a high bar for other cars in this series to reach.
1989 Ford Taurus SHO
Vehicle status: Proud to be a fully-functional, daily-driven, 21-year old sport sedan
Miles driven: 3681
Observed fuel economy (toting an 500 extra pounds and A/C at 80 mph for the convention): 23.4 mpg
Tire tread depth: 7/32 rear, 6/32 front
Broken parts since the last article: Driver side CV boot-$0.00 (had a spare in the parts box.)
Total parts investment to date: $179.15
Got questions for Christopher Smith, ideas (or actual prospects) for the next FTC candidate, interested in making an offer on the current FTC vehicle? Feel free to email us at
[email protected]
.