Buyer's Guide: Replacement Shields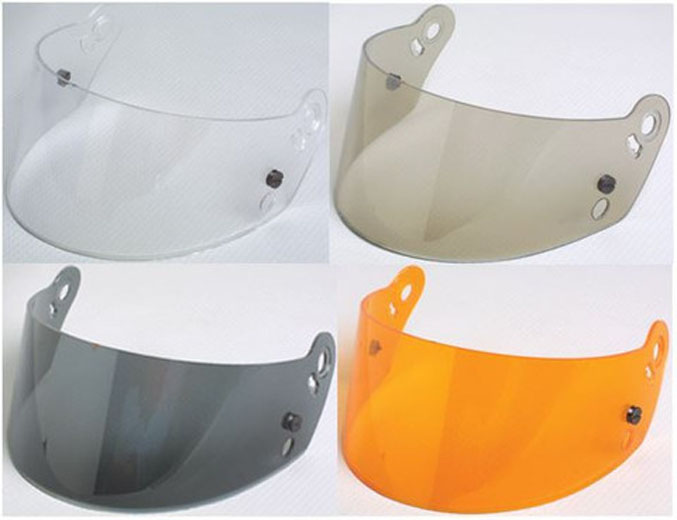 When buying replacement shields for your helmet, it's important to know what characteristics of a shield are applicable for the type of racing you'll be using it in. Without proper visibility, your performance on the track will undoubtedly be compromised. As a supplement to the information found in the helmet buyer's guide, we're going to dig a little deeper into visor shields. You have a number of different considerations to make when buying shields, so we'll be taking a look at what those different options are and how those choices will affect the performance and safety of your helmet.
If you have any other questions about helmet shields you'd like to see answered, let us know.
Should I have multiple shields?
While choosing whether or not to purchase several different visor shields is largely a subjective decision, it's important to remember that you need to have the right shield for the right driving conditions. A darkly tinted shield used during overcast or dawn/dusk conditions will make visibility more difficult and your lap times will likely suffer. Conversely, if you use a shield that is clear or too lightly tinted during bright daytime conditions, you might find that glare becomes an issue. Some choose to keep multiple shields on hand in just in case conditions change, while others choose to use clear or lightly tinted shields in conjunction with sunglasses or other eye protection if the situation calls for it. Whatever you're most comfortable with is ultimately your best bet.
When should I replace a shield?
While there are no set-in-stone timelines for visor shield replacement, it's usually pretty apparent when it's time to ditch your current shield. If you start to notice that surface damage is affecting your ability to see through the shield, it's time to replace it. Cracks and deep scratches will create distortion in your field of view, and many drivers find it difficult to tune out those imperfections, which again can affect both your performance and safety. If you find yourself in that camp, it's probably time to seek out a replacement.
What different types of shields are available?
Standard visors
are available in a number of different tints and colors in order to tailor the shield to the driving conditions you'll be using it with. Removable anti-fog inserts can also be added to your visor shield to curtail fogging problems.
Dual pane visors
provide perhaps the best protection against fogging by the addition of a layer of insulating air within an airtight chamber between the outer insert and the inner-side. These types of visors are generally preferable because vision is left totally unobstructed for the driver.
Mirrored visors
typically block more light than tinted visors, and offer a notable bump in terms of aesthetics.
Iridium visors
offer a coating that provides the most protection in terms of blocking light and glare.
Which style of shield is right for which driving situation?
Clear visors are generally used for night racing or very low light conditions. Amber visors provide a minimal amount of tinting that's ideally suited to overcast weather, while yellow visors are more often used in dawn or dusk driving, as they tend to accentuate track features.
Tinted visors are available in several different levels of tint which are based largely on the amount of glare you want to eliminate during daytime driving.
Mirrored shields typically block out even more sunlight than tinted shields, while iridium shields take it a step further, providing the most protection from sunlight and glare.
Keep in mind that these levels of light blocking should be used as a general rule, and may vary slightly between one manufacture and another.
How much should one expect to spend?
Much like other racing equipment, when it comes to helmet visors, you get what you pay for. Entry-level standard tint visors can be found for under $50, while amber- or yellow-coated pieces are typically closer to $100.
Anti-fog inserts
for standard visors will add about $30 to the final cost. Dual pane and mirrored visors come in at the upper end of the spectrum, and range from about $100 to $150.
How do I make sure it will fit my helmet?
Always
check to make sure
that a particular visor is compatible with a specific helmet. This information can often be found at the visor manufacture's website. Most retailers will list the helmets that a visor is compatible with on the detail page for that visor as well.
What about cleaning?
It's very important to use the correct cleaners when cleaning your visor, otherwise you run the risk of damaging the visor's coating. Mirrored visors require the use of special cleaners like Stilo Visor Cleaner. Avoid using any glass cleaner containing ammonia, as this can harm the anti-scratch coating on the outside of the visor, and the anti-fog coating on the inside of the visor. Using a microfiber towel and either water or the aforementioned visor cleaner, wipe in one direction and repeat until the visor is clean and dry.