Motor Authority Awards 2014 Mercedes-Benz CLA45 AMG Best Car to Buy for 2014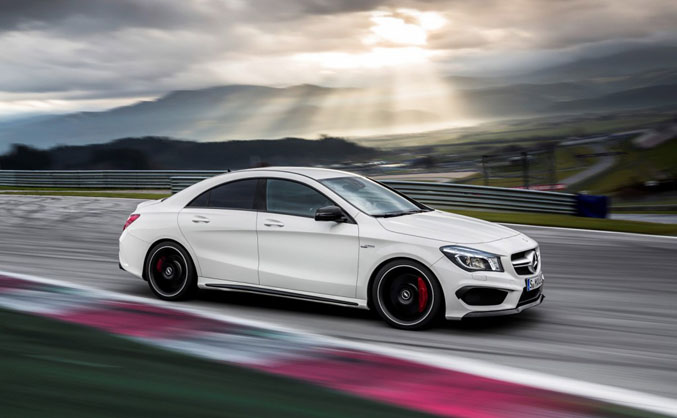 Citing its style, performance, value, and overall footprint, Motor Authority has awarded the all-new CLA45 AMG Best Performance/Luxury Car To Buy 2014. However, despite the CLA45's fantastic driving dynamics, all-wheel drive usability and sedan practicality, Mercedes-Benz will not enjoy the award exclusively.
Motor Authority has high praise for the newest addition to the AMG stable. With its coupe-like styling, hand-built 355 horsepower 2.0 liter motor – the most powerful four-cylinder production engine you can find today – and sub-$50,000 price point, the diminutive sport sedan is "quite possibly, the best all-around, attainable, everyday enthusiast car we've driven." But the story doesn't end there. Motor Authority goes on to remind us that the car gods have been very good to us this year, bestowing upon us the new
C7 Corvette Stingray
, the
Jaguar F-Type
, the
Audi RS7
, and the newest
Porsche Cayman
– a car with which the CLA45 shares this year's award.
Say what?
Referring to the Cayman as "a specialist to the CLA45's generalist", the editors declared that the results were simply too close to award the honor to one or the other. While the Cayman doesn't offer jaw-dropping acceleration – the four-door CLA45 is within a few tenths of its trot to 60mph – its mid-engine balance and uncanny ability to predict what the driver wants exactly when they want it made choosing between the two cars an impossible task.
Still, we can't help but think that if practicality were not a factor, the results might have been slightly different, given the closing statement: "They say money can't buy happiness, but it can sure as hell buy a Cayman, and for us, that's the same thing."