Blog: Mitsubishi Lancer Evolution At Infineon Raceway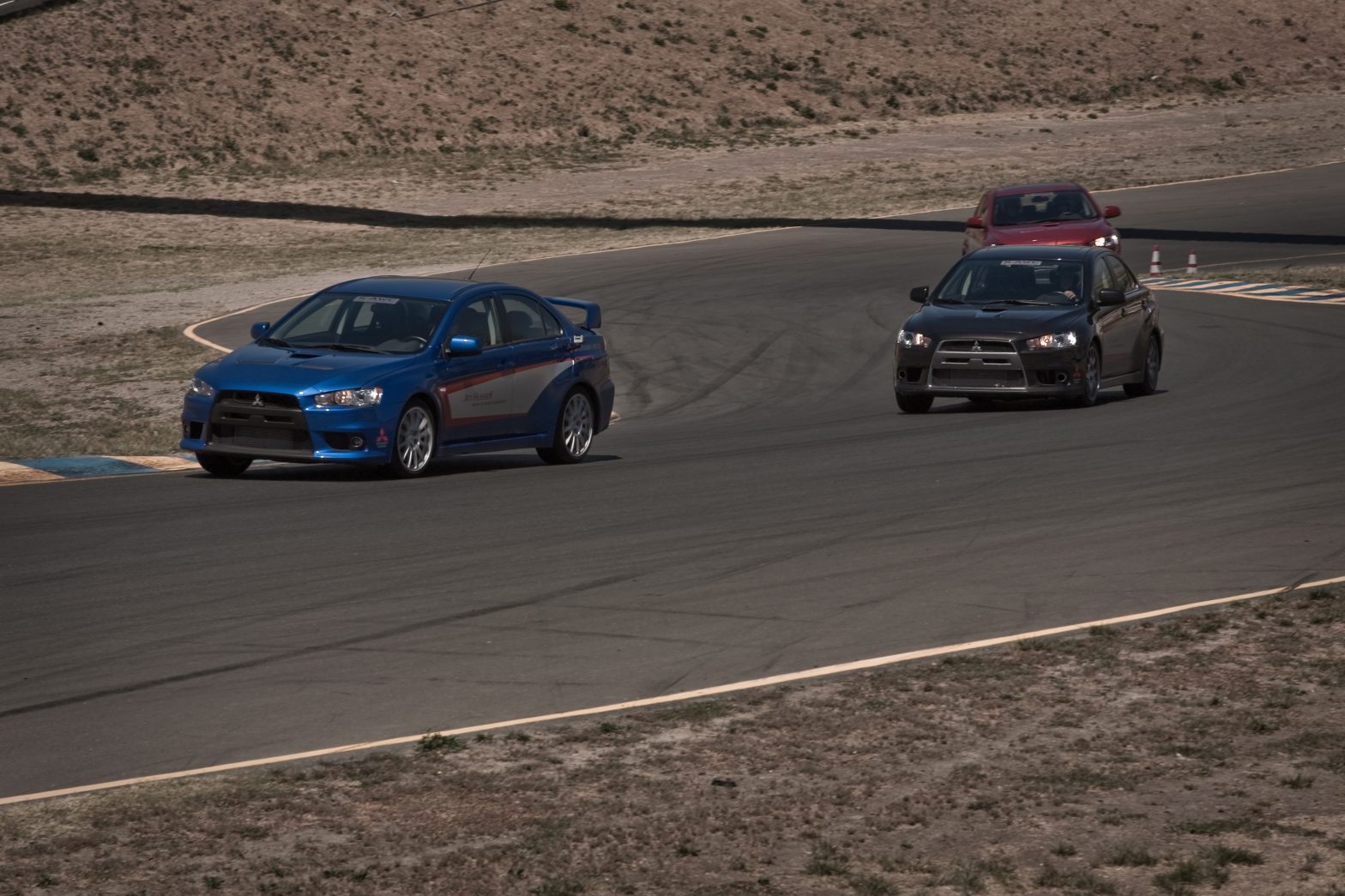 —Sonoma, California
We recently had the opportunity to drive the Mitsubishi Lancer Evolution MR at Infineon Raceway in Sonoma, California, courtesy of Jim Russell Racing Drivers School. Our instructor was the hilarious and talented Paul Gerrard, who, besides knowing a thing or two about bending an Evo around a track, is able to eloquently and anecdotally describe the high-cost addiction that is racing (if you meet him, ask him about the driver who funded his automotive lust by robbing banks). Your author, never having driven a track on par with the famed course formerly known as Sears Point, was understandably thrilled at this opportunity.
After learning about the difference between the All Wheel Control system in the Lancer and the Super All Wheel Control tech of the Evo, we got balaclavas, helmets, and keys to an MR. (The balaclava, as we learned earlier from Mr. Gerrard, can also come in handy when procuring funds for racing). Paul got in the lead car, and we and another driver got into our cars behind him. Before we knew it, we were underway, heading into the first turn.
Paul, who spoke to us via handheld radio (leaving him just one hand with which to pilot his own Evo), started by introducing us to the track, showing us the line, and even managing to continue explaining the manner in which the S-AWC system transfers torque intelligently to the wheels that will benefit the most from it.
Coming into Turn 2, we already began to really see why Infineon is so highly regarded among drivers; besides a healthy variety of turns, the track is more than just a flat circuit. Our fearless instructor instructed us to "aim for the pole" at the top of the hill.
"Roger that," we replied, though not really to anyone, because we were too busy steering with two tightly gripped hands to use the hand radio.
After that, Turns 3 and 3a were about precision, which meant following the line all the way out to the blue and yellow curbing before setting up for Turn 4, which requires a bit of braking. We watched for Paul's exhaust to signal we were to return to full throttle.
Turn 6, a long, downhill left, really started to get our blood pumping. As we began our descent into God-knows-what, Paul's voice came over the radio with something to the effect of, "and you can see that this track has a lot of elevation change." In fact, Infineon has 160 feet of variance from its lowest to highest point. As we straightened out and gunned it toward Turn 7, our ears popped.
After a tight corner, Infineon stretches and snakes through Turns 8-10, where a good driver can build a lot of speed, as long as one hits all the apexes (which, for instructional purposes, were marked with cones). That left us barreling really fast toward the 180-degree Turn 11, which is enclosed one both sides by a concrete wall. Not a sight that builds much confidence, it happened to be one of the easier turns of the track, as our own fear of death kept us from coming in anywhere close to the limit. After that, a small curve left through Turn 12, and we were back at the starting line, pedal to the floor.
Paul Gerrard continued to lead us expertly through the course, though now at a much faster clip. We struggled to keep up with him as he hit every apex, all the while giving driving tips through the walkie-talkie he held in his hand. We were braking harder, turning faster, and, therefore, trusting the car a lot more than we would another vehicle in a different environment. It was as we threw the car as hard as we could around the challenging Infineon raceway that we really began to experience the Evo at its best.
Earlier, Paul had explained this to us. The Evo, he said, performs best when driven hard. When not at its limit, it behaves like one would expect it to. Approaching that limit, we were able to see how the technology, particularly that of the S-AWC system, keeps the Evo stable as the wheels begin to lose grip. The amount of speed and power we were able to carry through corners was particularly impressive. On subsequent laps, we met the monstrous Turn 6 with tires spinning but never going off the line (now convinced that no lava pit, or worse, school zone, awaited us at the bottom). The times we were off, it was clearly from lack of driver precision, and the Evo was always quick to respond to corrections to put it back on course.
On the track, the Evo was a totally different vehicle than we had experienced on the broken Michigan roads last winter. Any harshness from the suspension was nonexistent, and its firmness created superb contact with the smooth tarmac. And noise? What noise? We were too busy listening to our inner ear was telling us to complain about engine drone. Also, for the sake of concentration, we left the transmission in automatic mode. Only once or twice, coming out of a tight, slow corner, did we ever feel that we would have wanted to more quickly shift into a lower gear. Had we more time to familiarize ourselves with the track, we probably would have taken advantage of those big, magnesium-alloy paddles mounted on the column.
After several laps we finished up and brought the cars into the pit lane. The instructors debriefed us as we caught our breath. In those few laps, Paul Gerrard was able to showcase the technology he had explained, we got a good sense of the vehicle, and we had a blast doing it. Were it not for the opportunity to drive the Evo close to the limit in a dynamic environment, the true value of a really intelligent all-wheel drive system like this one would still be something we'd, for the most part, take for granted.
We see how the experience of speed, adrenaline, and a track like Infineon Raceway could be addictive. Now, more than ever, the idea of racing is alluring. So it's off to the bank for us—we need to make a "withdrawal."