Update: 2016 Mazda MX-5 to Debut September 3rd, Engine Sound Revealed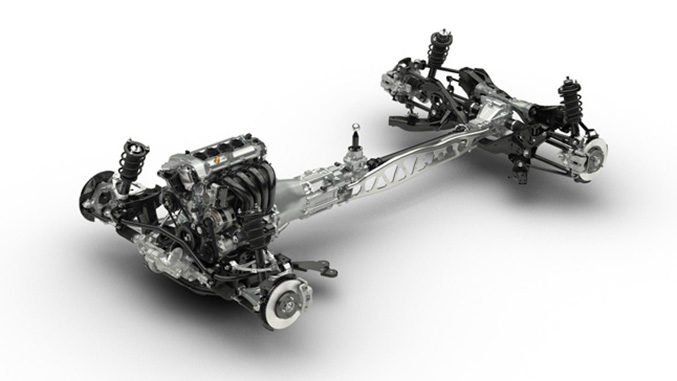 Mazda has been teasing us with tidbits on the long-awaited fourth generation Miata for quite some time now, but it looks like the wait is nearly over. We saw the chassis and drivetrain pictured above at the New York Auto Show
earlier this year
, which promises weight reduction, a revamped multilink rear suspension, and a bump in power among various other upgrades. What we didn't see was a proper debut of the complete car – or even a promise of when that might be.
But all that is about to change. In just two short months, all will be revealed at three simultaneous global events in Japan, Spain, and here in the US at Mazda Raceway Laguna Seca, the latter of which is part of a precursor to the enthusiast-operated event known as
Miatas at Mazda Raceway
, which will be held on September 5-7. The next-generation roadster will be on display alongside an array of heritage, concept and motorsports MX-5s.
In the meantime, Mazda offers us a taste of what the driving experience of the new MX-5 will sound like, complete with turbo noise:
As always, don't forget to check back at the
overview page
for the new MX-5 for the latest updates as we have them.