Update: 2016 Jaguar F-Type Gets Manual Gearbox, AWD with Some Caveats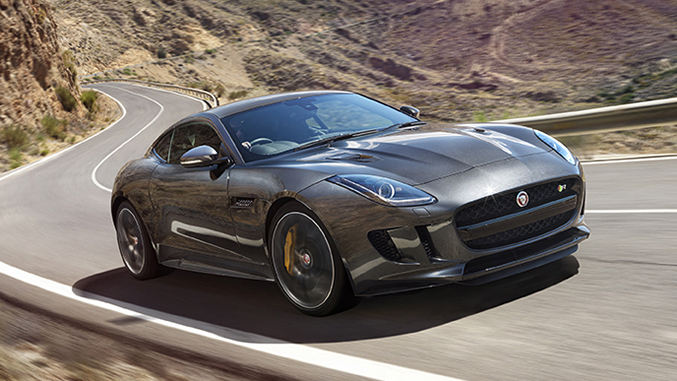 Ahead of the official reveal at the LA Auto Show, Jaguar let it slip that 2016 F-Types would be getting a
new all-wheel-drive option
, and that the F-Type lineup would expand from six to 14 derivatives next year. Now the specifics of that gameplan have been revealed, and part of it includes – shockingly, in this day and age – the expansion of the lineup to include a traditional manual gearbox on specific models.
Rear wheel drive V6 models of the F-Type will now be available with a ZF-sourced six speed manual transmission which has the added small benefit of shaving 22 pounds off the F-Type's curb weight. What about the V8 models? Well, the manual gearbox is only available on rear-drive F-Types, and we also learned that all V8 models of the F-Type will be fitted with AWD as standard from here on out.
We have mixed feelings about that, but Jaguar says that the new AWD system's default torque split is 100-percent to the rear axle to preserve the F-Type's balance and feel, but can also send 50 percent of the power to the front when needed. Hopefully that translates to a seamless integration of the new system for drivers who're quite fond of the current F-Type's propensity to ignite the rear tires around corners. Either way we're sure the additional capability is welcome news to potential customers who live in climates that see real winters. The system is said to add 176 pounds to the Jag's curb weight.
Additionally, while the convertible V8 S and the Coupe R shared the same supercharged 5.0-liter V8 with two separate states of tune (and output) in the past, the 550 horsepower iteration found in the Coupe R will now also be installed in the V8 S convertible (which will now be known at the F-Type R Convertible), bringing its output up from 495 horsepower and 460 pound-feet of torque to 550 hp and 502 lb-ft.
2016 F-Types also see the addition of electronically-assisted power steering, and Jaguar maintains that the move has only been made once they deemed the system at parity in terms of road-feel and communication with the outgoing hydraulically assisted unit. Also in the cards for the new model is an all-new infotainment system with deeper smartphone app integration and the currently optional 770-watt Meridian sound system will now be standard across all models.
When asked if the V8 F-Type models would ever see a manual gearbox option, Vehicle Program Director Russ Varney is quoted as saying, "I think we always say 'Never say never.' It's a bit of a challenge, but there's a lot of things in this car that have been a challenge, and we've risen to those." Check out the video below to see and hear the new models in action.