The New BMW M3 And M4 — There's Solid Reasoning Behind The Elongated Kidney Grille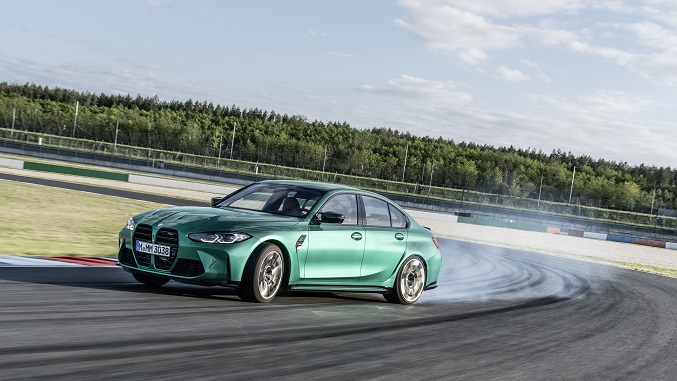 BMW USA
The new G80 BMW M3 and G82 M4 have finally, officially been revealed, and the specs look quite tantalizing.
The engine under the hood of each is the latest in their S-series of inline-six engines, BMW TwinPower Turbo S58, which cranks out up to 503 horsepower in higher-spec Competition trims, and 473 in the base. The power curves look like they'll be more aggressive than ever, with peak torque between 2,650 RPM and 6,130 RPM on the base, between 2,750 and 5,500 on the Competition, which will shove it to 60 MPH in just 3.8 seconds.
The engines is a rigid closed-deck block, with wire-arc sprayed cylinder liners and a forged, lightweight crankshaft. This allows the mighty six to rev to as much as 7,200 RPM, and we bet it'll be aftermarket-friendly thanks to being a study, closed-deck design.
There is also a massive amount of engineering put into this latest generation to improve trackability, with advanced cooling systems, strength and rigidity integrated into the chassis, fully-independent suspension at all four corners, and massive brakes that are ready to take on the hardest of brake zones.
Exterior-wise, the styling (which we don't find to be as bad as other people say it is, in fact we dig it) hasn't really changed from spy and leaked photos from the past couple of months, or the recently posted semi-debut photos. But BMW assures us its all in the name of performance, which is music to our ears.
From the press release:
The front end of the new M3 displays the most aggressive differentiation from its non-M sibling. Like the new M4, the front end is highlighted by the large and deep frameless BMW kidney grille designed to feed the massive amounts of air needed for fulfilling the cooling requirements under the most rigorous conditions. Cooling for the engine and brakes is provided by large additional intakes on either side of the kidney grille. These two-section apertures feature brake air ducts on the inside and air supply for the remote coolant radiators to the outside. At the outer edges of the front bumper, the vertical intakes for the Air Curtains accentuate the width of the car.
There's quite a bit more to discuss and get excited for, like how BMW's xDrive all-wheel drive will now be an option on the M3 and M4, and will include the ability to send all of the power to the rear wheels for enhanced vehicular rascality, rather than having to factor in the front tires bearing some of the brunt. This was previously on the current M8 Competition; we're glad to see it trickle down to the smaller, more chiseled, athletic 3/4-Series.
Check out the full press release from BMW USA here!