Status Of The Fleet: Ford Fleet Vehicle Presentation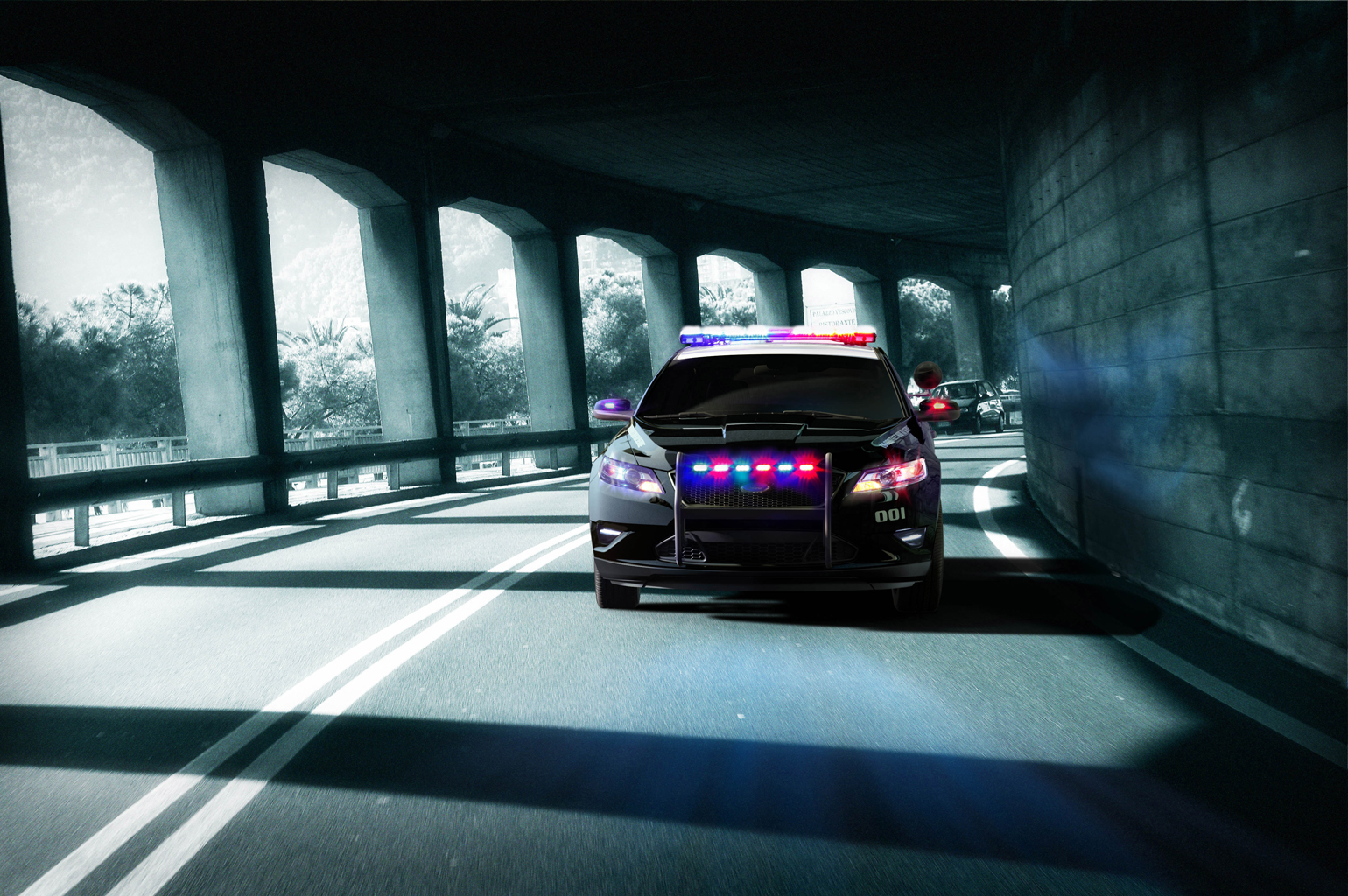 "Fleet" is no longer a dirty word at Ford. That was the focus (we know, bad pun) of the presentation we just viewed at Ford's Dearborn Development Center. Ford was very quick to explain the dominance of the Blue Oval in fleets nationwide, from police departments, to utility companies, to government fleets. The crown jewel of Ford's fleet efforts is the new Taurus-based Police Interceptor, which was on display in Dearborn.
With its panda paint scheme and 'blues n' twos' in full effect, the PI is an intimidating sight. But it's what has been done to differentiate the Crown Victoria replacement from the civilian Taurus that is most notable. Besides the standard heavy-duty cop pieces (radiator, alternator, and wheels to name a few), the PI was designed from the get-go with the needs of the modern law enforcement officer in mind. A donut-and utility belt-friendly seat and seat belts, a column-mounted shifter, a rearview camera, AdvanceTrac stability control, Blind Spot Information System, and Ford's now-ubiquitous SYNC.
Ford has taken several notable steps to make the job of the traffic cop a less dangerous one. For instance, the new PI was designed to withstand a 75-mile-per-hour rear-end collision, which will make sitting on the side of the freeway a less dangerous tactic. For prisoner transportation, the partition between the front and back seats is resistant to both knives and guns.
The show Police Interceptor was open to the press, and after climbing around inside, we were impressed with the amount of space officers had to work with. The demonstrator car featured accessory computers, radios, and assault weapons, yet there wasn't a real feeling of being cramped behind the wheel.
Sheriffs and police chiefs nationwide have quite a decision to make in the near future. With each of the Detroit Three producing police cars, and upstart Carbon Motors entering the fray, police are being catered to like never before.
Although the star of the show was the Police Interceptor, Ford was quick to point out the strides being made in other fleet markets. Sustainable powertrains, including B20 biodiesel, E85 ethanol, gas-electric hybrids, compressed natural gas, and liquid propane gas vehicles are all part of Ford's fleet offerings.
Ford is deadly serious about fleet business being a profitable venture, and the Blue Oval's new and improved lineup is set up with fuel savings and ultimate utility being job one.
Please scroll down for the official Ford press release.
FORD'S 2011 FLEET VEHICLE LINEUP LAUNCHES WITH 100 PERCENT SUSTAINABLE POWERTRAIN TECHNOLOGY
Ford – the industry leader in commercial and government fleet sales – is launching the most comprehensive, fuel-efficient fleet lineup in North America for 2011, reducing fuel consumption and CO2 emissions and helping decrease fleet customers' ownership costs
In 2009, Ford commanded the largest share of U.S. commercial and government fleet sales, 32 percent and 44 percent, respectively
Advanced gas engines, such as EcoBoost™, along with cleaner, alternative fuel vehicles and advanced hybrid and electric technologies are designed to improve fuel economy, reduce carbon footprints and help lower ownership costs for fleet buyers
Ford, the industry leader in commercial and government fleet sales, will offer 100 percent of its fleet vehicles this year with fuel-efficient powertrains and other sustainable technologies – including battery electric, hybrid, natural gas, propane, E-85, biodiesel (B20) and EcoBoost – making the Blue Oval the industry's greenest full-line fleet provider.
"Companies and the government are greening their fleets, and Ford is here to help," said Mark Fields, Ford's president of The Americas. "Ford is driving America with a full line of vehicles featuring alternative fuel powertrains and advanced sustainable technologies aimed at improving fuel economy, reducing CO2 emissions and significantly reducing the cost of owning our vehicles for fleet customers nationwide while providing healthy returns to our business."
Ford fleet leadership
In 2009, Ford commanded the largest share of commercial and government fleet sales, with 32 percent and 44 percent, respectively.
Ford F-Series, Ranger, Econoline, Fusion, Escape and Taurus were the sales leaders in their respective commercial segments. Plus, F-Series, Crown Victoria and Econoline were the top three sellers in the government fleet sector.
"Fleet customers are turning to Ford because our comprehensive product lineup provides solutions for virtually every need," said Kevin Koswick, director of Ford North American Fleet, Leasing and Remarketing Operations. "Plus, the top quality, class-leading fuel economy and strong resale values of our vehicles help reduce vehicle ownership costs and provide a compelling value proposition."
Ford's improving residual values is the main reason. From the 2009 to the 2010 model year, Ford achieved the industry's largest gain in resale values, an increase of roughly $1,300 per vehicle.
Resale value of Ford's three brands at auction rose 23 percent from a year ago to outpace the industry, which saw resale values increase by 19 percent, according to the latest National Automobile Dealers Association auction data. Additionally, Kelley Blue Book recognized the 2010 Ford Taurus and 2010 Ford Super Duty with its Best Resale Value Awards, singling out the full-size car and full-size pickup as vehicles expected to hold the greatest proportion of their value after five years of ownership.
"Rising resale values means more money in fleet customers' pockets when it is time to sell or trade in for new vehicles," said Charles Pecoraro, Ford residual forecast manager. "Combine these savings with lower repair and maintenance costs and lower fuel costs, thanks to our improved fuel economy fleetwide, and the cost to own a Ford product drops dramatically during the life of the vehicle, providing tremendous cost savings for large fleet buyers."
Kraft Foods recently purchased a fleet of 2,500 new Ford Fusions for its national sales staff. At the same time, the world's second-largest food company says it reached a corporate sustainability objective, saving fuel and reducing CO2 emissions.
"Transportation and distribution is one of six sustainability focus areas at Kraft Foods," said John Dmochowsky, sales fleet manager, Kraft Foods. "The company has realized substantial fuel cost savings by switching from six- to four-cylinder engines."
According to the latest EPA report, Ford has improved the fuel efficiency of its lineup more than any other automaker and more than twice that of its nearest competitor.
That translates to real-world benefits for fleet buyers. For instance, if a fleet customer purchasing 2,000 vehicles chooses a 2010 Ford Fusion S four-cylinder, 2.5-liter regular gas vehicle instead of a 2010 Toyota Camry six-cylinder, 3.5-liter regular gas model, the Fusions would result in annual fuel cost savings of $558,000 and a 2,400-ton reduction in CO2 emissions.
Right vehicles for customers at the right time
In communities across America, Ford Crown Victoria Police Interceptors patrol neighborhoods. Ford Econoline ambulances transport patients to the nearest hospitals. Ford Super Duty chassis cabs are upfitted as tow trucks, utility repair vehicles and snowplows. And chances are, most taxis are Ford vehicles.
"Today, customers have so many different needs, there is no 'one product fits all' solution," said Len Deluca, director, Ford Commercial Trucks. "Ford's plan is to continue offering a complete range of high-quality, fuel-efficient vehicles designed and engineered to help our fleet customers significantly reduce their vehicle ownership costs."
Ford will offer a new Police Interceptor sedan when production of the Ford Crown Victoria ends in 2011, maintaining Ford's 15-year leadership in the police fleet market.
The new Ford Police Interceptor will be available with a highly efficient 3.5-liter V-6 engine that delivers at least 263 horsepower and E-85 compatibility. That is 25 percent more efficient than the 4.6-liter SOHC V-8 offered in the current Crown Victoria Police Interceptor. It also will be offered with an all-new 3.5-liter EcoBoost twin-turbocharged, direct-injection V-6 that will deliver at least 365 horsepower and 350 ft.-lb. of torque across a broad rpm range.
Later this year, Ford will reveal an additional Police Interceptor utility vehicle. This pursuit-rated vehicle will offer departments another choice to best meet law enforcement's needs.
The Transit Connect – launched last summer and named 2010 North American Truck of the Year – filled an unmet need in the marketplace by providing small business owners with a smaller, more fuel-efficient vehicle choice. Ford is building on the success of that product by offering a pure electric-powered version of the Transit Connect later this year.
Additionally, a Transit Connect Taxi comes to market later this year with compressed natural gas (CNG) or propane (LPG). Ford has been a leader in the taxi business for decades and was the first manufacturer to introduce gas-electric hybrid-powered taxis into North American fleets with the launch of the Ford Escape Hybrid in San Francisco and New York City in early 2005.
The all-new 2011 Super Duty, in dealer showrooms now, is available with diesel and gas engines that have flexible fueling options. The 2011 F-150 will be available with EcoBoost engines, and E-Series will be offered with engine prep packages that allow conversion to CNG or LPG. In addition to the hybrid models, the top-selling Escape and Fusion also will be available with E-85 fuel capabilities.
"Advanced gas engines, including EcoBoost, along with cleaner, alternative fuel vehicles and advanced hybrid and electric technologies are an important part of Ford's fleet lineup," Fields said. "Ford is committed to delivering great products, a strong business and a better world."
# # #
About Ford Motor Company
Ford Motor Company, a global automotive industry leader based in Dearborn, Mich., manufactures or distributes automobiles across six continents. With about 198,000 employees and about 90 plants worldwide, the company's automotive brands include Ford, Lincoln, Mercury and, until its sale, Volvo. The company provides financial services through Ford Motor Credit Company. For more information regarding Ford's products, please visit www.ford.com.