Spec MX-5 Announced as SCCA National Class for 2024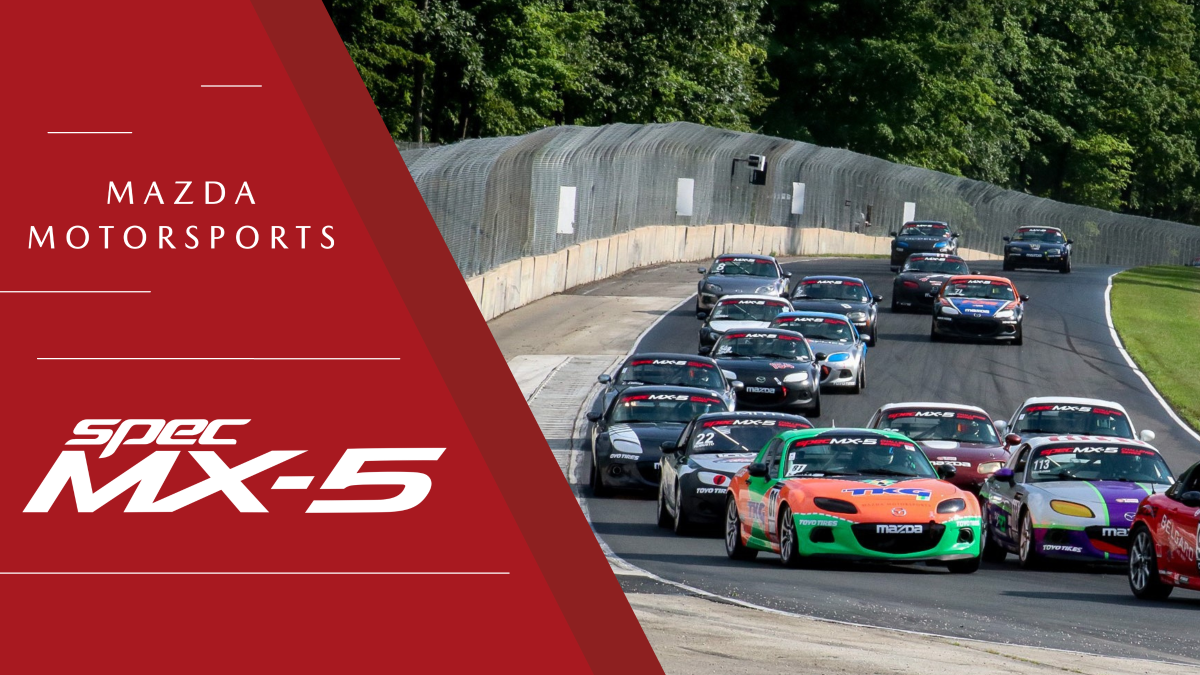 In a groundbreaking development for club racers across the United States, the Sports Car Club of America (SCCA) has officially embraced the Spec MX-5 Challenge Series, making it a national class within the organization starting in 2024. This move signals an exciting chapter for club racing in America, offering a dynamic spec-platform for drivers to hone their skills and pursue their dreams of professional racing.
Founded by Tom Martin in late 2017, Spec MX-5 Challenge Series presented by Toyo Tires has consistently distinguished itself as "THE Driver Development Series." Over the years, it has served as a stepping stone for numerous drivers who aspired to climb the club racing ladder and eventually transition into the ranks of paid professional racers.
The inception of SMX was born out of a necessity to bridge the gap between Spec Miata (NA/NB-platform) and IMSA's prestigious Idemitsu Mazda MX-5 Cup presented by BFGoodrich® Tires. After careful consideration and collaboration with Sean Hedrick (MiataCage & Chair of the Spec Miata Advisory Committee) &  Mazda Motorsports, Tom Martin chose the 3rd generation Mazda MX-5 (NC-platform) as the ideal car for his new spec racing series.
With Mazda Motorsports providing invaluable technical guidance, Martin embarked on the journey to create the Spec MX-5 Challenge Series. This initiative opened doors for both young and experienced drivers, offering them a spec-platform to gain essential experience before taking the leap into professional racing. Tom Martin emphasized the series' unique appeal, stating, "We have worked hard to make Spec MX-5 a special class, with benefits and personal attention that attract a variety of drivers into a class with excellent competition and camaraderie. The recognition of SMX as a National class is a great next step toward one of the great classes in SCCA racing."
Josh Smith, Business Development Manager at Mazda Motorsports, emphasized the significance of this move, stating, "This is a big milestone for Mazda Motorsports' grassroots racing program. Becoming an SCCA National Class opens up participation to more drivers at more tracks and fills a gap between Spec Miata and MX-5 Cup. Spec Miata is hugely successful, but as parts are harder to come by for the NA and NB models, maintaining the cars will become more expensive. We want to ensure the future of Mazda's popularity in grassroots racing and we're backing it up with a seven-figure investment in SMX."
One of the remarkable aspects of the Spec MX-5 Challenge Series is its inclusivity. It provides a pathway for both novice and seasoned club racers, whether they see it as a destination series similar to Spec Miata or a vital step toward competing in the Idemitsu Mazda MX-5 Cup presented by BFGoodrich Tires®. With participants ranging in age from 15 to 68, the SMX has truly opened its doors to racers of all backgrounds and experience levels.
Spec MX-5 Challenge Series Manager Justin Cornelison reflected on the series' growth and impact, stating, "Since I met Tom last year and took the reins of Spec MX-5 Challenge Series, it's been an honor and a privilege to not only be a part of the series but also to help shape and elevate what club racing should be. Seeing our 2022 National Champion Thomas Annunziata have incredible success at the next level in both MX-5 Cup & Trans Am, plus the progression of our current racers, makes me feel incredibly proud."
Having previously worked in FIA Formula 2 & FIA Formula E, Cornelison's key focus of the series has been the development of both drivers and teams, preparing them for the professional racing arena. As they transition from a standalone series to the SCCA's adoption of SMX as a national class, this commitment to development remains unwavering.
Tom Martin's vision for the Spec MX-5 Challenge Series has become a reality with SCCA's embrace of the series as a national class, marking the first such adoption since Spec Miata in 2006. SMX has experienced a meteoric rise in popularity and interest nationwide. Martin is excited to pass the baton to the SCCA, confident that this partnership will usher in a new era of club spec-racing in the United States.