June 30th: The Pikes Peak International Hill Climb!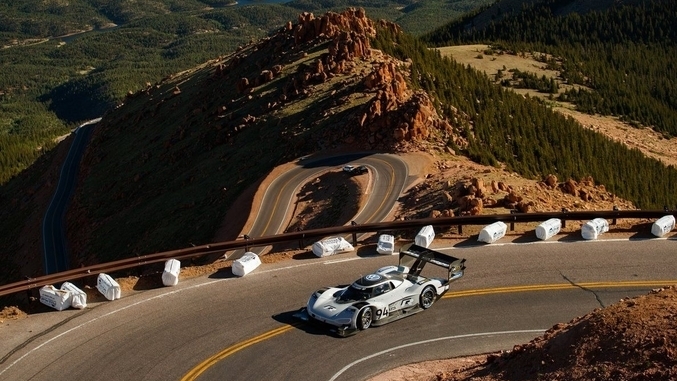 The world-famous race to 14,115 feet goes down June 30th: the 97th running of the Pikes Peak International Hill Climb! This year, 88 drivers and riders from 17 different nations will take to the 156-turn course on both 4-wheeled and 2-wheeled vehicles. Some true marvels of motorsports engineering grace the course every year, with a massive variety of powerplants and some of the most extreme aero engineering. Some big names will be in attendance, notably: long-time road racer and hill climber Paul Dallenbach, hill climb and rally legend Rhys Millen, and time attack royalty Will Au-Yeung. This year is shaping up to be truly awesome.
The event has gained a lot of notoriety over the years, thanks in part to the 1989 short film Climb Dance, which contains beautiful footage of Finnish rally driver Ari Vatanen rocketing up the hill in his highly-modified Peugeot 405 Turbo 16 GR in 1988:
The amount of prep work and testing for such an event is truly massive. Recently, professional drifter Dai Yoshihara and his team were at Willow Springs International Raceway's Horsethief Mile testing their Evasive Motorsports/ENEOS USA Toyota 86. Check out the footage; you can see why Horsethief's unique corners make for great testing grounds:
This episode SlipAngle Powered by MotoIQ is a great interview with Cody Loveland of Lovefab about his 2017 Pikes Peak program and contains a lot of really cool insight.
We can't wait to see how the event unfolds. Last year, Volkswagen mesmerized the motorsports world with their I.D. R, what's this year's amazement going to be?