Ford Announces New EcoBoost Race Engine For United SportsCar Championship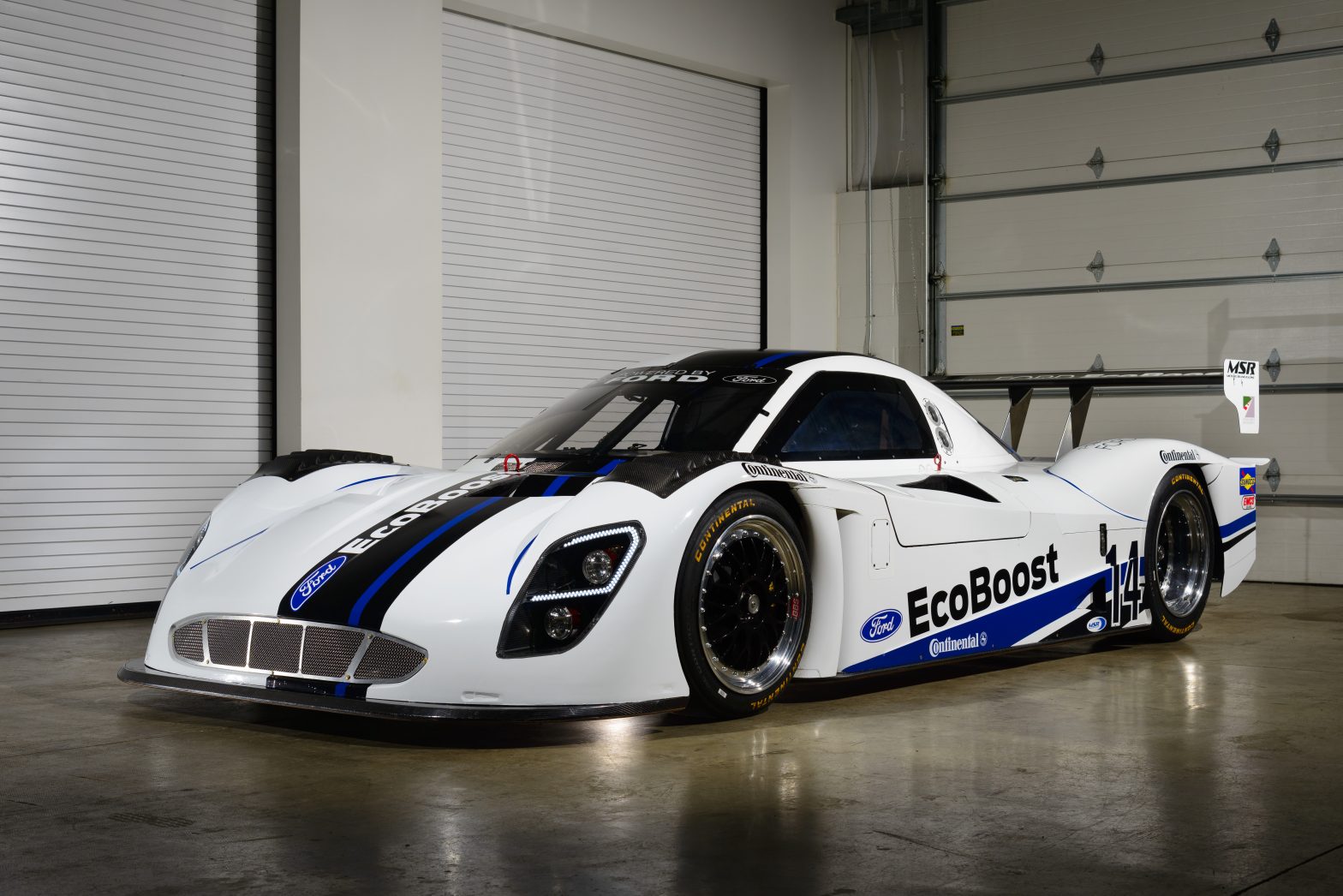 Ford has announced it will use a new 3.5-liter EcoBoost V-6 racing engine in the
2014 Tudor United SportsCar Championship
series. The engine will make its racing debut at the 24 Hours Of Daytona race on January 25 and 26, 2014 in a new Daytona Prototype car.
The production-based engine uses twin turbochargers and direct-injection, and will be facing off against V-8 motors throughout the 12-race season.
The Daytona Prototype car that the engine goes in has a new look. Riley Technologies consulted with lead Ford production designer Garen Nicoghosian and Ford Racing chief aerodynamicist Bernie Marcus when designing the car and giving it its new appearance.
Prior to the inaugural race in January, though, the new engine will be used in a record attempt at Daytona on October 9. Michael Shank Racing will attempt to set a new track record by beating Bill Elliot's 210.364-mile-per-hour lap from qualifying at the 1987 Daytona 500.
Scroll down for more details in the press release, below.
FORD TO DEBUT NEW ECOBOOST RACE ENGINE AT 2014 24 HOURS OF DAYTONA
Ford brings technologically advanced 3.5-liter V6 EcoBoost® engine to racing in 2014 TUDOR United SportsCar Championship
Michael Shank Racing first team to sign on with EcoBoost engine program
2014 Riley Technologies Daytona Prototype car features a new look with Ford production cues and aerodynamic support
Michael Shank Racing, with Colin Braun behind the wheel, will attempt record run speed test at Daytona International Speedway Oct. 9
As part of its continuing strategy to introduce product-relevant technology into racing, Ford announced today plans to bring its 3.5-liter V6 EcoBoost® racing engine to the 2014 TUDOR United SportsCar Championship series.
The new engine, which will debut at the 2014 Rolex 24 at Daytona Jan. 25-26, and run the entire 12-race season, will power a new-look Daytona Prototype car, created with Ford corporate design influence. Michael Shank Racing is on board as the first team to put EcoBoost power behind its DP car.
"At Ford Racing, we really put great emphasis on racing production-based vehicles as well as production-based technologies," says Jamie Allison, director, Ford Racing. "We're proud to bring a direct-injected, twin-turbo 3.5-liter V6 EcoBoost engine to the United SportsCar Championship in a field of competitive V8-powered entries. We want to show Ford EcoBoost's capabilities as an engine that provides both performance and fuel economy, on and off the track."
"This engine is the future," says Doug Yates, CEO, Roush Yates Racing Engines. "This Ford EcoBoost engine includes all the newest technologies – direct injection, turbocharging and high efficiency. We're looking at taking it to the next level through this sports car racing program."
A new Ford-inspired Riley Technologies Daytona Prototype car will accompany the 3.5-liter V6 EcoBoost at Daytona. The car's body features enhanced Ford production vehicle design cues created by lead Ford production designer Garen Nicoghosian with aerodynamic support from Ford Racing chief aerodynamicist Bernie Marcus.
"Ford Motor Company has taken today's Daytona Prototype and injected into it unique Ford attributes and unique Ford design characteristics," says Allison. "This EcoBoost-powered car is obviously adapted for racing applications with racing controls, but ultimately we're running what we're selling and selling what we're running."
While the new engine will make its competitive racing debut at the highly anticipated 2014 Rolex 24 at Daytona, it will actually hit the Daytona track for the first time Oct. 9.
In a joint effort between Michael Shank Racing, Ford Racing and Continental Tire, the 2012 Rolex 24 at Daytona championship team will aim to set a new track record at the "World Center of Speed" by eclipsing the 210.364 mph lap laid down Feb. 9, 1987, by NASCAR champion Bill Elliott, who pushed his Ford Thunderbird to the top of the speed charts in qualifying for the Daytona 500.
"It's really a privilege to have an opportunity to put your name in the record books like this," says team owner Mike Shank. "It is almost inconceivable that this record has stood for such a long time, so it's pretty special to be involved. We worked a long time to develop our relationship with Ford to be in a position to take on projects like this. Anytime you can get in the record books, it is a great opportunity and just builds on what this company has done."
"Ford Motor Company stands for innovation and leading-edge technology, so having a chance to debut our Ford EcoBoost technology in a high-visibility setting such as this record run attempt, as well as the entire 2014 USCC schedule with its iconic races is great," says Allison. "Through USCC racing and its fan outreach, we want to showcase how EcoBoost technology presents the combined benefits of performance and fuel efficiency – something all consumers would want in their vehicles."
Weather permitting, Michael Shank Racing will take to the track at 8 a.m. Oct. 9 to start building up speed for the record attempt.
To prepare for the record run and upcoming season, the EcoBoost engine has recently undergone endurance testing at Ford's Dynamometer Lab in Dearborn, Mich., specifically at the specialized 17G cell. Production and racing engineers from Ford and specialists from Roush Yates Racing Engines have collaborated to ensure the engine is ready for the season.
"The key about this dyno cell is that it's dedicated to motorsports, but it's within Ford's dynamometer facility," says David Simon, Ford Racing engine engineer. "We can do full vehicle simulation in racing conditions, in a way some of our other cells aren't capable of doing. It's very, very specific to high-performance racing engine programs."
Race fans can follow the progression of the record run attempt on Ford Racing's Twitter channel (@FordRacing) and Facebook page throughout the day.