First Look: 2013 Volkswagen CC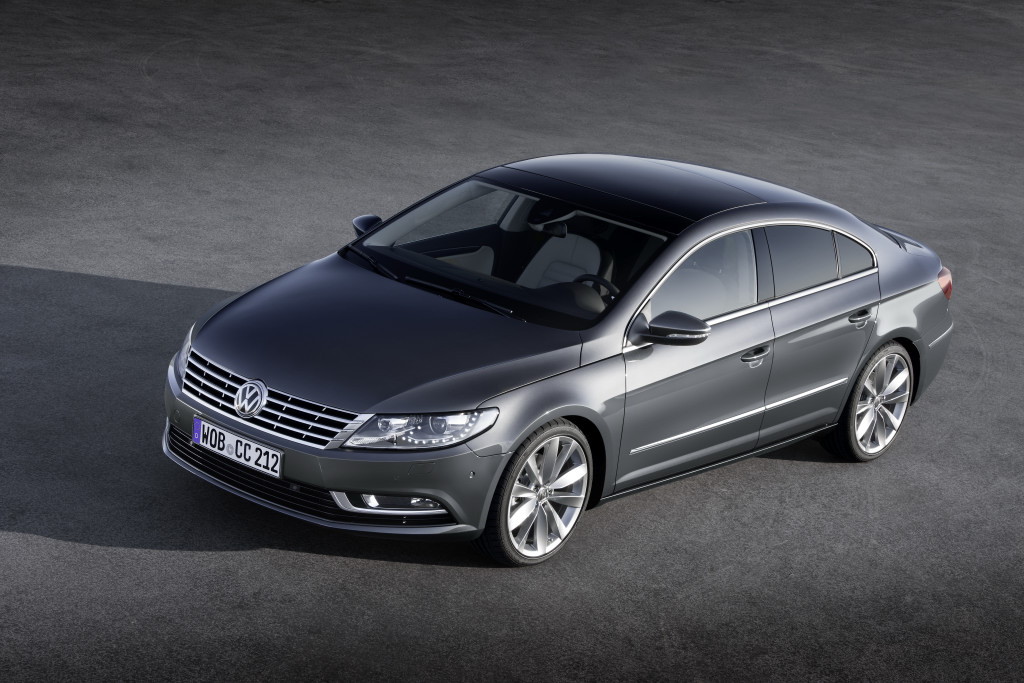 Volkswagen has released images and info on the refreshed CC. Already a looker, the 2013 CC wears new front and rear fascias, and also features a raft of new standard equipment.
First though, the big question is mechanicals, which VW is mum on. Considering this is more of a refresh than a full overhaul, we're expecting powertrain changes to be minimal. Perhaps a few more horsepower here, or an extra mile per gallon there. Otherwise, the same 2.0-liter turbocharged four and 3.2-liter V-6 should continue on until the CC gets a full refit in a few years.
In terms of looks, the new front and rear clips seem to take the best stylistic aspects of the new Passat, and blend them with the best parts of the old CC. The seemingly obligatory LED running lights have expanded to the CC line, although their use in this refreshed model looks tasteful enough.
The CC is set to debut at the 2011 Los Angeles Auto Show, with US sales starting in the Spring of 2012.
Please scroll down for the official press release from Volkswagen.
VOLKSWAGEN UNVEILS NEW CC
Volkswagen's stylish four-door coupe receives major updates for the 2013 Model Year,
including freshened front and rear styling
Wolfsburg, Germany – When the Volkswagen CC debuted four years ago, it was the first
affordably priced four-door coupe on sale in the U.S. What looked at first like a niche has
developed into a completely new segment: nearly 270,000 people around the world have bought Volkswagen's sedan that has the looks and heart of a sports car. The CC mixes practicality with style and attainability.
Volkswagen is presenting a technically and visually updated version of the vehicle at the LA
Auto Show, held at the LA Convention Center in downtown Los Angeles between November 18
and 27. With new front and rear styling and an extended range of standard equipment that
includes Bi-Xenon headlights with the Adaptive Front Lighting System and LED taillights, the
new CC makes an even bolder statement in the entry-luxury class. The 2013 Volkswagen CC
will go on sale in the Spring in the U.S.
About Volkswagen of America, Inc.
Founded in 1955, Volkswagen of America, Inc. is headquartered in Herndon, Virginia. It is a
subsidiary of Volkswagen AG, headquartered in Wolfsburg, Germany. Volkswagen's operations
in the United States include research and development, parts and vehicle processing, parts
distribution centers, sales, marketing and service offices, financial service centers, and its
state-of-the-art manufacturing facility in Chattanooga, Tennessee. Volkswagen is one of the
world's largest producers of passenger cars and Europe's largest automaker. Volkswagen sells
the Beetle, Eos, Golf, GTI, Jetta, Jetta SportWagen, Passat, CC, Tiguan, Touareg and Routan
vehicles through approximately 600 independent U.S. dealers. All 2012 Volkswagen models
come standard-equipped with Electronic Stability Control. This is important because the
National Highway Traffic Safety Administration (NHTSA) has called ESC the most effective new
vehicle safety technology since the safety belt. Visit Volkswagen of America online at
www.vw.com or media.vw.com to learn more.