First Look: 2010 Shelby GT500 Super Snake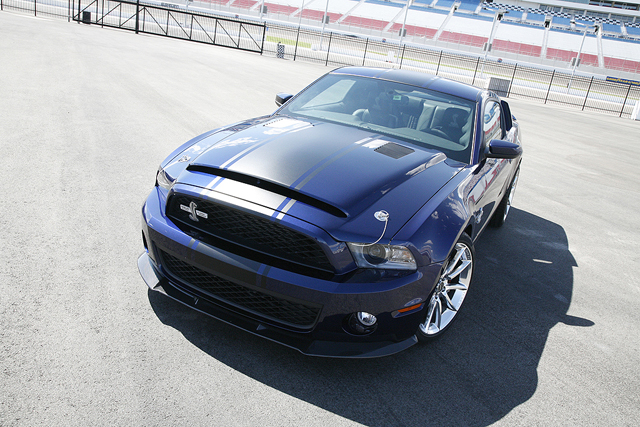 by Natasha Colah
Shelby Automobiles announced last week that it will sell a limited number of GT500 Shelby Super Snake packages for the 2010 Ford Shelby GT500s. This package will boost the Ford Shelby GT500s handling, styling, and power (output ratings to range from 630 to over 725 horsepower).
The 2010 Super Snake is expected to have a much more "aggressive suspension and engine package" than before and is anticipated to be even more elite. Super Snakes will only be built at the Shelby Autos facility in Las Vegas or at one of the mod shops from August 2009. Installation, not the car, is priced at $29,495 for the 640-horsepower package and $33,495 for the 725-horsepower package.
To see everything that the 2010 GT500 Super Snake package includes, scroll down to the press release.
Press Release
LAS VEGAS – June 26, 2009 – Continued demand for a "Super Snake" post title package has led Shelby Automobiles to unveil a new program to turn a limited number of 2010 Ford Shelby GT500s into Shelby super cars. The Super Snake package will include enhancements to the 2010 Ford Shelby GT500's handling, styling and power; output ratings will range from 630 to over 725 horsepower. Exclusivity will be assured as a limited number of Super Snakes will be built at the Shelby Autos facility in Las Vegas or one of the Mod Shops, beginning in August 2009.
"We take great pride in engineering fast, fun cars that people love to drive," said Carroll Shelby. "Over the past 12 months, my team of hot rodders was hard at work on a Super Snake package for the next generation GT500. Every lesson we learned kicking the competition around on the track over the past two years has been poured into this new car to keep Shelby owners out front."
Born on the drag strip and road course at Las Vegas Motor Speedway, Ford Racing and Shelby Automobiles dialed in an even more aggressive suspension and engine package for the 2010 car.
"Since we introduced the Super Snake package for the GT500 in 2007, this Shelby has become the pinnacle of current generation muscle cars," added Amy Boylan, president of Shelby Automobiles. "While the stock GT500 is a fine car, serious enthusiasts know that they can come to us to make their Shelby even better. For those who crave a harder edged Shelby, this is your car."
The 2010 Ford Shelby GT500 Super Snake post title package includes:
• Ford Racing handling pack including Dynamic adjustable dampers, lowering springs, tuned stabilizer bars, and front strut tower brace is standard for the Super Snake
• Ford Racing Supercharger upgrade kit producing over 630 HP and 590 ft.-lbs. of torque
• Borla exhaust system on the 630 HP Ford Racing Super Snake Package
• 6-speed manual transmission with 3.73:1 rear axle ratio
• Either a Shelby/Ford Racing or Shelby/Kenne Bell supercharger kit producing 725 HP with upgraded drive shaft, billet twin 75mm throttle body and exclusive badges
• Borla exhaust system on the 725 HP Super Snake Package
• An optional Shelby / Eibach handling pack is also available
• Shelby-designed Alcoa 20-inch wheels
• Short-throw shifter
• Forged Shelby / Baer brakes with 6 piston calipers and cross drilled / vented rotors
• Front brake cooling ducts
• Unique fiberglass hood featuring classic Shelby design
• Shelby signature Super Snake stripes
• "Shelby" lettering across the rear decklid
• "Super Snake" vehicle badges and official Shelby CSM interior plate
• Shelby signature embroidered headrests, floor mats and other Shelby designed components
Customers interested in bringing their 2010 Ford Shelby GT500 to one of the Shelby Mod Shops for transformation should contact Roger Sorel with Shelby Automobiles at (702) 942-7325. The price of the 630 HP package is $29,495 and the 725 HP package is $33,495 including installation but not the car. Each vehicle will be listed in the official Shelby registry.
Complete Super Snake packages will only be available through Shelby Automobiles; some products comprising the package will be offered by Shelby Automobiles and Ford Racing later this year.