Dupont Fills Us In On Most Popular Car Colors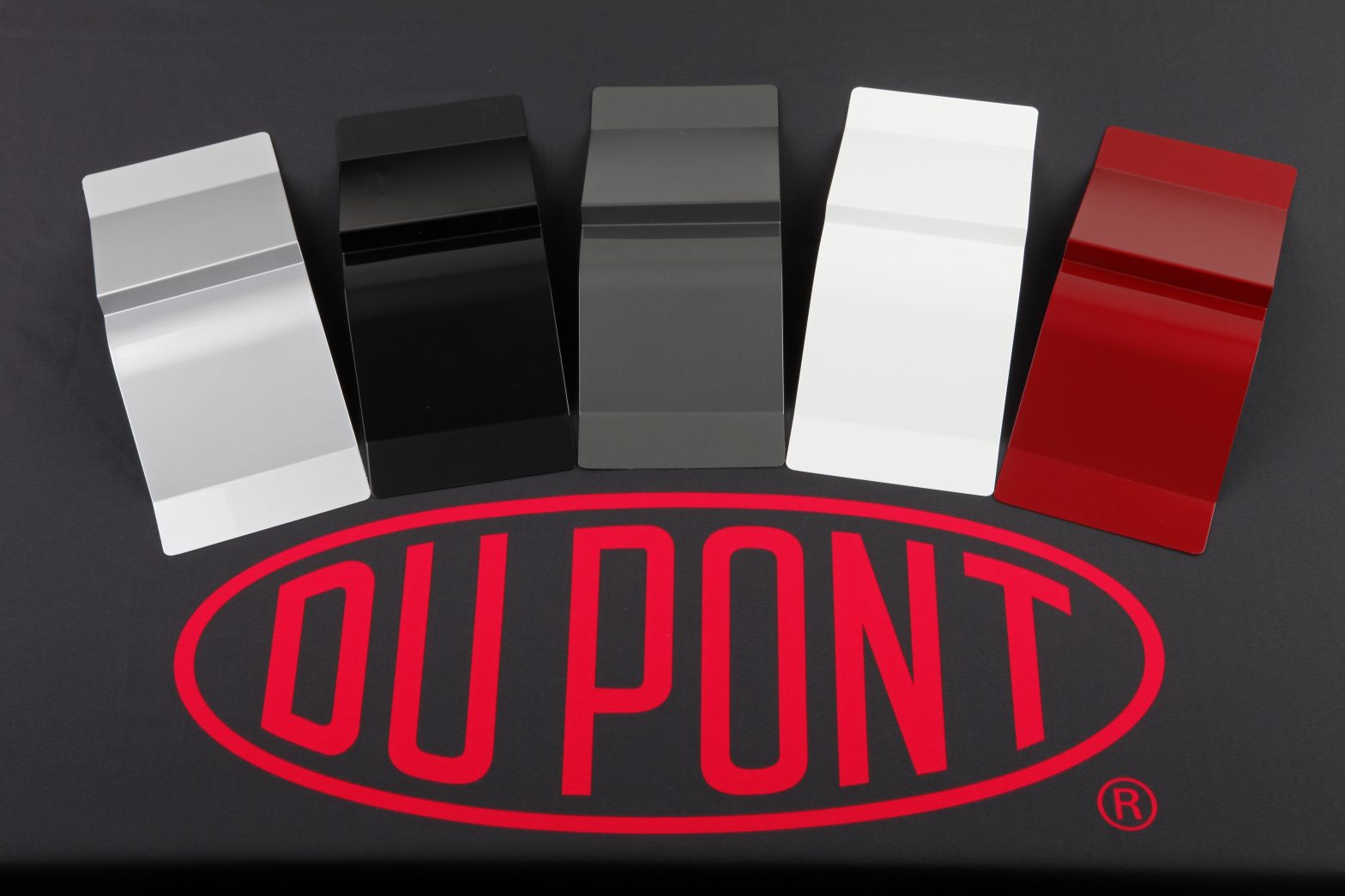 Dupont has tallied up the information, crunched the numbers, and determined that silver and black are neck and neck for the world's most popular car color, at 26 and 24 percent of the market share, respectively.
White and gray are tied at the three spot with 16 percent each, followed by red, the only non-neutral color in the top five, at six percent.
Only three years ago, silver led the pack globally, being the most popular car color in all regions. With the shift towards automotive globalization, we are starting to see different trends across the world in terms of who prefers what color of car. The neutrals are the dominant color choices however, as silver, black, and white all occupy the top three in most regions of the world.
In North America, white/white pearl has held the top color title for four years in a row using its 21 percent share of the market. Black is close behind in second with 18 percent, beating silver by only one percentage point.
The European market heavily favors the black/black effect coloring of its automobiles with a remarkable 24 percent share. Gray and silver sheepishly take the two and three spot.
In the Asian/Pacific markets however, light neutrals lead the way. Blue has become an increasingly popular car color because of its associations with many of the environmentally friendly concept vehicles that are being produced by manufacturers in the region.
Scroll down for the full press release from Dupont.
Wilmington, Del., December 7, 2010 –Silver and black are in tight competition for the title of "world's most popular car color," according to DuPont. As the global automotive coatings leader, DuPont issued its 58th Global Automotive Color Popularity Report today, which includes automotive color popularity information and regional trends from 11 leading automotive regions of the world. Each year, the DuPont report reflects data from established and emerging growth markets in the automotive industry; and in 2010, for the first time, includes trends from South Africa. DuPont's study is the original and most comprehensive report on global automotive color popularity and remains the first of its kind compiled on a global basis.
Only two percentage points separate silver from black as the leading vehicle color globally, and black's popularity in key automotive markets outside of North America is substantial. White and gray are tied for third place, with gray's popularity increasing three percentage points from last year's survey. Red, the only non-neutral color in the top five, is increasing in popularity, taking the fifth spot on the global color popularity rankings. The top 10 global vehicle colors are as follows:
1. Silver – 26 percent
2. Black/Black Effect – 24 percent
3. White/White Pearl and Gray – 16 percent each (tie)
5. Red – 6 percent
6. Blue – 5 percent
7. Brown/Beige – 3 percent
8. Green – 2 percent
9. Yellow/Gold – 1 percent
10. Others – <1 percent

Nancy Lockhart, DuPont color marketing manager, presenting the 2010 "Protection of Color" trend show.
"Our annual global color analysis allows DuPont to share insights into global color trends with automakers as they're planning future vehicle designs," said Nancy Lockhart, DuPont color marketing manager. "The demand for fresh, high-quality information is more relevant today than ever before, as the industry continues to see increased consumer demand for innovative vehicle design and styling."
Just three years ago, silver led all regions in color popularity. With the shift toward more globalization in the automotive industry, regional preferences are influencing the global trend. With trends of silver, black and white – all neutrals – vying for the top three spots among most regions, gray has increased in popularity and is gaining in interest among consumers in many regions. Both silver and black/black effect saw a 1 percent gain in global popularity in the 2010 report, with white remaining flat over last year. Gray increased in popularity by three percentage points. While regional preferences remain for red and blue, both have fallen three percentage points this year over last. DuPont analysts continue to see a trend toward brown and beige increasing in popularity as well.
Differentiated Regional Markets In North America, white/white pearl retained its lead for the fourth year in a row, with 21 percent popularity share. DuPont experts say this largely reflects the preferences of the fleet and light truck and sport utility vehicle (SUV) markets in North America. Black/black effect beat silver by one percentage point, for the No. 2 spot, with 18 percent popularity. Gray saw a 2 percent increase over last year, and now has a stronghold, in fourth place for the region. Rounding out the top five is red with 11 percent popularity.
Black/black effect lead the compact/sport and luxury/luxury SUV categories in North America, while white/white pearl lead the truck/SUV category. Not surprising, silver leads by just one percentage point over black/black effect for the intermediate/crossover utility vehicle (CUV) segment in the North American market.
European trends this year show black/black effect leading overall, across nearly all vehicle categories, with 24 percent. Gray is five percentage points behind with 19 percent, and silver has fallen to 17 percent popularity in Europe.
The exception of black/black effect's lead in Europe is within the intermediate/multi-purpose vehicle (MPV) segment, which saw gray in the lead by a slight margin. Gray is in the No. 2 spot in the region overall, and within all categories except truck/SUV, where white leads by just four percentage points.
"Even though neutrals lead the color popularity for the European region, we're still seeing consumer willingness and preference to showcase a chromatic hue as a form of personal expression," said Elke Dirks, DuPont color designer for Europe. "The volume of blue hues for vehicles has been constantly decreasing over the last years, but it is still the No. 1 chroma color for all vehicle segments in Europe and will have increasing potential for the future," she said.
In Mexico, there was no change among the top three colors since 2009, but black/black effect increased four percentage points to tie with white at 22 percent in the market, while silver remained in third place at 18 percent. Gray and red finish the top five colors of choice for the region, with 11 percent popularity each. Also, brown/beige saw a significant increase in the region, representing 5 percent of the Mexican market.
In South America, silver reigns with 33 percent of the market, 10 percentage points ahead of black in the region. White and gray tie for a distant third, each with just 13 percent of the region's popularity, while red (9 percent) completes the top five.
Specific to Brazil, silver leads the country with 34 percent popularity, garnering the largest percentage in popularity of any of the regions/countries reviewed in the report. Black is 10 percent behind at 24 percent, and white stands in the third spot with 13 percent.
In the Asia/Pacific region, light neutrals lead in popularity, while black/black effect are popular for luxury models in the region. "The concept of 'Think Blue' has developed industrywide, as OEMs strive for green vehicles and concept designs," said Emily Hung, DuPont color designer for the Asia-Pacific region. "Light blue metallic colors are widely selected for environmentally responsible concept vehicles by many auto manufacturers in the region."
China finds silver in the lead in this year's report, with 33 percent share in popularity. Meanwhile, black is back, increasing 8 percentage points over last year to garner a close second place spot in the region with 31 percent share. Gray holds the No. 3 position with 18 percent, with white (9 percent) and red (4 percent) in fourth and fifth places respectively.
Japan maintained white/white pearl as its top color choice for vehicles, continuing at 28 percent of total market share. In the region, white pearl is often preferred for the small/compact vehicle segment. Silver held its second place rank with 24 percent and black was just behind with 22 percent of the market. Blue increased in popularity in the region by two percentage points, with an overall 10 percent popularity share for fourth place. Light purple metallic is also new for the region, and is becoming a trendy option for small/compact and intermediate vehicle segments.
In India, white is the leading color choice for vehicles, with 29 percent share in the market. Silver is just five percentage points back, at 24 percent. However, in a first among the regions surveyed, brown/beige (11 percent) is in third place for the Indian market. Gray and black follow at 9 and 8 percent respectively. Black/black effect (8 percent) is lowest in the ranks in India among all of the regions, with a fifth place finish.
South Korea's affinity for silver (33 percent) for intermediate vehicles and black/black effect (26 percent) for luxury vehicles continued this year, ranking one and two, but white (18 percent) and gray (14 percent) continue to gain in popularity over the 2009 report.
South Africa and Russia – Growth Markets Important for Color Choice
The substantial growth of the automotive industry in South Africa was the impetus for its inclusion in this year's report. White was overwhelmingly the most popular vehicle color choice in the region, at 35 percent, which is the highest percentage of any region covered in the report. Silver (24 percent) takes second and black/black effect combine for 14 percent. Another growth region, Russia, maintained black/black effect (21 percent) as its most popular hue, with silver and gray nearly tied for second place in the region. White vehicles in Russia account for just 16 percent of the market. Also of interest, the preference for green vehicles in Russia is 11 percent, the color's only rank within the top five in this year's report.