2012 Buick Regal GS: Turbo Buick "Remixed" And Nearly Ready For Primetime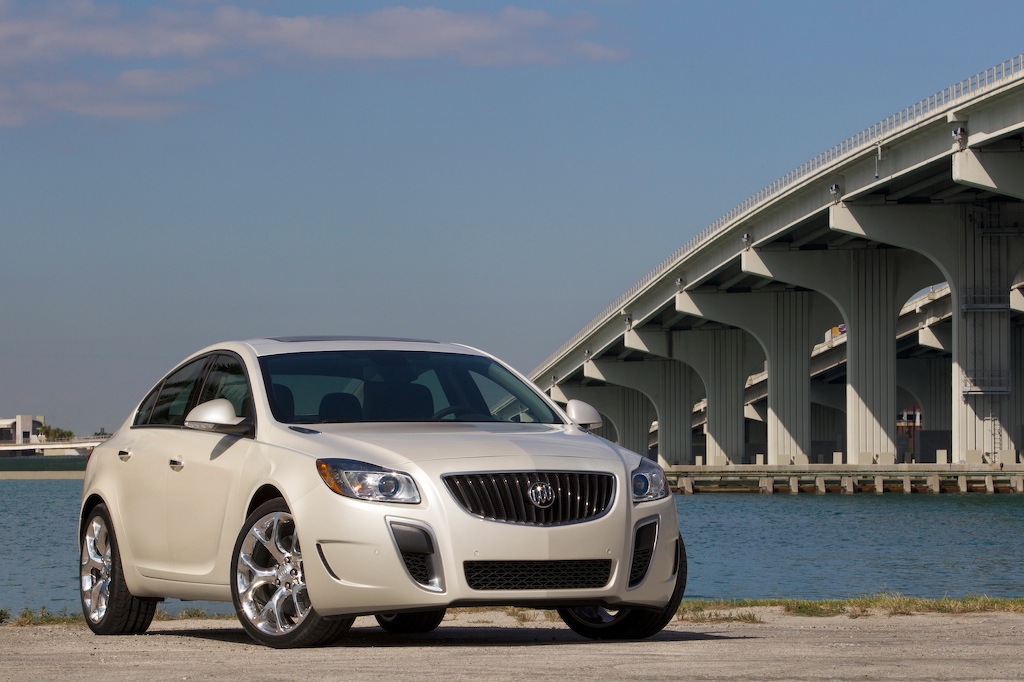 These are exciting times for the Buick brand, ladies and gentlemen. We're well aware that there are a fair number of Winding Road readers that feel the need to respond derisively when we have opportunity to say it, but the Buick of 2010 is not the same company that worked so hard to earn the blank stares of car enthusiasts for decades now. We've both read and written good words about the new LaCrosse—a car that is more of a subtle, nicely finished cruiser, we'll grant you—but the smaller Regal is a sedan to be reckoned with. Even the rather mildly powered, base CXL has got the sort of responsive chassis and suspension that evokes those of BMW, so the unveiling of the turbocharged Regal GS is something we've been excited about for some time.
Buick was good enough to invite us to join them for a night of drinks, dancing, and music, all as a precursor to the event of the GS launch. The brand has been holding these swanky parties, dubbed "Remix" events by company PR, for a while now. The goal, no doubt, is to position the Buick nameplate in as young a target demographic as possible. To that end, we and our fellow media members (mostly old, white guys) found ourselves in an impromptu "club" setting in downtown Miami, improbably surrounded by twentysomethings. These good-looking kids were more than happy to be there—drinks were free, as was the subsequent show by average proto-pop band Plain White T's—but our informal questioning revealed a rather low level of knowledge about all things Buick Regal. Go figure.
We actually kind of hate to be cynical about the Remix, if only because we're so genuinely excited about the car that it was planned to celebrate. (Note to Buick: just keep building exciting, good-looking, fun cars. The younger car enthusiasts of America will beat a path to your dealerships.) All signs point to the GS being as massively good a compact performance sedan as the Detroit Three have produced in a very long time—maybe ever.
The 2012 Regal GS will be packing some major turbocharged fun underhood, with a blown 2.0-liter four-cylinder making 255 horsepower and a riotous 295 pound-feet of torque. An estimated 0-60 sprint of "under seven seconds" does indicate that the GS will be packing some pretty serious weight, too, but don't forget, this isn't another rattle-trap rocket like the Cobalt SS was. If Buick has managed to incorporate the same firm-but-smooth suspension tuning and fine balance of the CXL into this turbo car, we'll be happy campers. We do know that the new Regal will have active suspension as well as adjustable steering sensitivity.
Of course, the new Regal looks great, too—at least for the large number of us that liked the styling of the base car. The lowered GS rides on bigger, nineteen- or twenty-inch wheels, and the model-specific black and white interior sends us all of the correct go-fast cues. A flat-bottomed steering wheel nicely completes the sporting interior package. We're ready to drive, Buick.
With the car scheduled to go on sale in the second half of 2011, it's a good bet that we'll have a chance to drive and review the GS sometime around the first of next year. Until then, you'll have to sate yourselves with the full Buick press release, below. Don't forget to tell all of your young, hip friends; Buick is fun again.
2012 BUICK REGAL GS PRODUCTION MODEL TAKES SPORTS SEDAN PERFORMANCE TO A NEW LEVEL FOR BUICK
• High-performance midsize sport sedan with 0-60 mph performance of under seven seconds
• Features exclusive, GS-only high-output version of the Ecotec 2.0L turbo engine with 255 hp and 295 lb.-ft. of torque
• Buick's Interactive Drive Control System allows drivers to change the suspension settings and steering sensitivity
• Exclusive, racing-inspired exterior and interior appointments
• Goes on sale in the second half of 2011
MIAMI – Buick this evening reveals the production version of the 2012 Regal GS, an even sportier expression of the Regal sport sedan that went on sale earlier this year and has attracted new buyers to the Buick family. Powered by a high-output, exclusive Ecotec 2.0L turbocharged engine mated to a six-speed manual transmission, the GS delivers an estimated 255 horsepower (190 kW) and 295 lb.-ft. of torque for a 0-60 mph performance of less than seven seconds (estimated). Buick's Interactive Drive Control System is standard on the GS, allowing drivers to customize the driving experience by changing the suspension settings and steering sensitivity between three modes: standard, sport and GS.
"Built on the performance foundation of the Regal, the Regal GS was designed as an even sportier expression of responsive performance and style," said John Schwegman, vice president of Buick marketing. "The driving experience is powerful and spirited; and the GS represents the next entry in Buick's product renaissance."
The Regal GS will be unveiled this evening at a consumer event in Miami. It goes on sale in the second half of 2011. Pricing has not yet been announced.
Product highlights include:
• Exclusive Ecotec 2.0L turbocharged and intercooled engine rated at an estimated 255 horsepower (190 kW) and 295 lb-ft of torque (400 Nm)
• Six-speed manual transmission, with six-speed automatic with Driver Shift Control to be offered later
• Interactive Drive Control System with GS mode
• Four-wheel independent system with HiPerStrut front suspension
• High-performance four-wheel disc brake system with Brembo front calipers
• Standard 19-inch, 5-Twin Spoke alloy wheels and all-season tire and optional 20-inch, 5-Twin Spoke polished alloy wheels with performance tires.
The exterior design features unique front and rear fascias, with the front fascia incorporating prominent, vertical air intake slots and specific grille treatment – with the vertical elements accented in a satin-metallic finish. The rear fascia has a pair of integrated, satin-metallic trapezoidal exhaust outlets. Rocker panel extensions and an integrated rear spoiler are also woven into the design. The GS cuts a sportier stance, too, with a slightly lower ride height than other models and aggressive 19-inch, 5-Twin Spoke alloy wheels and all-season tires (20-inch, 5-Twin Spoke polished alloy wheels with performance tires are optional).
Inside is a racing-inspired, flat-bottom sport steering wheel and metal sport pedals, along with leather-appointed 12-way power-adjustable sport driver and front passenger heated seats, which include four-way power lumbar. The GS-specific black interior is accented with satin-finish elements on the instrument panel, steering wheel and console, while the instrument panel glows white when the driver engages the GS mode of the Interactive Drive Control System (IDCS).
Standard amenities for the Regal GS include:
• Passive keyless entry with push-button start
• Standard XM Satellite Radio with three-month trial service
• Harmon/Kardon premium 320-watt sound system with nine speakers
• Bluetooth phone connectivity
• Leather-wrapped flat-bottom steering wheel with audio controls
• Leather-appointed sport seating
• Heated driver and front passenger seats, with 12-way adjustable driver and front passenger seats – including four-way lumbar adjustment
• 120-volt accessory power outlet
• Power windows with express up/down feature in the front and express down in the rear.
• Front and rear ultrasonic parking assist
• Bi-xenon HID headlamps.
Turbocharging and HiPerStrut
Power for the Regal GS comes from a high-output version of the Ecotec 2.0L turbocharged DOHC VVT engine with direct injection technology. It is based on the engine that will be available on Regal CXL later this year, but the engine and turbocharger are tuned to deliver greater boost pressure in the GS. The output is rated at 255 horsepower (190 kW) and 295 lb.-ft. of torque (400 Nm). A three-inch-diameter exhaust system provides reduced back pressure, resulting in higher engine power
Direct injection technology helps the engine deliver more power through increased efficiency, while maintaining fuel economy and lowering emissions. That means less fuel is consumed and lower emissions generated – including a 25-percent drop in cold-start hydrocarbon emissions. Variable valve timing optimizes power, efficiency and emissions across the entire rpm band.
"We've been combining direct injection and variable valve timing with boosted engines since 2006, and there's no question the Regal GS turbo has the responsiveness and acceleration of a 3.5L V6, while delivering the fuel economy of a 2.0L four," said Mike Anderson, Ecotec global chief engineer and program manager.
The engine is mated to a standard six-speed manual transmission. A six-speed automatic transmission will be available later.
The Regal GS rides on a relatively long wheelbase of 107.8 inches (2738 mm), which delivers refined, well-balanced vehicle dynamics. It also features a four-wheel-independent suspension, with a unique High Performance Strut (HiPerStrut) front suspension design. The HiPerStrut system helps reduce torque steer and maintain negative camber during cornering; the driver experiences reduced torque steer, improved grip and increased cornering power, along with crisper handling, steering precision and feedback.
The four-link independent rear suspension is designed to minimize unwanted toe and camber effects during spirited driving maneuvers, enhancing vehicle stability. Both front and rear dampers incorporate active Computer Damping Control (CDC), continuously changing damper characteristics to maintain optimal vehicle ride control over varying road surfaces and profiles. More aggressive, performance-oriented damping characteristics can also be selected by the driver through the Interactive Driver Control System.
Braking power comes from a large diameter four-wheel disc brake system featuring Brembo front calipers. A standard, four-channel anti-lock brake system is tuned to reduce stopping distances over varied road surfaces and conditions. An electronic parking brake is actuated via a center console-mounted control. The Regal GS also features standard StabiliTrak stability control system with integrated, full-function traction control.
Interactive Drive Control System
The Regal GS is also equipped with Interactive Drive Control System (IDCS) chassis technology (also offered on other Regal models with the 2.0L turbo engine). It delivers enhanced vehicle stability and greater driving safety. The driver selects among three operating modes – standard, sport and GS – that change the suspension settings, and steering sensitivity through the variable-effort steering system.
A sophisticated driving mode control module continually monitors driving style utilizing yaw rate, lateral and longitudinal acceleration, steering wheel, throttle and vehicle speed. It defines the dynamic vehicle state, including acceleration, braking and cornering, to optimize chassis reactions. It also executes all of the IDCS driver selections. All four dampers are electronically controlled and continuously adapt within milliseconds to the prevailing road conditions, vehicle movements and individual driving style.
Selecting GS mode optimizes the car for dynamic driving, tightening the suspension and steering response. "Standard," or the default mode, is the setting for all-around use. The sport mode provides a level of performance between standard and the GS modes.
About Buick
Buick is a modern luxury brand offering vehicles with sculpted designs, luxurious interiors with thoughtful personal technologies, along with responsive-yet-efficient performance. Buick is attracting new customers with its portfolio of award-winning models, including the Enclave crossover, LaCrosse sedan and Regal sport sedan. The new Buick Verano compact sedan and a small crossover will join the portfolio in the next few years. Buick's sales continue to increase in North America, and it remains a best-selling brand in China, with continuing record growth. Learn more about Buick cars and crossovers at www.buick.com, on Twitter @buick or at www.facebook.com/buick.