Why "Awesome Racing" and "Awful Driving" Sometimes Go Together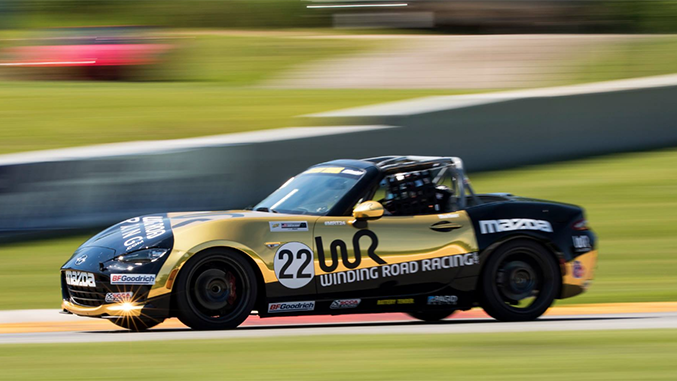 Winding Road Team TFB is running six cars in the Battery Tender Global Mazda MX-5 Cup series this year. The series has come under criticism because of some dramatic crashes, many of which have involved our cars as unwilling victims. Internet talk has suggested that MX-5 Cup involves some exceptionally bad driving. Those critics mainly don't know what they're talking about. While Winding Road has provided input to SCCA about ways to reduce of some of the problem moves we've seen, it is hard to say that the quality of the driving in the series is out of the norm for either top-level amateur racing or pro racing when that racing is tight. In fact, when you adjust for car count and density, the driving in MX-5 is well above average. But there are crashes, which are the nearly inevitable result of designing the series for great racing. Yup, MX-5 Cup is carefully designed and executed to have the closest competition in road racing, which is what almost everyone wants. A look at other, not-quite-so-competitive series suggests that contact is then virtually inevitable even with the very best drivers.
To understand what we mean, let's look at what happens in pro racing. We have lots of choices, from Indycar to NASCAR to Pirelli World Challenge, which are all series designed for exciting racing. They also have plenty of contact. Here is one example:
If you like to blame amateurs (a.k.a. gentlemen drivers) for "awful driving", and need an example from "pure" pro racing to show how the pros do it, check this out:
The reality is sometimes you get what you ask for. When you listen to racers and race fans talk about "great racing" what you often hear them asking for is a wish list like this:
really close racing, where the cars run in close proximity a lot of the time
dramatic racing, where the end results seems up for grabs from the early stages to late in the race
races on great tracks that offer up different challenges
the chance for many drivers to win over a series of races
racing where more than two or three drivers have a shot at the win
many lead changes throughout the field
People moan endlessly when race series don't offer even half the items on this list (see just about any chat about F1). But if you think about it, you're likely to have some contact if you successfully pursue a list of goals like the one above to get "great racing".
Mazda and SCCA Pro have put together a series that delivers pretty much every item on the wish list. That is rare, if not unheard of. How did they do it? Here is the formula:
a real spec car (e.g. no component changes, sealed engines, regular rules audits, randomly swapping components between cars)
a car that is production-based and low-cost, so that it offers serious driving "challenges" (e.g. under braking)
a car that drafts well
a huge field
lots of fast drivers
prize money and reputations at stake
If you are curious how close the racing is, here is a first lap video from our most recent race, shot from a car on row 10:
For those of you familiar with Spec Miata (arguably the best amateur racing class), this looks somewhat like an SM start, if you filmed it from row 5 rather than row 10 (see
this video
for reference if you don't believe us).
But Spec Miata races don't usually stay that tight deep into the pack for 45 minutes (and not just because SM races aren't 45 minutes long). MX-5 Cup consistently stays tight lap after lap, across 20 to 25 cars. Here is a video shot from P14 on the last lap of an MX-5 Cup race:
Indycar is not as tight as MX-5 Cup, and has half the field, but is pretty tight for pro road racing. Indycar has lots of crash damage. F1 isn't even vaguely as close as MX-5 Cup (we recently watched F1 at Sliverstone and the camera was on two cars for 5 laps because they were the only two cars in the field running together), and has fewer incidents. SCCA GT1 or T4 or FP racing lacks the most of (y)our wish list and has minimal damage. It is also completely boring much of the time. Not because it doesn't have crashes, but because it doesn't have close competition.
Spec Miata may be the best comparison. SM typically has about half the field of MX-5 Cup and may have fewer incidents, but that's mostly due to the smaller field. When SM has a big field, for example at the June Sprints, it has multiple incidents too. Racing on the June Sprints weekend recently, we counted 10 cars knocked out of the 47 car SM field (20%) and 4 cars knocked out of a 37 car MX-5 Cup field (10%) during a race that is 50% longer.
Now we know SM has the Spec Piñata reputation, but if you follow the reasoning that isn't "awful driving" in most cases. SM has many superb drivers, but, like MX-5 Cup it also has tight racing and big fields, so the chances for incidents go way up. MX-5 has had a bit of that Spec Pinata accusation rub off from self-proclaimed internet chat boffins . But given the design of both classes, contact is more a probability than an surprise. A glance at other good race series confirms that. In other words, the regular advent of incidents is more about close racing and a very small number of drivers who occasionally run at the edge of their skills or get too aggressive or both. That's regardless of what series you are talking about. Given that MX-5 Cup offers the closest competition in road racing, contact is going to happen with regularity. That's not abnormal, although we wish it would happen less often.
Or, as Teddy Roosevelt said:
"It is not the critic who counts; not the man who points out how the strong man stumbles, or where the doer of deeds could have done them better. The credit belongs to the man who is actually in the arena, whose face is marred by dust and sweat and blood; who strives valiantly; who errs, who comes short again and again, because there is no effort without error and shortcoming; but who does actually strive to do the deeds; who knows great enthusiasms, the great devotions; who spends himself in a worthy cause; who at the best knows in the end the triumph of high achievement, and who at the worst, if he fails, at least fails while daring greatly, so that his place shall never be with those cold and timid souls who neither know victory nor defeat."