Inside MX-5 Cup: Proficiency With Profanity And Champagne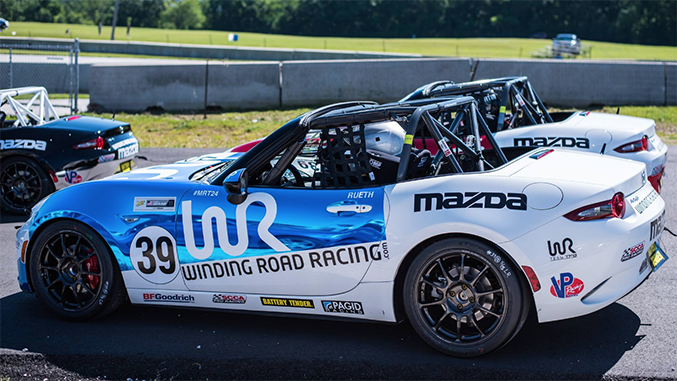 Winding Road Racing's 2016 MX-5 Cup Rounds 5 and 6 were action-packed as usual. We ran five cars at beautiful Road America, in Elkhart Lake, Wisconsin. This story is not conventional news, but a quick insider's (5 sided, biased, emotional) view of the weekend to give you some sense of what it feels like. Here is our "Tale Of Two Races":
It was the best of times…
Tim Barber qualified P2 for race 2 at Road America (Round 6 in MX-5 Cup speak) and, after several position changes among the top cars, brought WRR car #22 home in P2 for the team's second podium of the year! Tim ran a very intelligent race, drafting from start to finish with eventual winner Nikko Reger to create some separation from the rest of the pack, most of which lost some speed at various times by choosing to compete rather than cooperate. We also found out that Tim is something of a professional when it comes to spraying Champagne.
It was the worst of times…
Mark Drennan, in WRR car #50, was running P3 in the latter stages of race 1 (Round 5), when the driver in P2 demonstrated his pinball wizardry (btw, not the first time for this driver), taking out race leader John Dean II. This happened entering Road America's very fast turn 1. Dean spun and was sliding sideways, grinding off speed and perpendicular to the apex, when Mark arrived. The ensuing 80 mph t-bone severely damaged Mark's car and ended his race (and Dean's). This has a big impact on the points, as Mark dropped from 3rd to the 35th finishing position. That cost him 45 points. Arrrrgh! Mark actually had other words for it, that we can't use here.
It was the age of wisdom…
Winding Road Team TFB driver Marco Gallaher qualified P23 for race 1, working with teammates Tom Martin and Corey Rueth to run multiple clear qualifying laps in nose-to-tail formation (Road America is a big-time drafting track and the MX-5 is a draft-loving car). Marco then took it up a notch to finish P14 in race 1, moving up 9 positions! The same qualifying teamwork put Tom Martin P19 on the grid for race 2 (MX-5 Cup has one qualifying session from which your two fastest laps determine grid positions for the races). Tom dodged multiple incidents on his way to a top 10 finish (P10), another improvement of 9 places. The rational approach of patience, clean driving and an awareness that some of your competitors display neither trait paid off for both drivers.
It was the age of foolishness…
Besides the Turn 1 disaster, both races were marred by additional sketchy driving on the part of a small handful of drivers. One driver started race 1 by attempting to pass with all four wheels on the grass. He was shuffled back several rows (who knew that grass had a lower coefficient of friction than asphalt?). Fortunately, he didn't bounce off the wall or the wreck in the Watkins Glen race 2 start would have seemed minor by comparison. A driver did a huge tank slapper coming out of the Kink and eventually hammered the wall. This created a separation in the pack that effectively ended the forward movement of five or six cars, including WRR car #39, that were at the tail of the very long middle group. A driver spun in turn 14 during race 2 and narrowly missing Tom, in WRR #21, as he shot back across the track.
It was the epoch of belief…
We have a crew that is amazing. Diligent, knowledgeable, upbeat, energetic. Skilled, sunburned, and adept at profanity. They replaced transmissions, did alignments, diagnosed engines, set up cameras, installed graphics, set tire pressures, replaced broken parts, moved cars, built and unbuilt a beautiful paddock, ran driver communications, acted as umbrella girls, cooked, ate, and drank (Red Bull sponsorship seems likely). Again and again. Wow. Hats off to Chris, Brian, Mick, Chuck, Juliann, Peter, Mike and Jeff.
It was the epoch of incredulity…
A very small number of drivers are either malicious or not very smart or both. In race 1, a driver attempted to pinch Mark into the wall on the main straight. Given the choice between nosing into a concrete barrier at 90 mph and holding his line, Mark straightened out the wheel before impact. But the driver kept coming, so the shiny gold WRR graphics on the left side of Mark's car are shiny no more. Fortunately, Mark is alive and well.
In race 2, a driver's engine lost power toward the end of the last lap, so it slowed more than normal coming up to turn 12. Instead of remaining far off line, it turned into the corner, tagged Dan Martinson, who spun into…you guessed it…Mark Drennan. Mark had come from P36 (he started at the back because he had to switch cars after the crash in race 1) to about P11, an improvement of 25 positions in 12 laps). You can't make this stuff up! Still, we do wonder if karmic balance will be restored from here on out, with Mark getting unusually lucky in each of the next six races.
It was the season of light…
Our drivers are currently 10th (Mark), 13th (Marco), 18th (Corey), 19th (Tom), 29th (Tim – missed the first 4 races) and 33rd (Mason –missed the last two races) in the championship. That's not exactly where we want to be, but we have learned a lot. We're paying more attention to practice because it sets up qualifying. We are doing more testing at each track we run. We are working together on track when it helps. We are overcoming some adversity (e.g. Marco loaned Mark his backup car; Tom finished P20 in Round 5 despite losing 3rd gear on lap 3; Corey put on a passing demo after getting freight trained). We are learning to live with the idiosyncratic behavior of the car. We have consistently run at the front (we've been P1, P2 or P3 in every race). Mazda and SCCA Pro are taking steps to reduce the avoidable contact. Light!
All in all, it was a Dickens of a race weekend.