Video: POV 2019 Mazda MX-5 RF Club vs. Global MX-5 Cup Car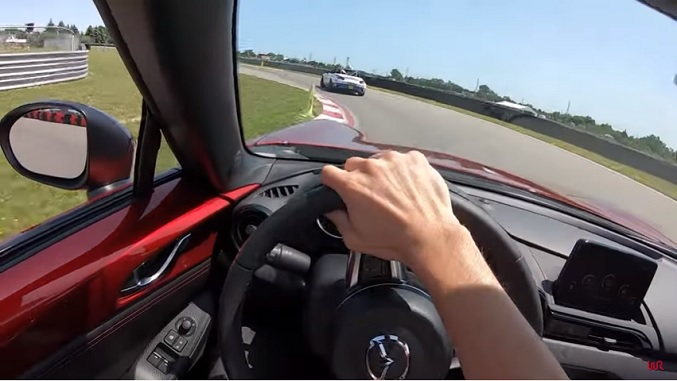 This was a fun one to film! Spec Miata racer and M1 Concourse Track Manager Alex Della Torre and POV hot shoe Chris Amos battle it out on track. Of course the Global MX-5 Cup Car is the faster car, being a fully built race car, but it makes for an entertaining session nevertheless! Check out M1 Concourse at www.m1concourse.com or at https://www.facebook.com/M1Concourse/ for info and upcoming events!
More Mazdas are being raced on any given weekend than all other manufacturers combined. Racing represents an integral part of the brand. At just under $60k new, this 2017 Global MX-5 Cup car represents a great value in the racing world. The cars are assembled by a single builder, Long Road Racing in North Carolina. The roll cage and safety equipment is set to FIA Rally car specs, some of the most stringent in the industry.
Though most of the vehicle remains stock, the racecars gain lightweight forged RAYS wheels, BF Goodrich tires designed exclusively for the series, racing brakes, adjustable dynamic dampers, and a custom ECU to eliminate tampering and add features like a pit speed limiter. Seat choice is left up to the buyer; the cars can fit a driver up to 6'5" tall. We found these MX-5 Cup Cars to be incredibly well-dialed in around the track.
2019 Mazda MX-5 Miata RF Soul Red Crystal Paint MSRP: From $32,345
Horsepower: 181 hp
MPG: Up to 26 city / 35 highway
Curb weight: 2,453 to 2,493 lbs
Engine: 2.0 L 4-cylinder
Optional Equipment on this car: Appearance Package – Front Air Dam, Rear Lip Spoiler, Rear Bumper Skirt, Side Sill Extensions Interior Package for M/T – Alloy Pedals, Red Engine oil cap with MX-5 Logo, Stainless Door Sill Trim Plates Brembo Package with Black Roof – Brembo Front Brakes w/red front and rear calipers, BBS Forged 17" Dark alloy wheels, heated Recaro sport seats, black roof
Wear headphones! The audio in this video was recorded with in-ear binaural microphones. With headphones or earbuds on, you'll feel like you're actually sitting in the driver's seat.