The Saga of "Our" 24 Hours of LeMons Car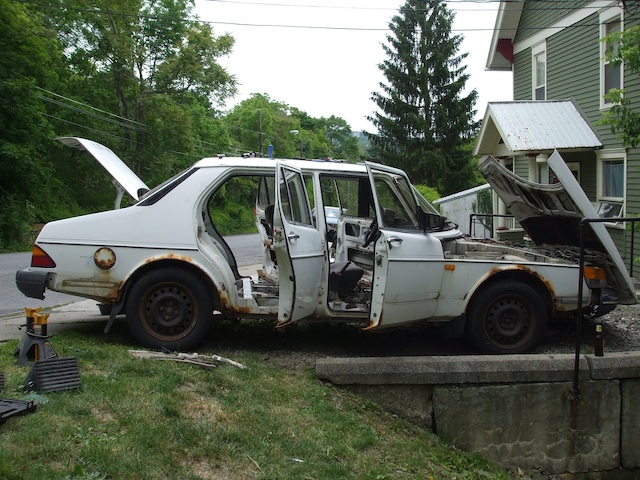 You may remember a couple months ago, we asked you to give us some ideas for a 24 Hours of LeMons car. In case you missed it, this slightly absurd parody of the French classic, is an endurance race for cars costing $500 or less.
Back then, we had just emptied the Winding Road staff's pocket change into a number 10 business envelope and sent it as our sponsorship package to some hapless college students masquerading as a "race team." We also promised to help by enlisting the crack Winding Road readership in suggesting the perfect car/weapon for trouncing LeMons competitors. In return for all this, they promised to tape a copy of a Winding Road logo somewhere on the car. Here's the report that the team of Cole Wrightson, Jean-Paul Montant, Tom Martin III (son of our Editorial Director), Jason Smart and Victor Borisov gave us on what happened.

With all the clever suggestions of many WR readers in mind (mainly Integras, VWs, RX-7s, and also some big Detroit stuff), we scoured eBay and Craig's List. We had a few near misses with some MR2s, a Police Interceptor, a Scirocco, and a 300ZX. But every car that looked like it a) ran and b) was less than 70 percent iron oxide, ended up well over our $500 limit. With our mid-July race date fast approaching (and facing the ugly prospect of actually having to prep the car) we finally broke down and bought, via eBay Motors, the first running car we could find within the budget: a 1989 Saab 900. We took a day trip to Vermont to pick it up, praying to LeMons god Jay Lamm the whole way that the car would actually run (not complete fools, we brought a trailer just in case).
Once we got the Saab back to New York, we assessed the damage. The engine appeared to have a 1 inch hole in the side, and be devoid of all fluids. Apparently this is normal for Saabs, because the car actually fired right up and didn't self-destruct instantly. That scare behind us, we quickly had the car stripped of its unimportant bits, including seats, dashboard, climate control, lights and trim. With a proud sense of accomplishment, we went back to our busy lives for a few weeks.
Upon returning to the car, we checked the calendar and noticed that we had less than a week to have our car race-ready. Despite LeMons being a race for virtually worthless rust buckets, a significant investment of time and money is required to meet the safety rules (safety equipment doesn't count toward your $500).
By the time we had tubes bent for the roll cage and a decent set of tools assembled, it was Thursday morning. Before an 8AM tech inspection on Saturday, we had to hand fit every tube in the cage, fabricate a custom exhaust system (including stylishly roof-mounted muffler), install a six-point harness, remove all the windows and wire an external kill switch. Right on time, the car was completed and loaded onto its trailer at 11:45 Friday evening. We grabbed some late-night pancakes and hit the road, a six hour trek to Stafford Motor Speedway in Connecticut ahead of us.
Upon arriving at the track we quickly made the not-entirely-unexpected observation that we were the least-prepared, lowest-budget LeMons team in the country. Ridiculously-liveried scrap metal was backed by scores of sizable trailers stocked with tool chests and lots of spare parts.
It took three tries to pass tech inspection, mostly because, being LeMons virgins, we were unaware of the rampant bribery involved with most cars going through tech. We then rolled over to BS inspection. This rather hilarious process of judging a car's value is the main line of defense against cheaters.
White-wig-adorned gentlemen scour every car for signs of valuable parts. Iron-fisted, non-negotiable penalties of 1 lap for every $10 over $500 are doled out to various teams (a few were docked as many as 250 laps). Our car on the other hand, was such a hopeless heap that we could even see the judges thinking about giving us some laps back. Sadly, they didn't.
After a quick and entertaining drivers meeting/lecture from LeMons creator Jay Lamm, we fired up the Saab and Tom headed out on track for the pace laps. When the green flag dropped, a melee of tire smoke, odd engine noises and creative passing instantly broke out. Tom quickly picked up on the LeMons style of racing, which happens to be absolutely brilliant. Ill-handling cars with amateur drivers and a broad spectrum of power and weight give an awesome level of competition, passing and drama.
The track was a small oval with a tight infield road course, meaning powerful American cars could pull out a lead on the banked turn and main straight, but lighter cars like our Saab could out-brake them and pull away through the tight handling section.
Fortunately, the race doesn't turn into the demolition derby you would expect. Most of this is due to the "stewards," who crack down on bumping and general poor driving with FIA-rivaling ferocity. The penalties, of course, are rather different from F1. For example, one of our drivers bumped another car and both were called off the track, had their legs duct-taped together and were forced to three-legged race their way to the concessions to buy the staff some burgers. And no one complains like an F1 primadonna because they're having too much fun.
On the actual racing front, as you might expect, we did not win. The 900 was a surprisingly fast car, and had no signs of the rampant understeer we had expected. During our first two stints we were in the top half of the field and battling for a class victory (LeMons has three, unscientifically assigned classes: The Good, The Bad, and The Ugly – you can guess our class). After about two hours of racing however, our engine began its slow decline. The hard driving and warm temperatures caused us to lose compression on cylinder 4 and intermittent ignition problems meant our now underpowered, 3-cylinder car was off track more than it was on for the rest of the race.
As you might expect from such an odd race, the leaderboard was faintly absurd. A Honda Civic from Kielbasa Kids Racing smoked the field by a massive 72 laps and even beat out the Miatas, MR2s, and 300ZXs for fastest lap, meanwhile 2nd, 3rd, and 4th went to Alfa Romeos. Go figure.