Speed Secrets: Sometimes Data Makes You Gaga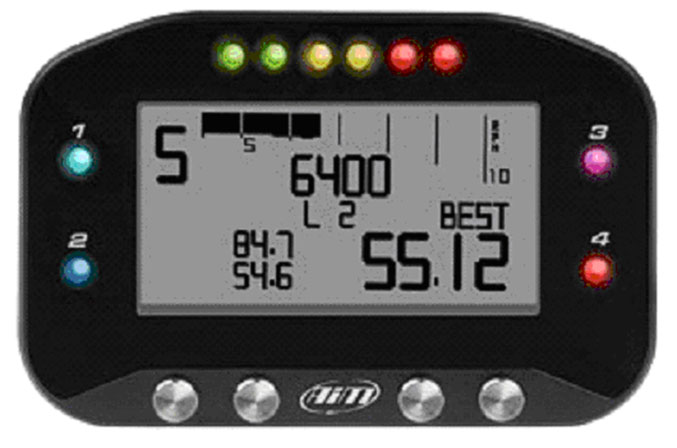 Contrary to some reports, I'm not a confirmed Luddite. Data acquisition and numbers are important. But I've coached a lot of drivers who have become fixated on numbers at the expense of staying connected to their own mental outlook and the feel of their car. I tune the helmet, not the car. I've seen the numbers get in the way.
Brent Gilkes is a mild-mannered man built like a rugby player, but his competitive juices flow freely on track. Early in the 2013 season, he'd gridded 5th and took home a fine 6th place at VIR. Brent hadn't been to Mid-Ohio since 2007, however, and he was realistic about his expectations. In our pre-event phone consult, he said, "I have to say that if there is a track where I am challenged, this is it. Frankly, I'll be pleased if I can get into the top half of the field."
Mid-Ohio is a rollercoaster ride in more ways than one. It seems like a different track every session. Many a racing brain has been blown by the challenging layout and the ever-changing grip levels. I fantasize a giant Smokey the Bear-type billboard with Smokey's arm pointing to a number announcing, "The grip level today at Mid-Ohio is 3. Only you can prevent meltdowns." In a soaking rain, Brent was one of only three drivers who ventured out during the Thursday evening "twilight" practice sessions. For coaching, we had to content ourselves with an extensive walking tour earlier that afternoon and map reviews.
Things got busy among the F2000 Championship Series runners on Friday, but Brent stuck to the game plan: come up to speed in a gradual manner to best put together this Rubik's Cube of a racetrack. He did a great job for his first time back to Mid-Ohio in five years and was 16th fastest of 27 in the first practice session with a 1:27.4.
While some tracks respond to a hairy-chested, blood-and-guts approach, Mid-Ohio requires the discipline of Olympic skaters doing compulsory figures. Push too hard on this low grip surface and you slow down. A super smooth, hyper-disciplined approach is the way to go. Brent stayed with the program in the second practice session on Friday and at the end of the day, he was 12th of 28 with a 1:26.5, fully 0.3 below his personal best here. Now that he was well into the top half of the field, the golden ring of a top ten was within grasp. So was a 1:25 lap. Or so it seemed.
Brent was determined to have a 1:25 pop up on his dash. "I'm certain there's a 1:25 in there." It seemed so close. Trying harder would surely make it happen. But on Saturday, Mid-Ohio had slicked up and slowed down. Instead of six cars below 1:24, there were only three. As Brent pushed harder, he slid the car almost imperceptibly and overheated his tires. His best lap was a 1:28.0, good only for 23rd. When I saw him after the session, he was slumped in a folding chair in his trailer with his suit unzipped, looking like a prize fighter who had just been decked. He was gutted.
Never say die. Brent came off the deck in the race and gained five spots to finish 18th with a best lap of 1:27.1. Not only was the 1:25 nowhere in sight, he couldn't find the handle to get back to the 1:26's. Frustration produced tension and sucked out his confidence and enthusiasm. It seemed impossible to determine what was going wrong. He was focused on the numbers at the expense of feeling the car.
A nice feature of the F2000 Championship Series is that Sunday is a new day, with its own qualifying session and race. I asked Brent to consider taping over the dash for Sunday qualifying in order to get the dreaded numbers out of his face. He could see where I was going, but he wanted to be able to come in early and save his tires if he banked a decent lap. I asked him to come into the pits and sit for a minute or two, mid-session, and he agreed to that.
Conditions for the Sunday morning qualifying session were similar to Saturday morning and about the same number of cars got below 1:26. But Brent was again struggling. He came in mid-session, however, as he'd agreed. And as he sat there in the pits, his dash stopped working. It had to be divine intervention, as I swear I pulled no wires. When he went back out, he ran the best laps he'd run since Friday afternoon and again regained the 1:26 bracket. Data is information, but sometimes the right brain has to drive the car. Feel the tires, go with the flow. Think about results later.
Brent, though battered, survived the siege. "I now understand what it takes to go well at the Keyhole and Carousel, in particular. I'm disappointed with my results but that's down to me. Your notes and discussions were a major help… I'll be back." Racing can be a metaphor for life. You can't push the river. There's a rhythm and a flow, if you are paying attention to what the car is telling you. Brute force and raw desire rarely prevail. Everything comes to he who waits, especially at the Keyhole and the Carousel.
– James Kearney