Speed Secrets: Finding Success In Low-Budget Racing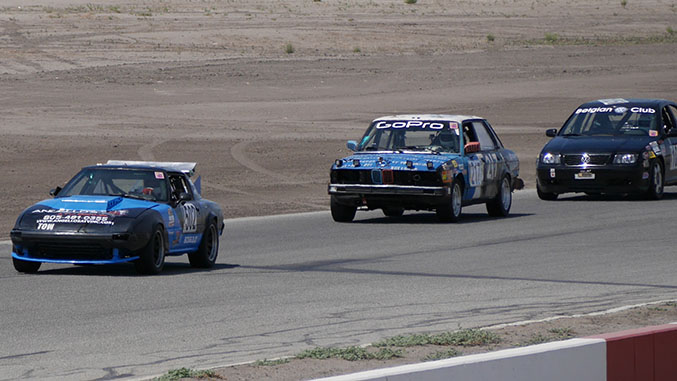 A couple of months ago, Ryan Staub sent me an email to ask if I'd be interested in filling in for a driver on their team at a World Racing League event at Hallett. It would be in their BMW E36, and there would be a 9-hour race on Saturday, and a 7-hour race on Sunday. I thought about it for 1.75 seconds, and replied, "Yes!" Many of you reading this know Ryan, either personally, from his articles here, or because he's responsible for the Lockton Motorsports program. Go to http://locktonmotorsports.com for more information. I've driven for professional race teams who were not as well-run as LMR (they tell me this stands for Last Minute Racing, but I never saw anything being done at the last minute). So I asked Ryan if he'd share some of his secrets for running a great low-budget race team. -Ross
About five years ago, I sold my SCCA Improved Touring racecar. While I had been very successful with the car and had collected a large number of plastic trophies and plaques, there were a few contributing factors that led me to sell my car: a declining number of race entries in my class; growing demands in my business; and planning to have kids. Since my business is directly tied to HPDEs, I knew I would stay involved in that side of the sport, but I also knew that my desire to compete would eventually pull me back to racing.
Over the next four years, I instructed in HPDEs and entered races when opportunities were presented. I've been fortunate to have some opportunities to drive friends' racecars in sprint races and endurance races, plus work with teams doing endurance racing. Having participated in a variety of cars in a variety of different series, I figured out that I had as much fun racing in a budget endurance racing car as I did in a highly-developed touring car. For me, the car doesn't matter that much… it's all about the competition. Combining that with the acknowledgement that I hate working on cars, I promised myself that three things would need to change for racing to make sense during a very busy time in my life:
1. I'd spend more time behind the wheel.
2. I'd compete in a class/series with more competition.
3. I'd spend less time wrenching on cars.
Around this time, about ten close friends had shown an interest in getting into some form of racing. Endurance racing seemed to meet all of the objectives I mentioned above: as a team, each individual spends less time wrenching on the car; I'd get significantly more seat time in endurance racing; and most endurance series tend to have big fields with lots of competition.
Fortunately, I've learned a lot through direct and indirect experiences that helped me form a team: one with a culture that gave us an opportunity to win, eliminated a lot of the stress that comes with racing, and brought the opportunity to have a lot of fun while doing it. If you're considering participating in endurance racing with a team, here are some of the most important factors that can lead to success and fun:
Building the team: It's critical to have a group of people that have a common goal, get along well, and have complementary skills. Everyone needs to be able to contribute in their own way, and the team needs to make decisions as a group. Our team has five equity owners and a sweat equity team member. The sweat equity guy does the majority of the car and event prep work, one guy handles all the money, another guy handles logistics, and the rest tend to do the heavy lifting at events.
When it works right: The team is efficient in preparing for events, agreeing on the work that needs to be done to the car, the objectives and strategy for the race, and more. This leads to more success and more fun.
When it doesn't work well: The team can't agree on anything, all preparation for entry to an event is delayed to the last minute, one or a few individuals do all of the work, etc. These teams seem to have a revolving door for drivers and rarely have success.
Car Prep: While some teams seem to almost enjoy the rush of getting the car ready at the last minute, I think it's critical to enter a race weekend with a focus on racing…not preparing the car to race.
When it works right: The team shows up with a car that is ready to pull off the trailer and go straight to tech/grid/pit lane. Weak points in the car are maintained which results in fewer DNFs, unscheduled pit stops, or extended pit stops to make repairs.
When it doesn't work well: The team works on the car until 3 a.m. the night before the race, they are the last car to tech/grid/pit lane, their car often DNFs, and long pit stops are required to fix issues. As a result, drivers are tired and don't reach their full potential on track.
Strategy: It's amazing to see the polar extremes when it comes to pit stops in endurance racing. Many teams casually walk between adding jugs of fuel to the car, while other teams sprint and have less than five seconds of downtime between fuel jugs. Teams should also consider driver order, fuel consumption/timing, number of pit stops, plans for opportunistic pitting (full-course yellow), and driver change efficiency.
When it works well: A well-developed plan is executed perfectly to give the team its best shot at winning.
When it doesn't work well: Time and opportunities are wasted. Slow pit stops, unplanned pit stops, slow driver changes, and missed opportunistic pit stops all lead to time that must be made up on the track. For me, it's a lot easier to shave off seconds in the pits than it is on the track.
My team purchased a car in February to compete in the World Racing League (thanks to Joey Todd for creating a great racing culture and simple rulebook!), had our first race in May, and some great finishes for a first year team: three 1st place finishes and two 3rd place finishes. Our car shouldn't have finished that well (150 lbs. overweight and a 250k-mile engine), but we came to every race with a common objective, pulled a race-ready car off the trailer, and developed and executed our pit strategy well.
Racers often spend so much time focusing on making the car or the driver faster that they miss huge opportunities that can improve their success. Regardless of the type of racing you compete in, surrounding yourself with the right people, preparing in advance so you can focus on the race, and developing and executing a race plan all contribute to improving your chance of finishing on the top step of the podium.
​
– Ryan Staub