Preview: 2016 Lamborghini Huracán LP 580-2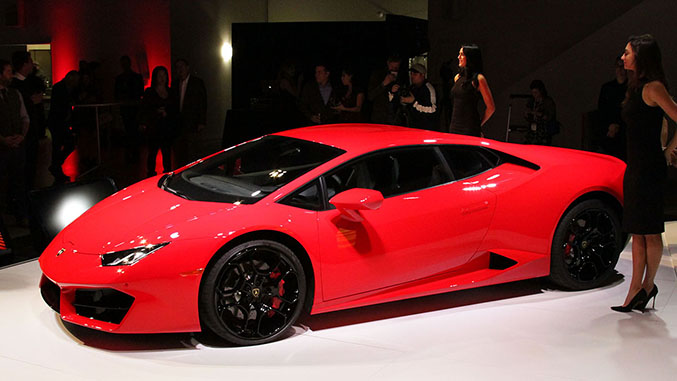 Lamborghini is on their way toward a record sales year, and to say that the Huracán LP 610-4 has been a success for the Italian automaker would be a massive understatement. Compared to the debut of the Gallardo – a car that Lamborghini has sold more of than all other models in the company's history combined – Lamborghini has sold nearly twice as many LP 610-4 models in the first 16 months it has been on sale (3169 Huracáns versus 1751 Gallardos).
Taking this under consideration, it would be understandable for the automaker to not want to mess with a good thing. But Lamborghini isn't a company that likes to rest on its laurels, and as such, they've just unveiled a new variant of the Huracán: The LP 580-2, a model which promises even more thrilling driving dynamics while also cutting a sizable chunk out of the price tag in the process.
Among the numerous reasons to like Lamborghini is their modern nomenclature. Unlike the alphabet soup that most manufacturers use to designate their models – which often have nothing to do with the particulars of the car – Lamborghini's designations actually mean something worthwhile. So when the Italian supercar maker unveiled the LP 580-2 last night in Culver City, California, we knew a few vital statistics before the presentation even began, as the "580" denotes that this new Huracán model generates 580 (or 571 in American measurement) horsepower and 398 pound-feet of torque from its naturally aspirated 5.2-liter V10, while the "2" signifies that power is sent exclusively to the rear wheels in this new model, making this something of a purists' special.
"The Lamborghini Huracán LP 580-2 continues the Lamborghini tradition of pure, visionary and technology-driven models," says Stephan Winkelmann, President and CEO of Automobili Lamborghini. "The rear-wheel drive model fits perfectly into our Huracán family, appealing to those wanting an even more intense driving experience, or who currently drive other rear-wheel drive marques and aspire to driving a Lamborghini. This is the purest expression of a Lamborghini to date, with class-leading technological refinements. It is a serious car for serious drivers: it is maximum driving fun."
Without the extra mechanical bits and pieces required to send the power to all four corners, the LP 580-2 drops some weight compared to its all-wheel drive brethren. Dry weight now stands at a paltry 3062 pounds, down some 73 pounds from the AWD coupe. Weight distribution shifts further back in the car, and now sports a 40% front and 60% rear weight bias. Dropping weight up front also benefits handling by reducing inertia on the front axle, which in turn should make this model less prone to understeer and far happier to dish out the tail happy shenanigans that are typical of high horsepower, rear wheel drive sports cars.
To help bolster that behavior without turning the new model into an unruly beast at speed, a stiffer suspension setup – which boasts a 50 percent improvement in rigidity compared to the Gallardo LP 550-2 – along with recalibrated steering and revised stability and traction control algorithms are along for the ride as well. Speaking of electronic aids, Lamborghini also says the car's three driving modes – Strada, Sport and Corsa – are "tuned to provide oversteering characteristics, emphasizing authentic rear-wheel drive behavior." Potential owners, you'd best bring your A-game behind the wheel of one of these.
Also distinguishing the new RWD Huracán from the LP 610-4 is the presence of steel brakes with aluminum calipers rather than the pricier and less street-friendly carbon ceramic stoppers found on the latter. Similar to Audi's wave brakes, the LP 580-2's rotors have been specially contoured for weight reduction and improved cooling.
One area which does not see any changes, however, is the gearbox – the seven speed dual clutch found on the LP 610-4 will remain the Huracán's sole transmission offering, dashing any manual devotees' hopes of rowing their own gears in a new Lamborghini. Sources close to automaker have stated that the last time Lamborghini offered a third pedal in one of their models, the take rate was so low that the factory would actually call customers to verify it wasn't a mistake. So it's somewhat understandable that they'd opt not to put so much development effort into a gearbox that few, if any, would choose.
The LP 580-2's changes aren't just mechanical though. Visually, both the front and rear ends of the car are revised with perhaps even more aggressive styling than the LP 610-4. The new front air intakes are designed specifically to direct incoming air not only for cooling purposes but to increase downward pressure on the front axle as well, while the spoiler lip at the rear works together with the diffuser to improve airflow around the rear of the car. The newest bull in the stable also sits on unique 19" Kari rims wrapped in Pirelli PZero rubber.
Taken as a whole, the purpose of the LP 580-2 has less to do with performance statics than it does with enhancing the driving experience, so its quoted 0-62 mph time of 3.4 seconds, along with its 199 mile per hour top speed – both figures which Winkelmann was quick to point out are conservative – are .2 seconds and 3 mph slower than the LP 610-4, respectively. But perhaps it's best to shelve the bragging rights with this new model and instead measure its worth by how big of a smile it can generate out on the road.
That smile will likely continue on the way out of the bank for LP 580-2 customers as well, as the new model has been confirmed at €150,000 plus tax in Europe, a price drop of €53,000 versus the LP 610-4, putting this car toe to toe with the likes of the new McLaren 570S. Pricing in the U.S. has not been announced as of yet, but a similar reduction versus the AWD model is certainly a reasonable expectation. Itching to get behind the wheel of one? Lamborghini says the new LP 580-2 is available at their dealerships as of today.