Speed Secrets: Adapting To Sudden Changes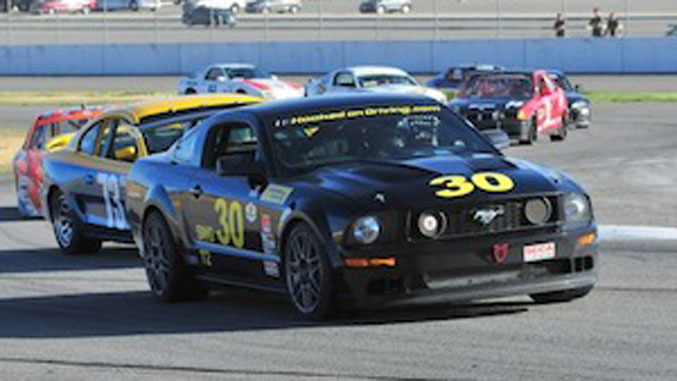 Every now and then someone contacts us wanting to submit an article, or just sends us one. And when they're entertaining and educational (and well-written), we love to run them. Marlon Cook, who is a SCCA/NASA amateur racer from Texas did just that – sent us a fun article with, what I think, is a very important message. And based on what he writes, and the information he's shared with me, Marlon must be a pretty darn good driver. -Ross
I race at Motor Sport Ranch Houston near Angleton, Texas. This track has a rather unique feature in the racing world in that there are track turtles present.
These track turtles aren't rounded mounds of heavier land asphalt that are often present on tracks, but are actual turtles that live in a series of ponds located on the racetrack property. The turtles move from one pond to another rather frequently, probably in search of food, or to find a pond that hasn't dried up.
Interestingly enough, the turtles often seem to want to migrate in the middle of a race or HPDE. It's almost as if the turtles want to join in the event with racers and cars.
The turtles primarily appear on the back straight at MSR Houston. They cross the track after a rather difficult turn called Diamond's Edge.
Diamond's Edge seems to have fifty-eight "facets" of race lines through it. A driver has to practice polishing his line and be willing to try different facets, but the line keeps changing, based on gravel and track debris being moved around by cars choosing alternative racing lines. A driver has to keep polishing away at the turn in order to a get a good entry onto the straight.
The back straight leads to a left dogleg which, when done correctly, becomes just more straight, and then ends at a low speed turn called the Bus Stop.
A driver needs to "polish the diamond," get good entry speed for the straight, navigate the dogleg turn at speed, and then brake hard for the "stopped buses," if he wants a good lap time. Then suddenly, almost mysteriously, there is the appearance of a track turtle.
A driver has to adapt to the changing condition, pay attention to his racing colleagues – who now seem to include turtles – avoid the slow crawling debris (at least), alter his line, avoid contact, and maintain control.
Some drivers get outraged at the appearance of the turtles, and seem to lose it. They can't adapt, and get shaken up.
Some racers want to poison the turtles. Most drivers feel the turtles belong here more than we do. The turtles are such dedicated racing enthusiasts that they live at the track, and never leave.
The track owners have caught and moved the turtles as far away as seven miles, only to discover the turtles return weeks later. I'm not sure how they determine that it is the exact same turtle, unless they are assigning and affixing permanent numbers to the turtles. We joke that the turtles may just grid up when the track is not been used during the week!
We surmise that perhaps these turtles are reincarnated race drivers who were just a little too fast, aggressive, or cheated on "spec" racing rules in their last life, and are doing a little slow-paced penance in this life as track turtles. So we accept the track turtles as a component of racing at this particular track.
Although the flag marshals don't, racers consider hitting a track turtle to be almost a black flag event. After all, if you can't safely pass a turtle with a max speed of 2.4 mph, then how can I expect you to safely pass me at a buck twenty?
If a racer is so focused on his driving line, so aggressive and so unwilling to alter it, and risk hitting and throwing a 1-2 pound turtle into the other cars behind him, then do I really want to race with the guy wheel-to-wheel? If he won't give the turtle six inches, then will he give me the track space that I made need for a safe pass?
Changing the line by one car-width isn't going to affect lap times on a long straight by much, so there isn't any reason not to give the turtle some room.
A debris flag normally gets flown for a track turtle. A driver who isn't aware of the appearance of track turtles also likely missed a flag. Missing a flag is missing a flag, and do you want to race with drivers who miss flags?
Of course, the turtles don't make it all the way across in a single lap, so a driver has to remember where the turtle appeared, and try to calculate the turtle progress lap-by-lap. Track debris can move around on the track, so the driver has to have keen eyesight and an adequate field of view to pick up on the new location. Then again, the turtle may just turtle up, and stay in the same location lap after lap. A driver can't just forget on the next lap that debris exists.
Of course, not all turtles make it and there are turtle deaths, although no reliable statistics are kept.
No driver injuries, or major car damage have occurred from turtle incidents. A turtle isn't really a major track safety hazard, as compared to race car debris, or oil spillage.
However, as stated before, some racers consider hitting a track turtle as almost a black flag event, and although there isn't an official race inquiry by racing authorities, the drivers will investigate on their own.
"You hit a turtle."
"Yes, I know I hit the turtle, but I swear, I gave the turtle plenty of room, and at the last minute he moved under my car, and there was nothing I could do."
The response is appropriate, and is recorded as a racing incident in the minds of his fellow racers.
Still it isn't favorable for the racer's reputation, when someone says, "He hit a turtle once."
Of course, an inappropriate response is: "What turtle?" The guy just isn't playing attention, and is too single-minded to be safe.
Worse yet is "Screw the turtle." At the least, the guy is a butthead who forces the rest of us to wash turtle parts from our undercarriages, and risk throwing the turtle into the windshield of another car. It definitely doesn't help one's reputation, if they are a remorseless turtle killer.
Animals on the track aren't unusual. I recently watched a televised race where a coyote ran across the track. A racetrack in Canada regularly had deer crossing (and a flag station named Deer's Leap). The Detroit Indy car race hosts the occasional family of ducks. This September, at the Singapore Formula 1 Grand Prix, a man wandered onto the track. Sebastian Vettel calmly made the call, "There's a man on the track." Sebastian was going 200 mph, and he didn't sound at all shaken.
No matter what, a driver has to adapt to changing track conditions. Some track changes are predictable, and others are not.
Most tracks have at least some predictable changes such as wet weather handling, oil spillage, debris, and of course at MSR Houston, the appearance of track turtles.
Racers have to adapt. Racers' attitudes are important in their adaption. And of course, sometimes, it helps to have a little sense of humor.