Competing in the MX-5 Global Cup: First Impressions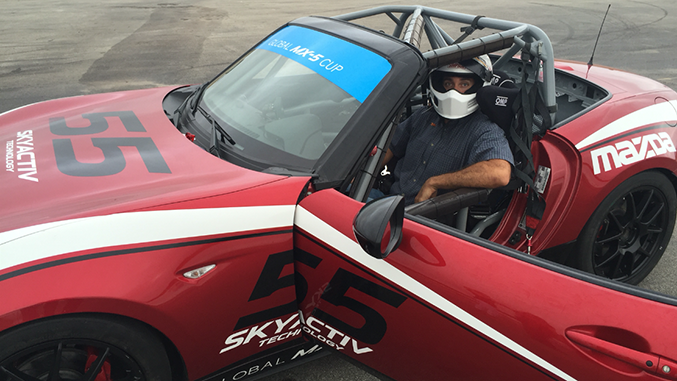 Join us in welcoming the newest member of the Winding Road Racing team, Corey Rueth. Corey is responsible for the Driver Development Program for Winding Road Racing's 2016 MX-5 Arrive and Drive team and races for WRR as well. He's also a national and regional champion of NASA Spec Iron. He was pole winner, and secured second in class, in the Mazda Race of NASA Champions run in NC generation MX-5 Cup cars. Along with being an avid racer, Corey is also a driving coach & jet pilot. -ed
Harris Hill Road and Mazda invited us to drive and help out for a Mazda Corporate event. The cars for this event showed up the day before, so I was present for their arrival and thrilled to see two brand new MX-5 Club editions, the Mazda 6 pace car from Mazda Raceway, the Mazda 6 Skyactive diesel race car and the reason that I was there, the 2016 MX-5 Global Cup car. I gravitated right to the Cup car since Winding Road Racing has one on order for me, and I guess I am still a little anxious since this is the first car that I have ever purchased without a test drive.
This is a prototype test mule so it wasn't meant for public scrutiny, but I climbed into the car as soon as it was unloaded to get a first-hand feel and was very happy with the overall size and fit of the cockpit and general layout. The pedals were well placed, the steering wheel (which tilted) felt good in my hands and the integration of driver to machine felt like a hybrid between a new performance street car and a serious race car. The cage was well built with strategic engineering and design elements to help it get through its crash testing later this year. As you know, most race cars are not crash tested, but Mazda has decided to see what they can learn by destroying this beautiful machine in the name of safety for the racers. As a racer and a family man, I am deeply grateful to Mazda for taking these non-mandatory steps.
The following day was rainy and dreary in San Marcos Texas at Harris Hill Road Raceway, but it takes more than a torrential storm to keep me away from spending the day with Mazda and the new 2016 MX-5 Cup car. Our local Mazda guru David Johnson and Matt Brogan, Technical Director at Long Racing, met me at 8 am sharp and made it clear that this Cup car could not be damaged or heads were going to roll. Apparently of the three Cup cars built so far, this lucky #55 was the only one remaining in the Americas – and only one of two that is still in one piece.
Matt graciously gave me his blessing to run the car around H2R to warm it up and get my impressions. At this moment I turned to my friend Will Faules, owner of NASA Texas, and asked him to remind me that nobody would remember if I was fast in this car, but they would never forget if I wrecked it. The track was initially dry and I ran several laps at 50% in order to coax all the fluids up to temperature before I indulged in any "full tilt boogie".
As I began to pin her ears back, I immediately discovered gobs of power under the torque curve that was available at anything above 4000 RPM with peak torque around 6500 RPM, with a seamless soft touch rev limiter at 6800 RPM. The other obvious attribute of this global star is the shear absence of weight at a bantam 2100 pounds. This was the most refreshing quality of the car in an age where performance and racing cars can nearly weigh twice this much.
I began to test the limits of my new friend through the twists and turns of this beautiful Harris Hill Road Raceway and I was astonished to feel these dampers absorbed bumps like a stadium truck, yet somehow managed to provide adequate support with minimal body roll. There is nothing to report about the driver interfaces, everything is supremely responsive from the electric steering to the transmission shifter and even the pedal feel.
Some may complain that there is too much power assist in the steering but I disagree and contend that it allows me to have a softer grip on the wheel and feel more connected to the tires. This vehicle is very forgiving and balanced and it almost begs you to push harder and brake later at every turn. I found myself nearly over-correcting during trail braking because the car was so planted in the rear and so quick to return to center from an oversteer condition. The car turned in well and never washed out even with aggressive throttle and steering inputs. I was very happy with the confidence that the car gave me in all phases of the corner with various different pedal and steering inputs.
Coming from a Mustang in Spec Iron, I felt compelled to triangulate my opinion and I spent the day discussing the car with some very talented drivers. I received similar reports from all of them. Andy Hollis, thirteen-time Solo National Champ, commented that the new Cup car was "Super stable, with a large range of suspension travel, yet very balanced. Easy to transition from under to oversteer in steady state by moving weight around with minor throttle changes. Limited slip works well with very smooth engagement." John Babot, a Spec Miata racer said "The car looked great. Build quality was obviously top-shelf, with an equally impressive telemetry package.
The car felt neutral and well balanced, as I rolled more throttle, the car stayed planted and even. The car transitioned better than expected. What little push I did induce was quickly rectified with a slight breath off the throttle." We were lucky enough to get to test both the street version and the Global Cup Car in the same day. Will Faules agreed "the perfection of the street car shows through to the global Cup car with the additions that Mazda and Long Road Racing have made to make this an incredibly fun car to drive." In summary, I would describe the car as balanced, stable and responsive.
As a life-long racer I have often marveled at the passion that Mazda cultivates for grass-roots racing and a dedication to racing development that elevates us all. I am beyond words in my excitement about racing this brilliant machine next year in the Global MX-5 Cup.
There is so much unfolding daily as we all learn about this new series and the idea of being able to race a truly spec race car across the globe is a first, as far as I know. I look forward to seeing how many of us cross the pond, back and forth, to drive against and learn from some of the best talent in the world in a machine that leaves the sport to driver ability.