Speed Secrets: 20 Questions About Driver Coaching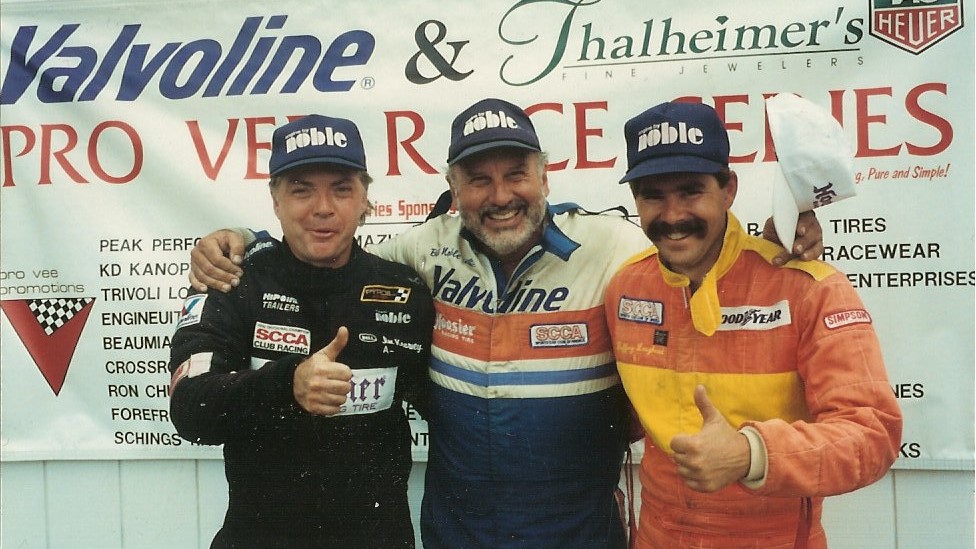 At the 2019 SCCA Runoffs at VIR, Tim Minor added a Formula Continental National Championship to his two Formula Race Promotions F2000 Championships. Tim returns to VIR for the 2022 Runoffs wars with testing to begin September 24. Does he need a coach?  Jim and I had an email exchange about what coaches do for drivers, and that led to him answering twenty questions about coaching.
Who needs a driver coach?
A lot of people confuse the term driver coach with a driving instructor who teaches you the basics. From that point on, if you want to improve, a coach can help you make progress. High-performance driving requires a very developed skill set and even seasoned talents need to keep sharp to excel. I was coaching at Virginia International Raceway at the 2019 SCCA Runoffs when a competitor asked who I was working for. When I answered, he exclaimed, "Tim Minor needs a coach?" Tim had been racing for 31 years, but he was not above using a coach. Minor recently said, "I'm looking for every tenth I can get, and I want it to be repeatable and reliable. I compete in high pressure events and the sheer length of the Runoffs makes it hard to stay fresh. Having a game plan for every session and a consistent debrief process keeps me focused."
What makes a driver coach so smart they can tell other people how to drive?
This is the biggest disconnect in understanding the coach's role. Coaches don't tell the driver how to drive, rather they initiate conversations that enable them to figure things out. The coaching process is more about helping the client sift through their experiences, be it the prior session or issues from the past. Most of the learning comes from the driver putting pieces of the puzzle together with the support and guidance of the coach.
How good do you have to get before it makes sense to consult a coach?
Some people say they are not sure they are "ready" for coaching. Budget will always be an issue, but the sooner you develop good habits and a consistent review process, the more likely it is that you will make progress. A coach can show you a process of self-evaluation that can save you from frustration and reduce your chances of self-inflicted crash damage.
Sometimes this notion masks a concern that you will be judged poorly by your coach because you are not already further along. Coaches are focused upon helping you improve, not rendering judgment on you. Everybody is starting from where they currently are. "Focus forward," is the coach's refrain.
Speaking of judgement, how important is it that I stay positive?
For as much fun as it is, a lot of drivers seem miserable. Competitors are never satisfied and while that eternal hunger can be a great motivator, it can be overdone. The driver who always gets out of the car dissatisfied with their performance creates an uphill struggle. F1 Champ Keke Rosberg said, "A happy man always performs better than an unhappy man." You need to savor any gains you make. Sometimes I'll remind people that they are one of the very few people on the planet who actually gets to drive a racecar. Everybody performs better when they are in a good mood.
How do I best stay upbeat?
Set reasonable goals. If part of your brain feels that you are stretching for is a great leap, you will feel extra pressure. The coach will encourage a driver to reach for gains, but it goes better when the driver believes that the target is achievable. The driver who makes a small gain and understands precisely where it came from, owns that gain. They are also more likely to feel energized and confident, leading to look for more gains.
If I work with a coach to go faster, won't I risk wrecking the car? I feel like I'm at my limit now.
Coaches strive to have their clients progress in a safe and consistent manner. You may feel like you are currently on the limit, but another set of informed eyes may help you assess that more accurately. Some drivers are trying too hard and are far too busy in the cockpit, constantly trying to save the car. A less urgent approach may seem counterintuitive, but often a more measured, smooth approach yields lap times that are both faster, more consistent, and safer.
What can you expect from a driver coach?
One-on-one driver coaching is a customized approach to helping one driver: you. A coach will listen closely to your goals and help you come up with a plan tailored to your particular circumstances. I have no agenda but to make you go better. I usually start on whatever aspects the driver identifies as their area of interest. If it makes their to-do list, that means they are ready to work on that area.
What Can You Ask a Driver Coach?
There are no dumb questions. If it is on your mind, chances are great that it will affect your performance. Technique is important, but it is not everything. Simply discussing issues can go a long way towards diffusing them. A driver once confided in me that he "got so nervous before qualifying." When I told him that virtually everyone is similarly affected, he relaxed and delivered a remarkable personal best. Everybody is different, but it is simply human to feel some anxiety before a performance that you care about. I told him that if I saw a boxer looking very relaxed before a match, the chances were good that he was going down! Laughter can be a great tool at these times. Think of your nerves as part of your brain and body that are helping you get ready for the challenge.
What is the biggest benefit of hiring a driver coach?
You will gain perspective. You can race or drive track days for a long time and enjoy the experience, but chances are there are some areas that you are not maximizing. You may be leaving a lot on the table in threshold braking, for example. High speed turns and blind brows can intimidate anyone. Racing in the rain is another skill set that some drivers are quite cautious about exploring. A coach can come up with a step-by-step approach to help you to carefully explore these areas.
How can I best recall what was happening on track? Sometimes I'm confused whether my car is the problem, or did I just drive it wrong?
Welcome to the world of analysis. If you can't remember what happened how can you assess your performance? An essential job of the coach is to aid the driver in the recollection process. Many drivers get out of the car and talk excitedly with crew or fellow participants. Jotting your notes on a track map or debrief sheet before you look at video or data is critical. You need to fairly assess your performance. Simply comparing lap times with other competitors does not get the job done. If your chassis/motor/tires are not up to par, your judgment about your driving may be quite inaccurate.
How much can I expect to gain?
Some people make significant progress in just a few sessions while others go about it more conservatively. Everyone thinks differently and everyone learns differently. How much experience the driver has is just one consideration. It is best to think about it as taking the first step on a journey. Managing expectations is an important component. If it truly takes the proverbial 10,000 hours to fully craft a skill, no one is going to master these skills overnight. The real questions are where are you going, how will you get there, and can you learn to enjoy the ride?
Should I set specific time goals? 
Yes, provided the goals are reasonable. The favorable impact on the psyche of reaching a reasonable goal is not to be underestimated. Steady, thoughtful steps are both more likely to yield safe increases in speed, as well as gains that are genuinely understood. It is important to keep abreast of track conditions so you judge your lap times fairly. Depending on the grip level, Mid-Ohio can vary by three seconds per lap or more.
How much do I need to tell the coach about myself?
The more a coach knows about what is going on in your helmet, the better they can work with you. But everyone has very different comfort levels of revealing themselves. Before a trust relationship is established, the driver may only want to talk about basic technique.
How much will a coach keep confidential?
Coaching is a very private thing and the best debrief conversations are one-on-one. It is reasonable to expect that all information be kept confidential. Most coaches will make a point of assuring their drivers that unless they specifically authorize any sharing of discussions, complete confidentiality is to be expected.
Can a driver coach help you with focus? I feel like I sometimes lose my train of thought.
A simple discussion can minimize this distraction. A short trigger phrase like "back to business" can be helpful. Everyone loses focus from time to time; the trick is to snatch it back quickly. Having a trigger phrase handy also seems to lessen the likelihood of the problem even occurring.
Give me an example of a common driving error that I may not be aware of.
Lack of soft hands is a common club racer mistake. If your hands, arms, and shoulders are stiff after a session, you are holding on too tight. I suggest these drivers think about their hands every lap at start/finish until they break the habit. If your hands are tight, then your arms are tight, delivering a stiff, abrupt steering input. Think about the four small, fleshy rubber patches that connect you to the track. When you attempt to make a speed increase on the entry of that fast turn that scares you, you want to be super smooth. A coach can help you be more aware of your body tension.
I've always been mid-pack and it almost seems where I belong. How can a coach help with that? 
Many drivers enjoy participating in races and track days without feeling the need to top the charts. Over time, however, most wonder if they can be faster, qualify a little better or race a little more competitively. A driver coach can help you institute a process to set simple goals and measure your success. You never know how far you can go, but you'll never find out unless you try something different. It is a coach's delight to watch a driver steadily move up in the pack.
How long does it take for a driver coach to help you?
Some issues can be addressed quickly. For example, Summit Point has two high speed, blind corners where many drivers turn in too early. Reference points can help establish a later turn-in point, lessening the chance of running out of track on exit. With the later turn in, you need to apply more steering input. Sometimes, this change can be addressed successfully in just a few sessions, while others take more time. As they make these changes, it is important to remain smooth. A driver I worked with recently made the turn-in adjustment, but then was too abrupt with his steering input. Just using the trigger phrase "roll in" slowed down his initial steering input and completed the new approach.
Is talking about mental preparation a sign of weakness?
Did A.J. or Parnelli worry about this stuff? Maybe if you are racing every week or are just as hard boiled as those two greats, you don't have to think about mental preparation. But as Indy Car Champ Simon Pagenaud said, "You can make fun of mental preparation all you want but if you are not using it, you should know that your competitors are." The goal behind discussing mental preparation is simply to enter the event and each session with a calm and confident mindset. A racetrack paddock is full of possible distractions. Keep the spotlight on your car and your program.
What happened to the idea that racing was to be fun? This all sounds like a lot of work.
We've all heard stories of the endless debrief and how you need to spend every evening hunched over a laptop. But a five to ten minute review session doing a track map or debrief sheet is within the reach of even the most harried club racer. In addition, a quick look at video, segment times, and/or basic data traces can answer questions and lead to concrete gains. High performance driving is fun, but itʻs even better when you are making gains.
– Jim Kearney, Kearney Driver Development
Finish the story here!