Spec MX-5 v2 Racer Announced With More Power, New Suspension, More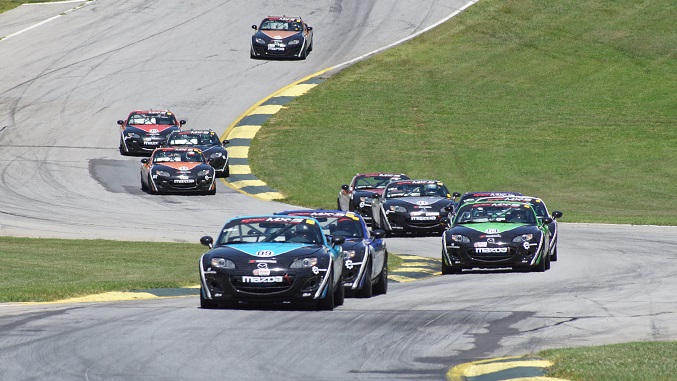 Along with a host of other industry partners, we're proud to announce that the NC-chassis-based Spec MX-5 specifications have been officially announced by Mazda Motorsports and Spec MX-5 LLC. This new car has been in development since mid-2018. A lot of careful planning, time, and testing has gone into passing the torch on to the NC to help it reach the goal of becoming one of the most-raced chassis in club racing. We're quite excited to see how 2020 unfolds, and with numbers growing next year through new car builds discussed below. There is also exciting news coming for the supporting series and events, with more races, more kinds of events, new ways to participate and more prize money. We look forward to seeing the Spec MX-5 raced a lot in various NASA, ChampCar, SCCA, AER, and WRL classes.
Highlights:
• True Spec: updated car with CNC cylinder head, domed pistons, anti-hack ECU and easy tech inspection
• More Power: updated car will run in NASA ST5 (SCCA tbd) at 2500 lb, which indicates about 165-170 wheel hp
• Affordable: required parts from Mazda cost about $12k, with donors in the $5k-$6k range
• Fun to Drive: the v1 car is about 5 sec a lap faster than SM at big tracks like COTA and Road America, so v2 should shave another few seconds
• Strong Support: national championship, significant prize money, regional series, special guest drivers and experienced race shops
Mazda's release:
August 21, 2019 (IRVINE, Calif.) – Building upon the success of the Mazda Miata MX-5 in club racing throughout North America, Mazda Motorsports today unveiled Spec MX-5.
Designed as an affordable, reliable, tech-able and fun-to-drive option for club racers, Spec MX-5 will establish a nationwide ruleset and spec parts list for the 2006-2015 chassis Mazda Miata MX-5. While the car will be classified into NASA (ST5) and SCCA club racing, Mazda and Winding Road Racing are creating a spec series to compete at select, marquee events in 2020, culminating with what is expected to be the largest prize pool a club racing series will offer in 2020. Spec MX-5 has already been classified in other series including American Endurance Racing, ChampCar and the World Racing League.
Key features of Spec MX-5 include:
A high level of performance by utilizing a spec cylinder head by Roush, adjustable Penske Racing shocks, ABS braking and a curb weight of 2500lbs.
Cost and performance controls with numerous spec components including an ECU flash, Penske Racing shocks, Pagid brake pads and Toyo tires
A Spec MX-5 test vehicle built by Mazda Motorsports and driven by Andrew Carbonell and Tom Long began development in 2018, completed successful tests at Carolina Motorsports Park and Virginia International Raceway last week.
"Mazda Motorsports has always strived to provide a high level of support and value for its club racers," said David Cook, Manager, Mazda Motorsports Business Development. "Spec MX-5 provides an opportunity for us to put into place many of the lessons we have learned with our other successful classes, including Spec Miata, and provide a vehicle that has a different window of performance. Much like the first and second generation Mazda Miata, the third-generation Mazda Miata provides an excellent foundation for a club race car and we've sought to create a package that will fulfill the four pillars of affordable, reliable, tech-able and fun-to-drive."
Mazda Motorsports and the companies providing support to Spec MX-5 have committed additional support in the form of reduced pricing for racers purchasing Spec MX-5 parts kits and enhanced contingency awards.
Additional information and pricing will be available at SpecMX-5.com.
Also, more information on Spec MX-5 racing and the Spec MX-5 Series in 2020 can be found at Specmx-5.com.