The Guide to Road Racing: HPDE And Track Days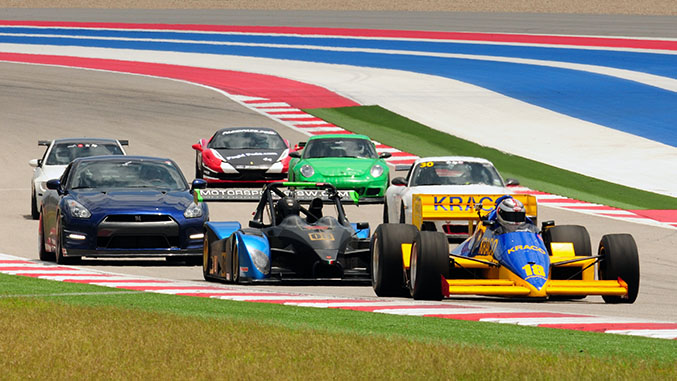 In this installment of The Guide we'll take a look at track days, which are perhaps the easiest and possibly most common – along with Autocross — entry point to road racing. Sometimes these events are called "HPDE" which stands for High Performance Driver Education. A little more emphasis in HPDE is placed on having instructors, but the terms are used interchangeably by many people.
For many drivers track days are a kind of sport unto themselves — something you can do and enjoy for a lifetime without any need to go "further".
As a refresher, we attended a weekend track day held by Edge Addicts at Circuit of the Americas, both to participate and to interview drivers and instructors to get a broader perspective.
What Is A Track Day?
A track day is an organized event where people can drive their cars on a road-racing track at speed. While there are differences depending on location and organizer, the following generally apply:
The event is held on a weekend (Saturday, Sunday and maybe Friday)
The event is held at an established road racing circuit (Watkins Glen, VIR, Road America, Buttonwillow, Laguna Seca, etc.)
Street cars and race cars are welcome (check with the organzier to be sure on the rules (e.g. open wheel cars)
Drivers are organized into groups depending on skill and experience (and sometimes car type)
One group is allowed on track at a time for a "session"
When the first group finishes its session, the next group goes out
Sessions last for 15-30 minutes
There are four or five sessions per day per group
Cars can go as fast as they want to (these are not "parade" laps)
Passing rules vary by group. For example, lower groups may have passing with point-bys on straights only; higher groups may have passing anywhere with a point-by or there may be open passing
Flagging rules apply (green, blue, yellow, red, checker etc.)
Instructors may be provided or available for a fee
Why Should I Consider Participation In A Track Day?
Basically, there are three reasons:
Fun
Practice
Learning
If you haven't had a high-performance car out on a racetrack before, the experience is often an interesting mix of daunting and thrilling. The daunting part usually comes on Saturday morning, while you figure out which way the track turns, what the line is and where to brake. The thrilling part lasts from about Saturday afternoon through Sunday, as you inch your way up whatever learning curve you are on. Almost everyone we talked to on Sunday was pumped up about how much better they were on Sunday than on Saturday. You start to realize that Edge Addicts is appropriately named.
Lots of drivers enjoy track days because they get the thrill of driving a major race track. Circuit Of The Americas, for example, is the track where the United States Grand Prix takes place. If you're an F1 fan, it is kind of cool to roll down the same pit lane that was recently the scene of 2.7 sec pit stops. Track days are available at almost all the historic road racing tracks in the US.
If you have been on a track before, you know what we're talking about, so chances are you want to go back. Maybe you want to try a different track. Or maybe you really like a certain track, but you don't get to run there very often. Either way, exploring your limits and your car's limits is fun.
Most track days also have a substantial (20-25%) group of people who are there to test or practice. Of course, in a sense everyone is practicing his or her skills. But by practice we mean that you might want to do a track day if you have a race coming up at a track and the track day is the most convenient time (or only time) to run laps there before your event. You might also be at a point in your learning where you have two or three skills you want to practice. COTA, for example, offers opportunities to practice high-speed braking, line selection in compound curves, and running the limit in a carousel, among others.
You might also have a car you've recently built or modified, and you need real track conditions to dial-in your setup or simply confirm that everything works properly. We recently switched tire manufacturers on one of our cars, and wish we had done a test day before racing it the first time, because we found that the new tires, even though the same size as we used previously, rubbed in certain corners.
What Car Do I Need?
Most track day participants run their street cars. For example, at the Edge Addicts event that we did we would say that 90% of the cars were street cars. You simply drive what you drove to the track.
There are a few constraints, so you want to confirm with the track day operators that your car is appropriate. First off, you must pass a technical inspection. The main elements of this are tire/wheel condition, pressures and mechanical integrity. To be clear, your car does not need racing equipment like a cage, harness, fire extinguisher, tow hooks, kill switch, window net or racing seat. However, if you have a convertible, an added roll bar may be required, though the OEM version on some cars will suffice.
Second, many track day operators will not allow tall vehicles on track. This prevents trucks and minivans from participating, though having been on track at speed in a minivan we would recommend against it anyway.
Finally, if you have a really slow car, you should check with the operators of the event. While we could technically argue that, especially in a beginner group, it doesn't matter what car you drive, realistically the organizers have to worry about closing speeds a little bit and it simply may not be safe to put your Prius or Smart ForTwo on track with a GT3 RS (that probably won't happen for other reasons, but you can understand the point).
That said, your car does not need to be fast. Yes, at the COTA track day we did there were McLarens, Ferrari 458s, 911 GT3s, Vipers and the like. But there were also MX-5s and EVOs and S2000s, with most track days being a little more tilted in this direction. You can choose an appropriate run group (see below) for your car. Not only that, you may be surprised at how many drivers of heavy metal aren't that much faster than you are. And you'll definitely remember the moment where you slingshot a Z06 coming out of the esses in your Miata (we've done it).
What If I Don't Have The Right Car Or The Event Is Distant?
Generally this is not a problem because you can rent a car. While we've seen people show up at track days in Hertz or Avis rental cars, we think the best option is often to rent a race car. Almost every area has Spec Miata or Spec Racer Ford builders, for example, enabling you to run those cost-effective cars. Whether your rental is a Spec Miata, Spec Racer Ford or a Porsche or BMW or Mustang, the race shop can often deliver and pick up the car, as well as providing track-side services like checking tire temps and re-fueling. Of course, the more services you use, the higher the price.
Another way that amounts to "rental" is to do a track day sponsored by an automotive manufacturer. This offers much of the fun of a track day as described here (though often with speeds tempered down a bit). In addition, you get to drive one or more of the latest and greatest models of a given brand. For an example, check out our coverage of a Jaguar track day.
What Prior Experience and Skill Level Do I Need?
Different track days may be geared to different driver types, so you should always check with the operators. In the case of the Edge Addicts weekend we did, there were four skill/experience groups aimed at low intermediate to high skill levels. But, in this case, Edge Addicts specifically did not offer a beginner's group. Other track days are heavily geared to beginners and drivers who haven't done a track day in a while. Generally we think you will have more fun if you attend a track day that is aimed roughly in your direction.
That said, don't overestimate the skills of your fellow participants. It would be a shame to stay away because you think you're in the bottom 20% in skills just because you are inexperienced. One reason for this is that track days are not competitive events. No times are kept, no races are held, no trophies are awarded, so it doesn't matter if someone does a 2:41 while you do a 3:14. You will not embarrass yourself, because you really can't (as long as you follow the rules and don't do something stupid). But the bigger reason not to overestimate the skills of others is that you probably aren't in the bottom 20%. Which is to say you may be surprised how many drivers in reality have very little experience.
Can I Get Instruction?
Another reason that pre-existing skills can be over-rated is that most track days will offer instructors. You, like others, will be learning a lot and that's where your focus will be once things get going. Your instructor will tend to emphasize skill development over immediate speed. Others will be going up this curve too, so you won't be alone starting out at a moderate pace. That is a good thing, as you will learn the first time someone, often without an instructor, flies deep into a gravel trap.
The Edge Addicts weekend that we did had the best instructor setup we've ever seen. They had about 40 instructors, which was essentially one instructor for every car that wanted instruction. So, each driver trying to learn had 1:1 instruction, from the same person, in the right seat, for the entire weekend if desired. We've gone through that process and it is really great when you are doing something relatively new.
That said, most track days will not have the density of instructors we saw with Edge Addicts, but almost all will offer instruction (check before you show up to be sure). In fact, for the slower run groups, most track day operators will require that an instructor ride along, at least until you've been "checked out".
Instructors are invaluable not only for the basic driving stuff like line and gearing and braking. They are useful for practical help like changing run groups, setting tire pressures, finding flag stations and questions about etiquette (like reminding you to do a point by). A lot is going on when you are on track and it helps to have someone on board who has your back.
What Equipment Do I Need?
Basically, you need:
1. Your car
2. Gasoline (most tracks sell 93-110 octane fuel)
3. A helmet
That's the minimal setup.
There are a few extra items that are very useful for making sure your car is ready to head out on track:
Torque wrench with the correct socket for your lug nuts
Tire pressure gauge
Portable air tank or compressor
Then there some items that are completely optional:
7. Fire gear
Call us sissies or call us smart, but we always wear fire gear. Track day operators in our experience do not require this, but we've never understood why it is not okay to be burned in a racecar, but it is okay to be burned in a street car. In our world, it is just not okay to be burned if you can avoid it. Sure, without the close quarters of wheel-wheel racing the chances of an incident go down. And street cars have better fire insulation than race cars. But the chances rise when you're on track with inexperienced drivers and with cars that are not accustomed to being run hard for long-ish periods. And we've seen fire more big street car fires at the track than race car fires.
Longtime NASA racer Rob Krider wrote an excellent article for NASA Speed News about the importance of fire suppression, and goes into detail about how easy they can be to install. Check out our selection of fire systems and extinguishers in our shop. Check out our selection of fire gear, such as suits and underlayers, too.
8. Cool suit
A lot of track days are held in the summer months. Not only is the ambient temperature on the warm side, but you probably will leave the A/C off. And when you are in the car, you will be working, physically. If you wear a fire suit, it will keep you warmer. So, we like to run a cool suit. You can get a cooling vest that carries phase change cooling packs that are easy to freeze between runs and which stay at a constant 58 degrees F (enough to cool you, but not cold enough to be uncomfortable). There are also portable Cool Shirt systems that pump ice water through a special shirt. The ice water bag drops behind your passenger seat and runs off your 12V socket.
9. Race tires
We much prefer the feel of race rubber to most street tires. The race compounds are softer for one thing. Also, the lack of tread is an advantage in performance. That and you won't tear up your street tires, whose tread you need the next time it rains. But mostly, race rubber just feels better — more progressive, more predictable and more forgiving.
If you want more details on the equipment you might need or want, read this.
What Does A Track Day Cost?
Fees vary depending on the track (because of varying rental costs, time of year and popularity). The two days we did with Edge Addicts at Circuit of the Americas (a very expensive track to rent) cost $970 or $485 for a single day. Edge Addicts offered some additional benefits including lunch, on track corner analysis, parade laps and a visit to the COTA tower. Other tracks will often be priced between $200 and $500 per day. Most track day operators offer pricing by the day as well as for the weekend.
To some people that may seem pricey, but consider that COTA costs $50,000 per day to rent privately. And a weekend with the Skip Barber or Bob Bondurant or Jim Russell schools will cost you perhaps 5 times as much as the Edge Addicts track event. Those racing schools deliver other valuable things (like race cars), but if your primary goal is to drive a major track, then track days are a really efficient way to do it.
Of course, for a track day you also have the cost of fuel, some tire wear and repair of anything that breaks. If you don't have a helmet, you will need to buy one. If you want some of the optional stuff, that will increase the cost, although most of that gear can be re-used many times over. Which we recommend.
Finally, if you get inspired, there's possibly the cost of the 458 or GT3. Don't say we didn't warn you.
Is HPDE As A Stepping Stone To Road Racing?
Basically, yes. Especially with NASA (the sanctioning body, not the space agency), HPDE can be treated as a ladder system where you are going to school to learn how to race while having fun in your street car. In NASA, you attend race weekends to run specifically in HPDE groups that are organized by skill level. You have a coach and you learn how to drive. At the end of this process you may attend a short school on a weekend to practice flagging and race starts and the like and then you get your license.
Resources
https://www.facebook.com/theedgeadventures
Edge Addicts
102 Lost Creek Trail
Scroggins, TX
903-243-4531