Rally Cross: What You Need to Know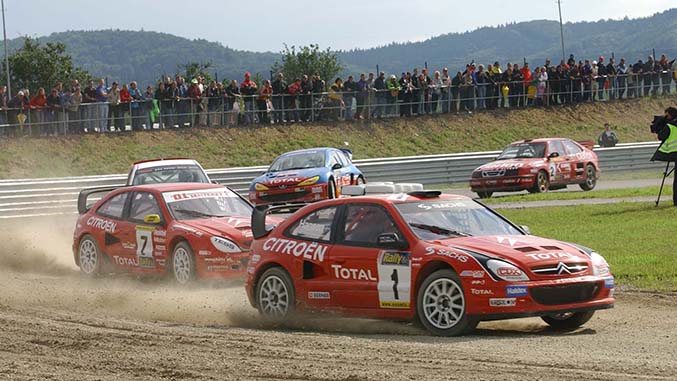 Guest contributor Rachael Jensen returns to discuss rally cross – the history, the rules, and where you can find more information on how to get involved in this exciting and demanding racing discipline. – WR
Rallycross is a popular motor sport that is a rousing delight of exhilarating excitement. The sport dates back to 1967, and has since gone on to become one of the most innovative car sports in the motorsport sector.
Hundreds and thousands of people across the world revel in the delights of rugged vehicles and stimulating terrain, and it's an activity that can be enjoyed by everyone, from teenagers through to their grandparents.
From the Red Bull Rally Cross through to the Monster Energy sponsored British Rallycross, there are a variety of events you can go and see if this sport appeals to your inner adventurous driver.
But how did this event become so popular?
The History of Rallycross
Rallycross racing itself didn't originate on a course somewhere with a few people deciding to race. Its origins actually lie in the realm of television. The motor sport started out as a TV show produced by Robert Reed. The show aired on ABC in 1967 and proved a great success. It went on to inspire a generation of drivers who also wanted to take part in the excitement.
However, it took over twenty five years for rallycross to actually become a real event. It was first organised at the Lydden Circuit where the show was filmed by Bud Smith, who had ample support from the track's owner. Both wished to turn rallycross racing into a reality.
After a few successful races, the television show began once more and suddenly, a series of televised rallycross was born. Race upon race was aired on television, and eventually renowned racer Tony Chappel won the championship in 1968.
Rallycross has attracted all types of motorists from the average driver through to professionals, and previous winners include Formula One drivers as well as rallycross legends Kenneth Hansen and Martin Schanche.
The spread of Rallycross to Europe
When the sport was witnessed by Dutchman Rob Herzet, it wasn't long before the sport spread to Europe. It is now a staple of culture in countries such as the Netherlands, France, Belgium and more, which really demonstrates the innovative popularity that rallycross has birthed for the general public.
Rallycross circuits across Europe are vast, but a few key ones include the Eurocircuit based in Valkenswaard in the Netherlands, as well as the Dreux circuit in France and the PS Racing Centre in Austria.
Eurocircuit
How does Rallycross work?
The rules of this sport tend to vary depending on which competition you are viewing/participating in.
For example, Redbull host a whole collection of rally crossing events across numerous states, and before you can race you first must qualify by beating a certain time. There are then heats before the final racers are identified.
No more than 8 cars are involved in one race, which is why there are so many heats before the vehicles are narrowed down to the final drivers.
As well as the main route, there is also a 'Joker' lap. This acts as a shortcut and each driver can only take advantage of this once every race. Yet they must beware! Sometimes, there are obstacles so a perceived shortcut may not be so short at all.
There are a variety of ranks if you're interested in the sport, and to gain a real insight in rallycross racing it's worth locating your local rallycross club and start by getting involved with them. You will also need a competiton license that you can get from the Motor Sports Association (the MSA) or the
SCCA
in the US.
You can also take a look at what the BTRDA have to offer. The British Trial and Rally Drivers Association became so after the Gold Star Rally Championship joined the British Trial Drivers Association. The BTRDA offer chances for everyone to rallycross race from juniors to newcomers and experienced drivers, and are an excellent institute to explore if you wish to venture into this motor sport and there aren't many options available in terms of local clubs in your area.
Rallycross Events
The Red Bull Global Rallycross is an excellent day out if you're in the USA in states such as Los Angeles, Detroit, Washington and more on the correct dates, a list of which can be found on
http://www.redbullglobalrallycross.com/
.
Yet a little closer to those of us across the pond is the Monster Energy MSA British Rallycross Championship, which is located in Kent. There are no events on the website for this year as of yet, but if last year's manic line up is anything to go by, we can expect a lot of announcements in the near future.
If you're interested in cars and are looking to purchase one in the near future, then why not see what Stratstone have to offer? This UK based automotive retailer offer everything from impeccable used cars through to luxurious rides, and take pride in providing an enviable customer service experience compared to their competitors.
To find out more, please visit
www.stratstone.com
or visit your local dealership that can be tracked down by using the search tool on the website.
They are also available to follow on Twitter
@StratstoneUK
, where you will find up to date information on the business and industry, as well as innovative and inspiring blogs that will delight any car enthusiast.