Race Class Profile: Formula Mazda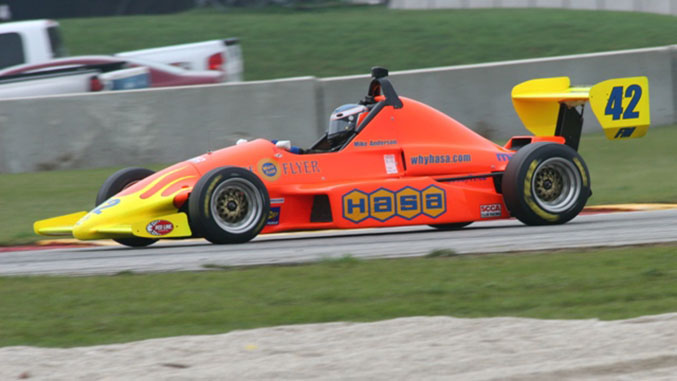 Known within the Sports Car Club of America as the FM class, Formula Mazda is one of the more affordable open wheel racing classes available today, slotted between Formula F and Formula Continental in terms of both cost and performance. The series originally grew out of a group of chassis built by Hayashi in Japan for the Jim Russell Racing Drivers School, which made their debut at the 1984 Long Beach Grand Prix.

The car features a welded steel tube frame chassis and is powered by a sealed 1.3-liter Mazda rotary engine connected to a Hewland five speed gearbox. All Formula Mazda cars all use the same tires, springs, dampers, and anti-roll bars, though some adjustability is permitted. Much like other spec classes, the relative parity between each car means that driver skill is the key factor in a racer's success in Formula Mazda. Let's take a closer look at the particulars of the FM class.
Sanctioning Body
Race Format: Sprint
Typical Race Length: 25-35 minutes, 35-50 miles
Output: 180 horsepower
Weight: 1140 lbs. (dry) / 1350 lbs. (minimum with driver)
Data System: Unrestricted
Chassis Construction: Welded steel tube frame
Suspension Adjustability:
Ride height is unrestricted within the standard adjustment range.
Droop limiters are not allowed.
Anti-roll bar stiffness may be adjusted within the range allowed by sliding clamps on the anti-roll bar or front bars may be drilled for adjustment.
Anti-roll bars may be disconnected.
Camber, caster, toe-in/out, bump steer, are unrestricted within the adjustment range provided on the car.
Manufacturer and construction of spherical bearings and rod ends are unrestricted, but geometry and length cannot be changed.
Tires: Goodyear racing slicks with BBS (8" x 13") front and (10" x 13") rear wheels
Aero: Front and rear wings with angle adjustability
Car Cost: $49,500-$52,000 (new, depending on specifications) / $18,000-$22,000 (used)
Typical Car Count Range: 8-12 per race
Run Cost: Approximately $400/hr at race pace
Record Lap Times:
Barber Motorsports Park: 1:28.900 – Darryl Willis
Lime Rock Park: 53.034 – Joe Colasacco
Mazda Raceway Laguna Seca: 1:28.375 – Jim Mali
Mid-Ohio Sports Car Course: 1:28.342 – Scott Rettich
Road America: 2:16.509 – Scott Rettich
Shops Providing Support:
Shops Providing Arrive and Drive Rental:
To give you a better idea of what the action is like in Formula Mazda, here's a clip from an SCCA Majors race at Road Atlanta, replete with flame spitting and dirt throwing intensity: