One Cool Feature: Chevrolet Volt And MyLink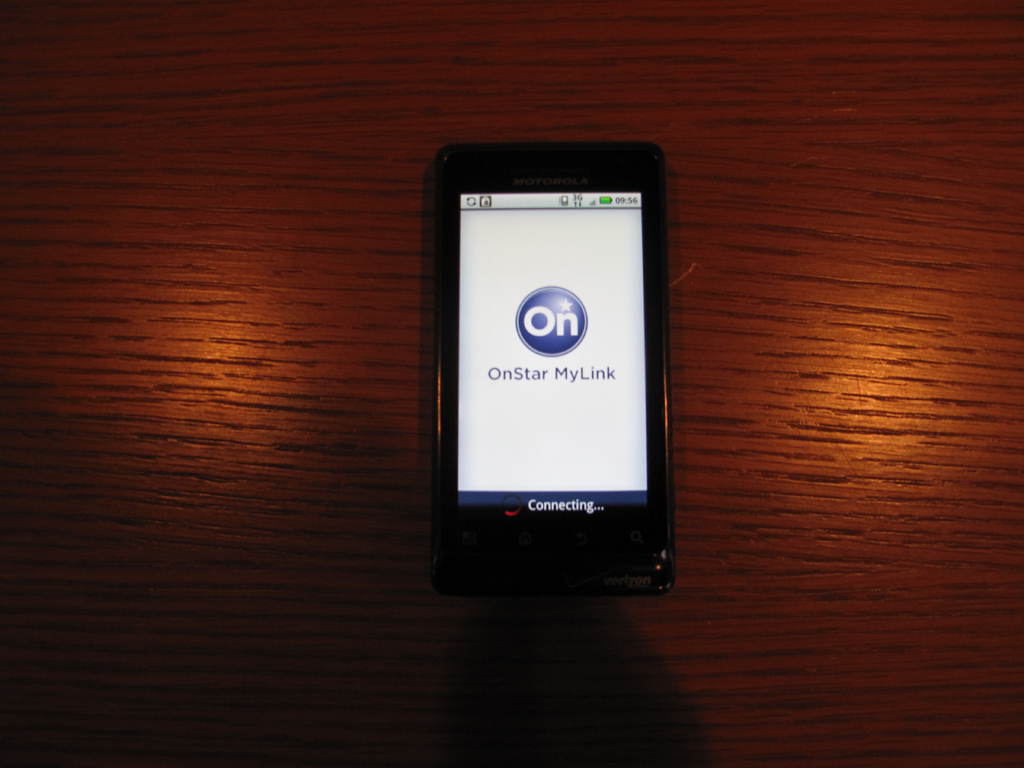 Have you ever been sitting around with some buddies when one of them decides that what sounds really tasty is an authentic Chicago dog? Before you can react everyone is up and moving, getting ready for an impromptu 600-mile roundtrip drive for a delicious piece of processed pig innards. But, while your friends are thinking about all manner of Windy City mystery meats, you, being the intelligent car person, are thinking "Can my electric car handle that drive?" (That's right, in our little stage play you own an EV.)
If your EV (or in this case ER-EV) happens to be a Chevrolet Volt, answering that question has just become easier. Thanks to a new app called MyLink, Volt owners can monitor various vehicle systems remotely from their Android or iOS phones. The arrival of our Volt test vehicle seemed like the perfect opportunity to try out the new system, and lucky for us, General Motors provided a Motorola Droid2 for testing.(Sadly, we couldn't sample the setup on the three different generations of iPhones in the office, as you need one unique pass code per phone.)
The MyLink home screen has four separate pages that allow monitoring of vital systems. One shows the current charge level of the battery, including a maximum EV range, and a maximum driving range. Swapping to the second page displays the fuel level, the amount of fuel left, and the overall oil life. Page three shows the current and recommended tire pressures. The fourth page monitors your OnStar Hands-Free Calling account with the phone number, available talk minutes, and your contract expiration date.
Besides the system monitoring, you can also lock and unlock your vehicle, start it remotely, or sound the alarm. Charging settings can be adjusted as well, allowing you to delay the charge based on your departure time. An Alerts tab reminds you to charge your car, while text messages or emails can be dispatched if the charge is interrupted or completed. Finally, an Assist tab can connect you with a Volt or OnStar advisor, as well as contact roadside assistance or your nearest authorized Volt service provider.
We've played around with the system rather extensively, and have been quite impressed by its accuracy and ease of use. We noticed an ever-so-minor lag when locking, unlocking, and remote starting. In terms of remote starting to warm up the car, a 10-to-15-second lag won't be a huge deal for most people. When it comes to locking and unlocking the car though, we can see the wait being frustrating. Of course, the Volt does come with an old fashioned item called a key, which is far more immediate for locking and unlocking doors.

The other issue is due more to the cellular service than anything else. Getting the app to connect to the car over Verizon's 3G signal seems to fail every so often, which causes a wait followed by an annoying error message. We'd be interested in testing it on another carrier to see if that alleviates the issue.Unfortunately, this dropped coverage really just relegates MyLink to an interesting toy, as opposed to a deal-making feature.

As of right now MyLink is only available on the Volt, but is slated to be available on the 2012 Equinox and should find its way into other GM models in the coming months. Added functionality is also coming, which should allow users to stream Pandora Internet Radio over a Bluetooth connection along with the standard Bluetooth audio and phone options. As for the app itself, it's free on both the Android Marketplace and Apple's App Store.