Driven: 2011 Saab 9-5 Turbo4 Premium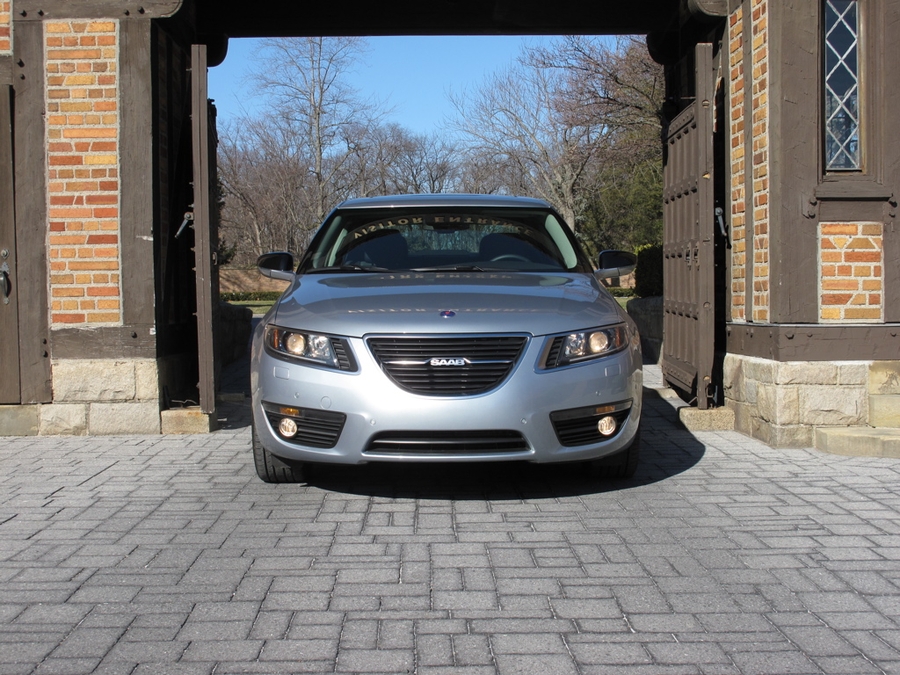 —Ypsilanti, Michigan
Enthusiast rejoice, Saab is back! That's right, those of you who've been patiently waiting for the next iteration of that most comfortable-seated, key-by-the-hand-braked, airplane-vented, griffin-bedecked sporty sedan need wait no longer. The 2011 9-5 offers most of the core Saab values that we've come to expect and desire, along with some really interesting newness that we didn't even know we were missing. So, after getting a very early drive of the car—then in full Aero Turbo6 XWD form—we finally get a crack at the slightly less powerful, and more reasonably priced, Turbo4.
The reality is that this 9-5 enters the mid-size luxury market at a time when the competition is as fresh as it's been in years. BMW's 528i is just about a year old, Acura's TL has just been pretty completely refreshed for the 2012 model year, and Audi's A6 is completely new this year. In a slightly higher price bracket, the Mercedes-Benz E350 sedan is only a two years old; in a slightly lower one, Hyundai's V-6 Genesis sedan is just about to see a new iteration this year. The long and short of it is that this 9-5 has got some real work to do to make a dent in this field.
Stiff competition being noted then, there is still a lot to recommend this 9-5 versus the other cars in the entry level of this class.
To start with the car is pretty fresh of design, both inside and out. Certainly we found the exterior design to be remarkably head turning for a sedan. Be it because of the 9-5's relative rarity, or pent-up interest in the Saab brand, or the simple beauty of the shape, we're not sure, but passers by routinely questioned us about it. The shape is slinky and very clean, and makes the Saab look smaller on the road than it actually measures out to. The eighteen-inch wheels, pushed aggressively to the edges of the car, give it an athletic and modern stance, too.
Inside the clean, no-fuss Scandinavian design ethos continues on from the exterior appearance. The instrument panel and dashboard flow in a sort of unbroken arc from one side of the cabin to the other, creating a stylish but simple area in which to work. It's fair to say that this, minimalist approach won't work for everyone—more than a few of our passengers and friends though there was simply too much black surface area in view—but there's little question that Saab has created a unique space here.
On the road, the turbocharged four-cylinder motor proved far more vivid and lively than we'd expected. Skeptics have raised issue with Saab's use of a mere 2.0-liter engine for a vehicle in this price class, but the truth of the matter is that all-important torque is on par with the six-cylinders proffered by BMW, Acura, and the like. The 9-5's turbo punches hard. We suffered no issues when pushing the car up to (and well beyond) posted highway speeds, passing on the left, or just having some fun while taking the long way home. If we have one beef with the Saab four, it would be that the motor does sound a lot rougher at high rpm than we'd like from a car the costs upwards of $40,000. With that said, when at low speeds, or cruising in higher gears, the Saab is whisper quiet.
In fact, much of the 9-5 experience fell into the "refined" category of driving experience. We were never inundated with feedback through the steering wheel, with Saab engineers obviously opting for smoothness, and progressive weight in terms of power steering tune. Handling characteristics were similar. We found the 9-5 to be hugely stable in sweeping corners, and willing to turn in quickly, without ever deigning to fall into the "chuckable" category. The Saab's substantial wheelbase (111.7 inches) and overall weight makes it a fantastic choice for spirited cruising, and rather inappropriate for outright thrashing. Nothing about this new car belies the laid-back ethos that Saab has fostered for decades.
We'll say it straight, we do want this 9-5 to be priced a little bit more aggressively than it is now. Saab seems to have lined up its pricing with the European competition (BMW, Audi) rather than the Japanese/Korean/American (Acura, Hyundai, Lincoln), which may be a mistake for a front-wheel-drive, four-cylinder luxury car. Again, we like the way the Saab looks and drives, and certainly we are charmed by its Swedish goodness, but these are the big leagues of the luxury game.
VS. BMW 528i
Saab's brand identity is more laid back and casual than that of the sporting and slightly stuffy BMW, and that shows through in a direct comparison with the 528i. Where the BMW offers a more aggressive engine note, and firmer, pointier handling, the 9-5 is relaxing and more comfortable over the long haul. The Saab certainly looks like a fresher face, too, though the all-new 5-Series is not unlovely.
Surprisingly we end up liking the Turbo4 just a bit better than BMW's straight-six here. Not only does Saab's turbo deliver up more torque (258 versus 230 pound-feet in favor of the Swede), but it also offers superior throttle response. The sweet-revving six still sounds better though.
VS. Acura TL
Acura's front-driver, 3.5-liter TL is a natural match for the Turbo4 9-5. Both cars offer premium driving environments for less money than is asked of the German set, with spirited performance and rather polarizing looks. The jury is still out on the post-redesign TL, but we'd bet that most shoppers would find Saab's to be a prettier face.
TL will compete hard for premium dollars by offering a sterling reputation for reliability and overall quality—something that Saab can't yet truly boast under its very new ownership group. What's more, the Acura, like the BMW, offers a more involving and crisper handling suite than the 9-5.
Anyone who plans on using the back seats very often should look even harder at the 9-5—we found a lot more room to stretch our legs back there than was offered by Acura's rear accommodations.
VS. Hyundai Genesis Sedan
The fact that Hyundai is even competing in a segment with BMW, Saab, and Acura is fairly amazing, but the reality is that the Genesis sedan offers major value here—without giving up too much. The V-6 Genesis is thousands cheaper, a lot more powerful with 290 horses in the barn, and a real hoot when driven quickly.
Still, the Saab has got a high-design interior that this Hyundai can't match, as well as a far more civilized roadside manor. The Hyundai's completely anonymous styling is the polar opposite of the head-tuning 9-5, too.
2011 Saab 9-5 Turbo4 Premium
Engine: Inline-4, 2.0-liters, 16v
Output: 220 hp/258 lb-ft
0-60 MPH: 8.2 sec (7.6 sec w/manual transmission)
Top Speed: 130 mph
Weight: 3500 lb (est)
Fuel Economy City/Hwy: 18/28 mpg
Base Price: $43,435
On Sale: Now