Keepers: Mazda RX-7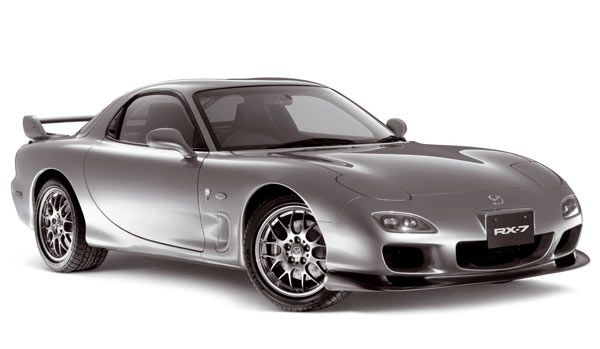 A perennial favorite of sports car enthusiasts worldwide, the Mazda RX-7 exemplifies the epitome of balanced handling, graceful lines, and communicative controls; three very important ingredients in creating a quintessential driver's car. As good as the early-generation RX-7s were however, they still lacked a key fourth ingredient—power.
That is, until Mazda unleashed the third-generation, twin-turbocharged, FD-series RX-7 in 1992 as a 1993 model. Without being overtly dramatic, it was quite simply the model that took a great car and turned it into a legend, and that's the model we're going to talk about in this edition of Keepers.
Mazda built the FD-series RX-7 from 1993 to 2002, but if that leaves some of you scratching your heads, don't worry. As is so often the case with manufacturers, we Americans weren't privy to the ultimate evolution of the RX-7. 1995 was the last year Mazda offered us this car, but it continued to prowl the streets of most overseas locations through 1998. Then, in a classic case of saving the best for last (and for themselves apparently), the final four years of RX-7 production brought forth a string of limited-production models sold only in the Japanese market. Featuring designations like RZ, RS, and Spirit, these hardcore performance cars offered numerous race-inspired upgrades such as tighter suspension, upgraded electronics, advanced ABS and stability control systems, reduced weight, and a power boost to 276 horsepower, the maximum allowed per the "gentlemen's agreement" loosely adhered to by Japanese automakers of the day. 276 ponies in a sports car may not sound terribly impressive in today's world of 300 horsepower family sedans, but consider a perfect 50/50 weight distribution, a terrifically-low center of gravity, aggressive suspension tuning, meaty tires, a curb weight of barely 2800 pounds, and a power-to-weight ratio roughly equal to a new Dodge Challenger SRT-8 and, well, you get the idea.
None of this however should suggest the American-spec RX-7s were slouches. We may have missed the best of the best, but we still had a twin-turbocharged, 252 horsepower, wonderfully-balanced sports car to dance with, and dance we did. Since the car remained in production overseas for so many years, tracking down performance upgrades is merely a mouse-click away. In fact, finding a stock 1993-1995 RX-7 is the real challenge, but we'll talk more about that in the next installment of Keepers.