Incredible Porsche 930 Slantnose Throwback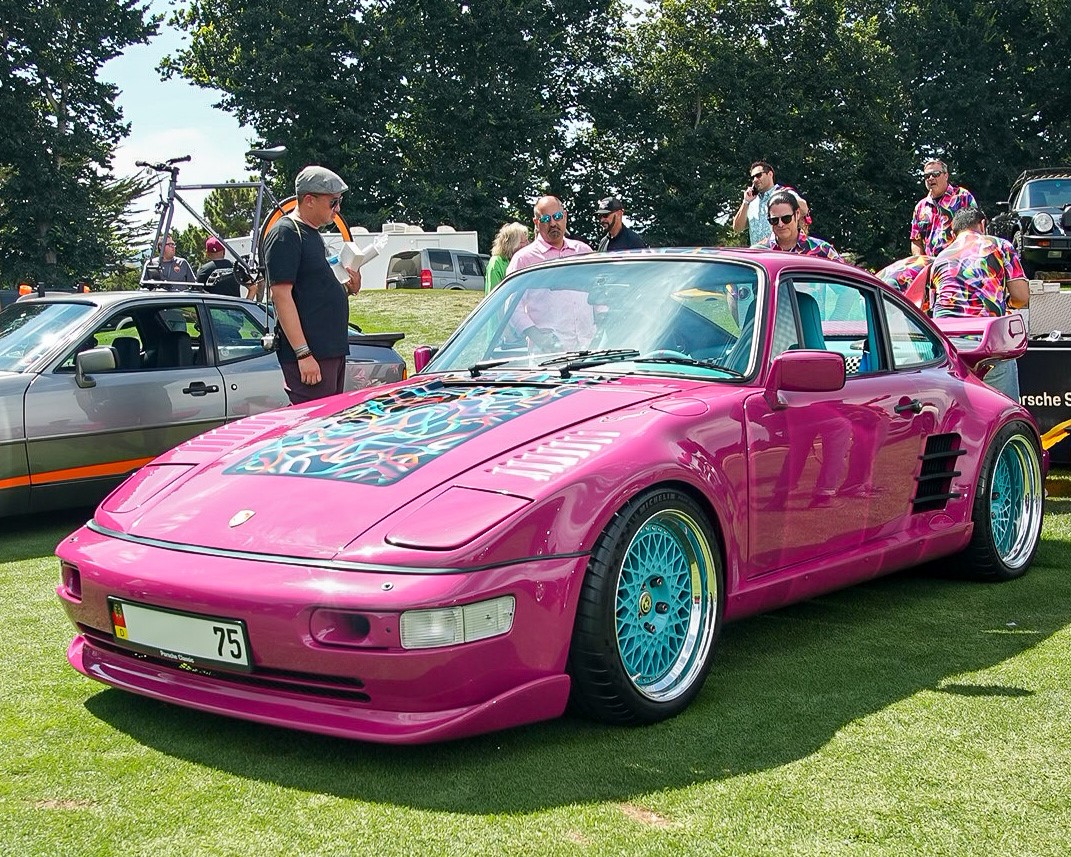 In a bodacious tribute to the era of bold designs and vibrant colors, Porsche Santa Clarita recently unveiled its 1988 Porsche 930 Turbo Slantnose. This automotive gem was showcased at the highly anticipated Werks Reunion event held in Monterey, California, as part of the Porsche Classic Restoration Challenge. The nostalgic beauty of the 1980s was captured flawlessly in this throwback creation, earning it the prestigious People's Choice and Kids' Choice awards.
Born from a past marred by fire and corrosion, this 1988 Porsche 930 Turbo Slantnose found itself under the care of Porsche Santa Clarita. It stood as the ideal canvas for a themed competition-ready build that promised to pay homage to the iconic 1980s while embracing modern advancements. The dedicated team at Galpin Porsche Santa Clarita accepted the challenge wholeheartedly, embarking on a journey to restore this relic to its former poster-worthy glory.
With a design ethos inspired by the 1980s, the exterior of the vehicle was transformed using a rare X83 Flachbau Slantnoe factory body kit, available only in Japan and produced in limited quantities. The revitalized bodywork was crowned with a bespoke Rubystar paint job, accentuated by a racing stripe that effortlessly integrated a pattern reminiscent of the Porsche 75th anniversary color schemes. The interior was treated with equal finesse, adopting a turquoise theme complemented by black and white pasha inserts. The instrument cluster was a labor of love, meticulously crafted to harmonize with the chosen color palette, incorporating authentic Porsche components for a personalized touch. Notably, modern comforts were woven into the cabin, including an upgraded climate control system and an audio setup that blended a classic Porsche radio with a custom-tuned Blaupunkt sound system.
The powerplant also experienced a substantial upgrade, elevating its performance to unprecedented levels. The original engine was replaced with a 3.5-liter turbo unit equipped with individual throttle bodies, resulting in a staggering power output exceeding 850 horsepower. The engineering brilliance extended to a tailor-made oil cooler system, while the transaxle received a comprehensive overhaul complete with a limited-slip differential and a cooling mechanism. Elevating the driving experience further, the suspension was enhanced using 997 GT3RS and ASP rear components, combined with advanced coilovers by MCS. Traction was assured by Michelin Pilot Sport Cup 2 tires mounted on customized HRE wheels, delivering an unparalleled grip.
Beau Boeckmann, the President and Chief Operating Officer for Galpin Motors, shared his insights on this remarkable endeavor: "This project is the most ambitious build we've created for the Porsche Classic Restoration challenge. Despite starting off with fire damage and corrosion, we were able to transform it into a period-correct Porsche on the exterior and interior while making the performance simply terrifying. Our goal with this Slantnose was to bring it back to the original generation while incorporating our own unique Galpinized design."