'We Are Porsche' Exhibit at the Petersen is a Celebration of Stuttgart's Finest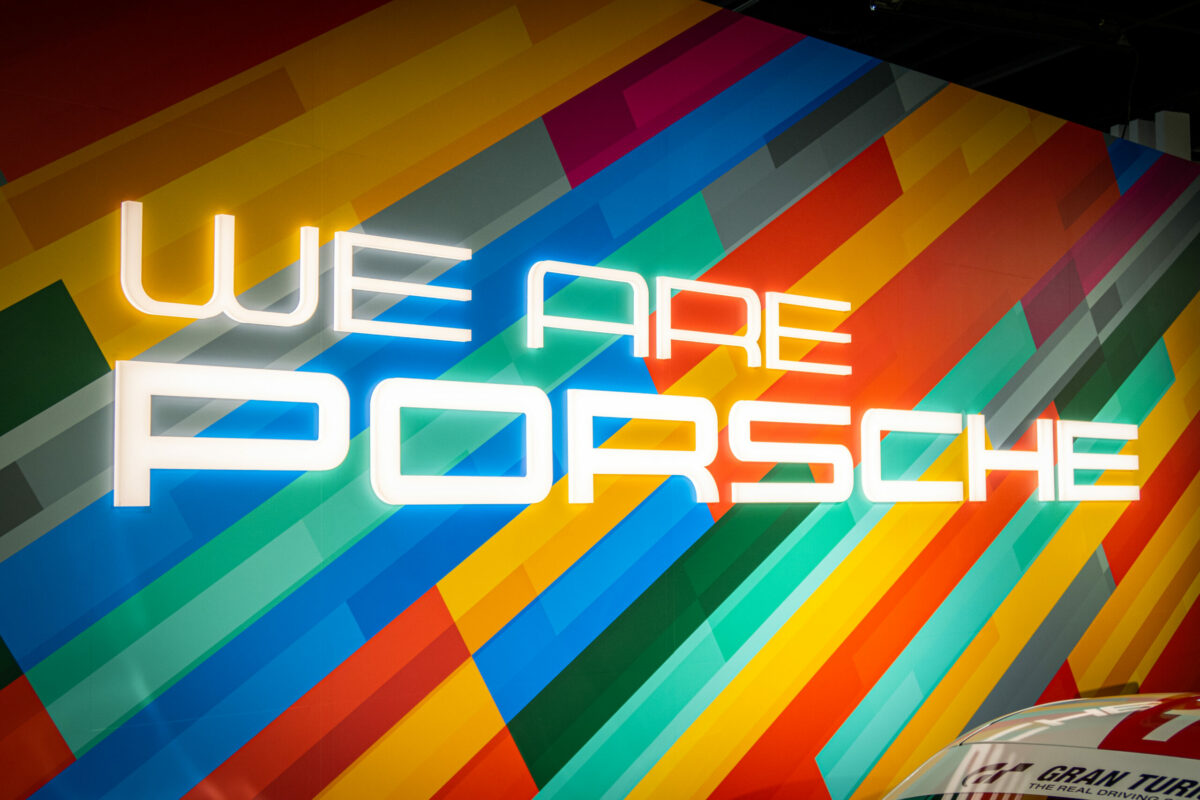 To say Porsche is a hallowed brand among enthusiasts is as groundbreaking of a revelation as realizing water is wet or the Pontiac Aztek is perfection. These are merely known facts, like the fact Porsche evolved into a household name. Their unprecedented racing success lends greatly to their image, as does their knack for engineering some of the most acclaimed drivers' cars. It's safe to say Porsche is an icon, and now, thanks to a funky-looking building in funky Los Angeles, you can witness the milestones that led the marque onto the industry's podium.
As of this April and lasting one year only, the Petersen Automotive Museum is home to the We Are Porsche gallery on its first and second floors. The occasion? To commemorate the 75th anniversary of Porsche road cars and, just as importantly, the figures who helped shape it.
"As a Porsche lover, I'm particularly excited that the Petersen gets to play such a significant role in celebrating the 75th anniversary of these incredible machines," states Terry L. Karges, executive director of the Petersen Automotive Museum. "Porsche's history on and off the track speaks for itself, and we are honored to help them commemorate this milestone."
The Petersen's exhibit celebrating Stuttgart's finest will constantly rotate throughout the year, but even without knowing everything to come over the next year, our first-hand glimpse will shed light on what to expect.
On arrival, attendees are immediately greeted with the shock and awe of two heavy-hitting endurance racing monsters. Slap-bang in the lobby's center sits a Porsche 962C Group C car of the 1980s, accompanied by the present-day Porsche 963 LMDh car. For those unaware, the former carried the torch passed by the 956, 936, and 917 and held numerous titles in World Sportscar, IMSA GT, and All Japan Sports Prototype championships. On the other hand, the latter succeeds the ludicrous 919 LMP1 car as Porsche's shiny new LeMans prototype and flagship endurance racer. Together, they flaunt the apex of Porsche's motorsports efforts across the modern era.
Galpin Auto Sports and Porsche Santa Clarita's Safari 911 Targa build stands a few feet away, serving as the most endearing of door greeters for such an exhibit in its Lime Green uniform. Next to it sits an ever sought-after 911 RS 2.7, the distant precursor to present-day GT cars and encased in life-sized Matchbox packaging for added whimsy – and presumably protection from me mouth breathing on it. Finally, near the reception desk and elevators sat a 996 Turbo art car, happily greeting patrons of the Meyers Manx restaurant across the hall.
By the way, I encourage all museum-goers to grab lunch at the restaurant on their way out. Get the fried mushrooms while you're there and thank me later.
However, the bulk of the magic awaits the second floor, which it dominates, spanning one side of the building to the other. Only the significantly smaller hot rod, hypercar, and vintage motorcycle galleries share real estate here.
The 935 homage that tore up Pikes Peak greets those departing the elevator. From there, the exhibit takes guests on a tour of Porsche's earliest road and race car efforts, starting with early variants of the Porsche 356. Chief among them is the 1948 356/1, the 35-horsepower grandaddy to which all Porsches can trace their lineage, kindly donated in its pristine condition by Porsche themselves.
Turn the corner, and enter the realm of celebrity cars and cinematic set pieces, including the 1973 911S from Top Gun: Maverick and a model of the Tri-Wing S-91x starfighter, which Porsche co-designed with Lucasfilm for The Rise of Skywalker. Hell, I'm a car guy and a Star Wars evangelist, and not even I knew that bit of nerdery.
The back wall of the second-floor houses a unique Porsche from prominent celebrities in each of its galleries. Steve McQueen's Turbo Carrera, Patrick Dempsey's race car, and Slash's 991.2 Turbo S have made it their year-long garage.
A pleasant surprise to me and any other Larry Chen fan is the gallery of Asian-American actor, director, and gearhead, Daniel Wu. Perhaps the lesser-known of the Porschephiles on the internet, Wu has been acclaimed as a beacon of Asian-American pride and representation within American car culture and the tuner scene. He appears vicariously through his Cassis Red 1982 Carrera.
Around the second corner sit two galleries highlighting prominent collectors as well as the custom visions of artistically-gifted fanatics. Against one wall sits the Bisimoto 935 K3V, a shouty and Japanese-inspired exercise in proving electric cars don't have to be the appliances haters painted them to be, which faces Robynn Sander's psychedelic 2001 Boxter art car. Both radiate enough glow from their vivid paint schemes to fit right in at EDC. Or, on second thought, perhaps Sander's Boxter is more of a Burning Man or Coachella car.
Tucked along the opposite wall, a Porsche 904 Carrera GTS and a 907 prototype racer pose back to back under a somewhat dim spotlight. And splitting the two galleries rests Renee Brinkerhoff's ludicrously outlandish 1956 356A, still rocking the tracks and skis it donned to traverse Antarctica during her seven-continent charity rally.
In a way, Brinkerhoff's 356 serves as the appropriate transition between the two halves of the roof, being a notable classic with a heavy hand in shaping Porsche's history that was then shaped into her vision of a transcontinental adventure rig. Through her car, heritage and prestige meet creativity and individuality. I bet Seinfeld doesn't have a Porsche like this.
Sprinkled throughout the exhibit are more cars than I can remember, although that 1967 Not-A-Panamera will always haunt me. Anyone currently seeing a shrink about car-related night terrors lives in fear knowing Long 911 is real.
But in seriousness, that level of whimsy and storytelling-on-wheels is the start of what we hope to come.
We Are Porsche is expected to evolve during its year-long tenure, with cars likely to be shuffled and new sights to come. What that entails, I have yet to learn. Perhaps the modified gallery could showcase a Singer or two, especially given the reputation and Porsche Motorsport's support of the California-based company. Maybe add a Magnus Walker car into the collectors' corner because you can't have anything Porsche related in California without the Urban Outlaw.
If I sound quite obsessed with the exhibit so far, it's because you can bet your ass I am. I was starstruck. Gobsmacked. Every antonym for "jaded" you can possibly find. This youngin' grew up idolizing Porsches of all eras but only being able to catch glimpses of such historic cars in YouTube video documentaries or slamming into a tire wall at Lime Rock in Forza.
With this exhibit, people like you and I can come within inches of the engineering experiments, celebrity icons, and motorsports heroes that molded Porsche over 75 years into the brand it is today. Even if you're not a Porsche person, it's still a worthwhile experience to merely visit and pay respects to the company that your favorite car likely benchmarked at one point in its history.
My accompanying friend and I greatly enjoyed the privilege to examine pieces of the Stuttgart marque's history; its genesis as a consulting firm, and its evolution into a symbol of automotive greatness. I wish The Petersen the best in raking in attendees to take a look for themselves, eagerly awaiting any new additions as an excuse to see it all again.