Consulier GTP – One Man, One Supercar Vision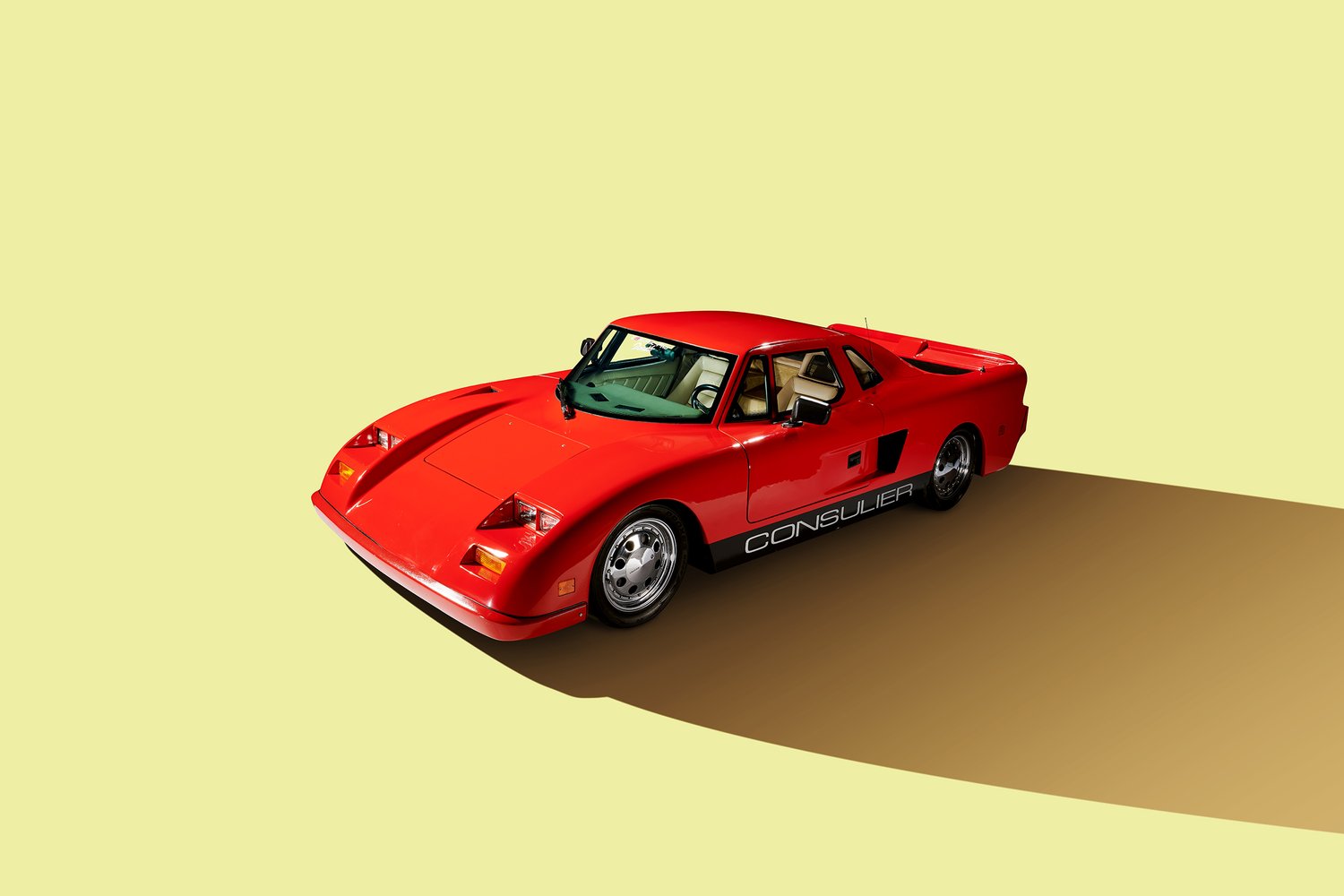 Story – Evan Griffey
Photography – Ian Wood
We've all been there … daydream doodling in our high school math class, letting the lines flow while sketching out the ultimate supercar. We had no limitations, no expectations, just a blank page on which to design our own supercar. In fact, many supercars are born from a single-minded visionary whose shapes and scribbles beat the odds and came to life. Historically these one-man car companies seem to come in waves. It started with Ford (Henry), Chevrolet (Louis), and Bugatti (Ettore) at turn of the twentieth century. In the 1930s and '40s there were Porsche (Ferdinand) and Ferrari (Enzo). The '60s saw Carroll Shelby and Ferruccio Lamborghini hit the scene.
Rad and Rare
A new wave of daredevil visionaries swooped in during the 1980s. Among them were John DeLorean and his DeLorean Motor Company, Gerald Weigert and his Vector Aeromotive Corporation, and Consulier Industries, the brainchild of Warren Mosler.
Mosler was a hedge fund manager who saw the light and leaped into the supercar fray in 1985. Based in Riviera Beach, Florida, Consulier Industries morphed into Mosler Automotive in 1993. The company created the Consulier GTP. While outshined by the cinematic fame of DeLorean's DMC-12, the Consulier's superiority showed up at the racetrack.
The Consulier is one of those ahead-of-its-time stories. Built between 1985 and 1993, the GTP had the specs, the street cred of a supercar: it's a mid-engine design featuring a composite monocoque chassis with an integrated carbon-Kevlar body that's powered by a turbo-boosted engine. It tipped the scales at a scant 2,200 pounds. According to consulierGTP.com, 83 GTPs were built and, of those, 20 were straight-up racecars, eight were targas, and two were roadsters. Most of the road-going cars were registered between 1988 and 1991, which is considered the car's heyday.
Parts-Bin Badass
The Consulier GTP is a parts-bin supercar that's somehow greater than the sum of its parts. The Consulier is powered by a Chrysler 2.2-liter Turbo II four-cylinder that originally appeared in the 1985 Shelby Omni GLH-T hatchback. The turbocharged, intercooled powerplant, which also powered the '87 Shelby Charger GLH-S and '87 Shelby Daytona coupe, sported a forged crankshaft and forged rods and produced 175 horsepower. A 555 Getrag five-speed manual from the Shelby cars handled gear selection while the taillights came compliments of 1979 to 1986 El Camino/Malibu wagons, and the door handles can trace their roots to a Dodge Caravan minivan by way of the Daytona sport coupe. The front brakes are Daytona stock, the rears were scavenged from a Pontiac Fiero, and the clutch slave cylinder has a part number that traces back to a 1981 Datsun 310. Series II cars from 1991 to 1993 were motivated by a Series III version of the Dodge 2.2-liter topped with a Lotus-derived 16-valve head. Fine tuning of this combination generated 224 horsepower.
Motorsports Heritage
The Consulier was all about pushing limits. To test its mettle Mosler raced the GTP from the beginning, enjoying its greatest success in the 1991 IMSA Bridgestone Potenza Supercar Championship. Mosler notched victories at Lime Rock and Laguna Seca, where Consuliers went 1-2 beating Porsche 911s, Corvettes, and Firebirds. The GTP was issued a weight penalty of 300 pounds and then strangely banned after the '91 season, but this chapter of its story is murky as there is little documentation of the actual edicts that led to its banishment. As the accompanying chart reflects, Mosler was serious about racing, with five cars competing at both Lime Rock and Road Atlanta in 1991.
Read more via Avants
About Avants
Avants is a membership program for gearheads. Members get exclusive access to private events, discounts at premium partners and a great community of like-minded enthusiasts. All members receive the Avants magazine – a high-gloss quarterly publication that celebrates interesting people in the car community. Avants is currently live with weekly events in Seattle, Portland, Denver, and Southern California. More regions coming soon!