2011 Lamborghini Gallardo LP560-4: What Is A Lamborghini?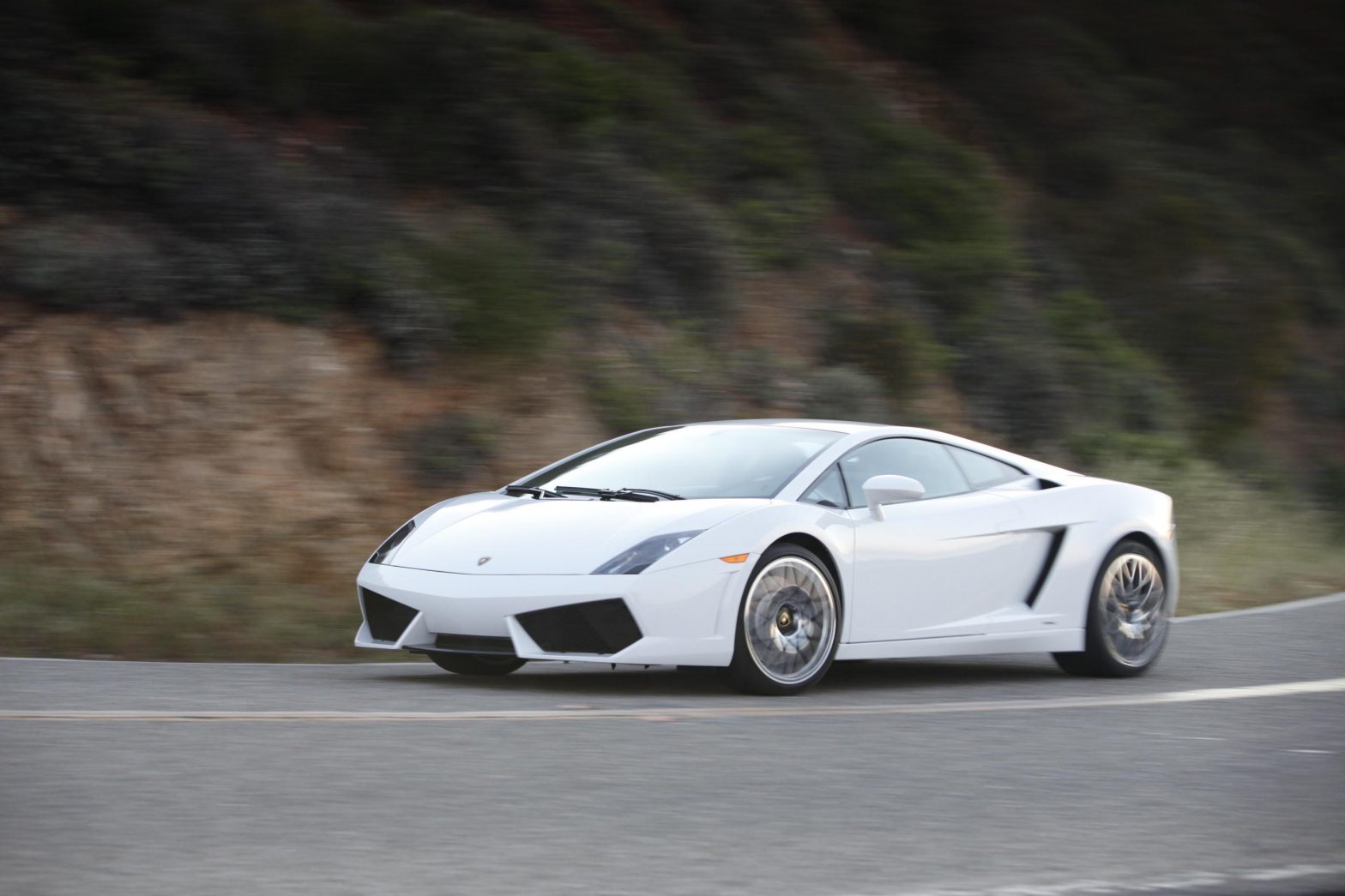 (Photo Credit: Scott Gilbert)
—Los Angeles, California
The best automotive brands have established some distinctive idea of what they are in the head of the typical enthusiast. This idea, or more likely set of ideas, gets built up, often over decades, through reading about, seeing and discussing the brand. For many enthusiasts, actually driving the cars is small part of what forms that brand image. After all, how many people have driven a McLaren or a Bugatti or, as is our case in point, a Lamborghini? Even among more common performance cars, many enthusiasts have no direct experience with a Viper or a 911 GT3 or even an M5. The result, we've noticed over time, is that many enthusiasts hold an idea of brands and models that don't have much connection with the reality of what is rolling off the assembly line.
As long as we're on the subject of ideas, we suppose it doesn't really matter whether the idea of any given brand is accurate or not. At the same time, self-respecting enthusiasts might not want to wander the streets at night with completely artificial notions of these cars, either. And so, dear reader, we offer this new series meant to specifically frame our ideas of what a brand actually "is" (or in the case of broad line companies, what some seminal models "are").
As a reference, when we asked enthusiasts about Lamborghini, we got a fairly tight range of descriptors from "scissors doors" to "wild" to "big motor" to "crazy styling." You also get comments like "not quite up to Ferrari" and "difficult to handle." Much of this doesn't square with our recent (post-Audi) experience of Lamborghinis. Still, in the interests of science, we flew to Los Angeles and picked up a Gallardo LP560-4 for a few days of driving meant only to address this question. We drove winding roads, and highways, and city streets. We parked in parking lots and checked out the reactions of passersby. We did what we think an owner might do on a typical weekend. Of course, one car does not a brand make, so we added in our collective Lamborghini experience to the mix, with the goal of nailing down a reliable group of thoughts you can carry in your brain next to the word "Lamborghini."
Heavenly Engine
Back in the day (the early 1960s) when Ferruccio Lamborghini set out to expand from tractor-making to building cars, he enlisted a company made up of former Ferrari engineers to design the first Lamborghini V-12. Led by Giotto Bizzarini, this team set out to trump their previous Ferrari efforts, and did so handsomely. That tradition lives on, in a way. Modern Lamborghinis have either V-12 (prior to the Aventador, derived from that first Bizzarini V-12) or V-10 powerplants, which alone positions them in the upper reaches of the automotive atmosphere. But there is more to this element of the story.
When heading north from LAX toward Malibu, we happened to take the 105 to the 405 North. Lucky us, because there is a tunnel running for about a quarter-mile between these two highways. Though it was only 5 a.m., we had the presence of mind to slow the LP560-4 to about 10 miles per hour, roll down the windows and nail the throttle. After two quick runs in first and second from 3000 to about 7500 rpm, we can testify that the Lamborghini V-10 is a more effective pick-me-up than spending lavishly with your Starbucks card.
If you've been to any Formula 1 race on a street circuit, you'll know the sound the Gallardo makes. It isn't that the car sounds like an F1 car would from the driver's seat (which would be massively too loud for public use). The uncanny thing is that the Gallardo sounds like an F1 car echoing off the canyon walls about two blocks away. The V-10 is plenty loud, and more importantly dishes out a symphony of guttural noises, wails, and even some lovely shrieks as you get into the top of the rev band.
This sonic splendor is accompanied by an ample urgency. Of course you imagine that 550 horsepower in a 3300-pound car will rocket you toward the horizon, and so it does. What makes a Lamborghini engine special, though, is the combination of feeling so willing across the power band, coupled with that power band being so wide. Once we got up to Malibu, we regularly ran from 2000 to 8000 rpm just to sample the push and listen to the changing sounds as the motor spins up and down.
The Lambo motor doesn't eclipse other mid-supercar motors because it is more powerful—it isn't. Porsche, McLaren, and Ferrari offer more horsepower, or more torque, or both. The marvel of the Lamborghini approach is that it feels so organic and so tuned to human senses. A V-8 with a flat plane crank may be racier, but it never sounds or feels quite as unstressed or mellifluous. A turbo motor may have more raw slam. But for an engine that is enjoyable and thrilling rather than awesome, Lamborghini has it figured out. In a way it reminds us of why we so much prefer the GT3 to the 911 Turbo. Except in the Lamborghini case, you really don't notice any shortfall of power, while you do notice the fluidity of the engine's throttle response, torque curve and mechanical tuning.
Stable Handling
Once north of LA, we sought out as many twisty back roads as we could find. The LP 560-4 takes on such road with aplomb. We were repeatedly surprised by how agile, balanced, and flowing the car felt, even on very twisty sections. The steering makes the Gallardo relatively easy to place, and the grip levels feel very secure. AWD makes launching off a corner a pleasure unaccompanied by histrionics or a sense that you could do something stupid. Probably the main lure toward stupidity comes from the Lamborghini's temptation to run at high velocities.
Like some other supercars, the Gallardo urges you to get on the boil because the chassis is so stiff and stable that it takes some doing to really build a sense of speed. Fortunately, as in the Ferrari 458, the soundtrack acts as a reminder of what you are doing.
Stability has a price, and we would say that the chassis and steering could be more extroverted and communicative. But, contrary to the wild child reputation, the modern Lambo way is much more calm and reserved. Very fast, yes, but off the track a bit sedate. And you have to consider that Ferruccio originally intended to outperform Ferrari in some practical (sales and service professionalism) and adult (grand touring) ways. So the presence of Audi in engineering chassis of these cars is, in a way, a logical step to fulfilling the original dream.
It's A Supercar!
Part of the disconnect between Lamborghini's reality and its reputation is that Lamborghini only makes supercars. Lamborghinis are all (now) mid-engined. They are all expensive, even by today's elevated standards. And they all look exotic, in a way that say a Ferrari 599 or Aston Virage will never quite attain. That purity is nice and simple and helpful.
But you have to understand that Lamborghini, the reality edition, has held onto its grand touring roots. Lamborghini the man was never interested in racing; he wanted to build cars for rich Italian gentlemen.
Being a small company, he had to subcontract a lot of his work (and the structure of the Italian automobile industry made this easy and desirable). Some of the men he hired had more radical tendencies. So Giugiaro and Gandini, two early Lamborghini stylists, brought forth stunning designs that looked extreme. And, evolution working as it does, those designs, especially the Countach, have become the design heritage of the company.
So what we get are supercar platforms, with sexy designs, yet imbued with the soul of highly engineered GT cars. That sounds kind of weird until you consider that such a balanced approach is behind Porsche sports cars. There we have full-on sports car, combined with every day practicality. If you had no experience with Porsche, you'd probably turn up your nose. In reality, it makes sense to a lot of people who actually buy cars.
Conservative
Another way in which Lamborghini in reality breaks from the consensus view is in its conservatism. This shows up in both design and engineering.
Look at the Gallardo. Admittedly, it is a design that has been around for many years. But if you look carefully, we think you'll see that it is a classically executed take on the long-standing Lambo themes dating to the original Countach. It catches the eye because it has unusual proportions, but the proportions are quite pleasing. Even more, the detailing is subtle and flowing. In other words, the design is a conservative take on a radical (at the time) concept.
The engineering is similar. Even with Audi backing, Lamborghini is a small company. Audi intends to make money on Lamborghinis, so there is a limit to the investment it can make. In particular, Audi isn't tossing money at clever flash because it is fashionable.
This shows up in the center stack, which is pure Audi, circa 2008. Not bad, and certainly a step forward from exotics in the early 1990s, but no stylistic or operational breakthrough.
Or take the transmission on the Gallardo. Saints be praised, you can get a manual (unlike a Ferrari or McLaren) or a single-clutch automated manual. The latter might seem "old" until you consider that it is a) lighter and b) more interesting in its on-street character. In these days where we're distressed because we might have to wait more than a year between iPhone releases, this seems positively retrograde. But like a lot of conservatism (Leica? Lending standards?), it has its place if you actually think about what the ends and means are.
So, Lamborghini is building cars with an unusual combination of supercar style, brilliant engines, and conservative engineering. For a lot of people we've talked to, for whom body and drivetrain are the essence of a great car, this combination seems likely to resonate. We might even hazard that Lamborghini seems less clichéd than Ferrari as a nouveau riche purchase, and this extra dab of iconoclasm could be a draw.
Make us king of the world, and we'd take Lambo even further in the GT direction, with a chassis that matches the supple, talkative nature of the engine. Ride quality could be massively better, and McLaren has shown (ironically using technology that Audi ran on the last RS4) that supercar handling can be paired with real-world-rated ride excellence. We'd make sub-limit handling the goal, which should make ride superiority achievable. Free up the steering and you'd really have something. Aston and Maserati have struggled unsuccessfully to build this car, but Lambo is already closer, and a small nudge could get them there. Starting with a mid-engine platform, as required by modern Lamborghini law, can't hurt either.
We conclude with the thought that Lamborghini, small though it is, has carved out a surprisingly clear position in the market. So many cars today are mild variations on bland. Lamborghini is not, and in that, the view of the enthusiast community is thankfully not mistaken.