Quick Drive: 2011 Mazdaspeed3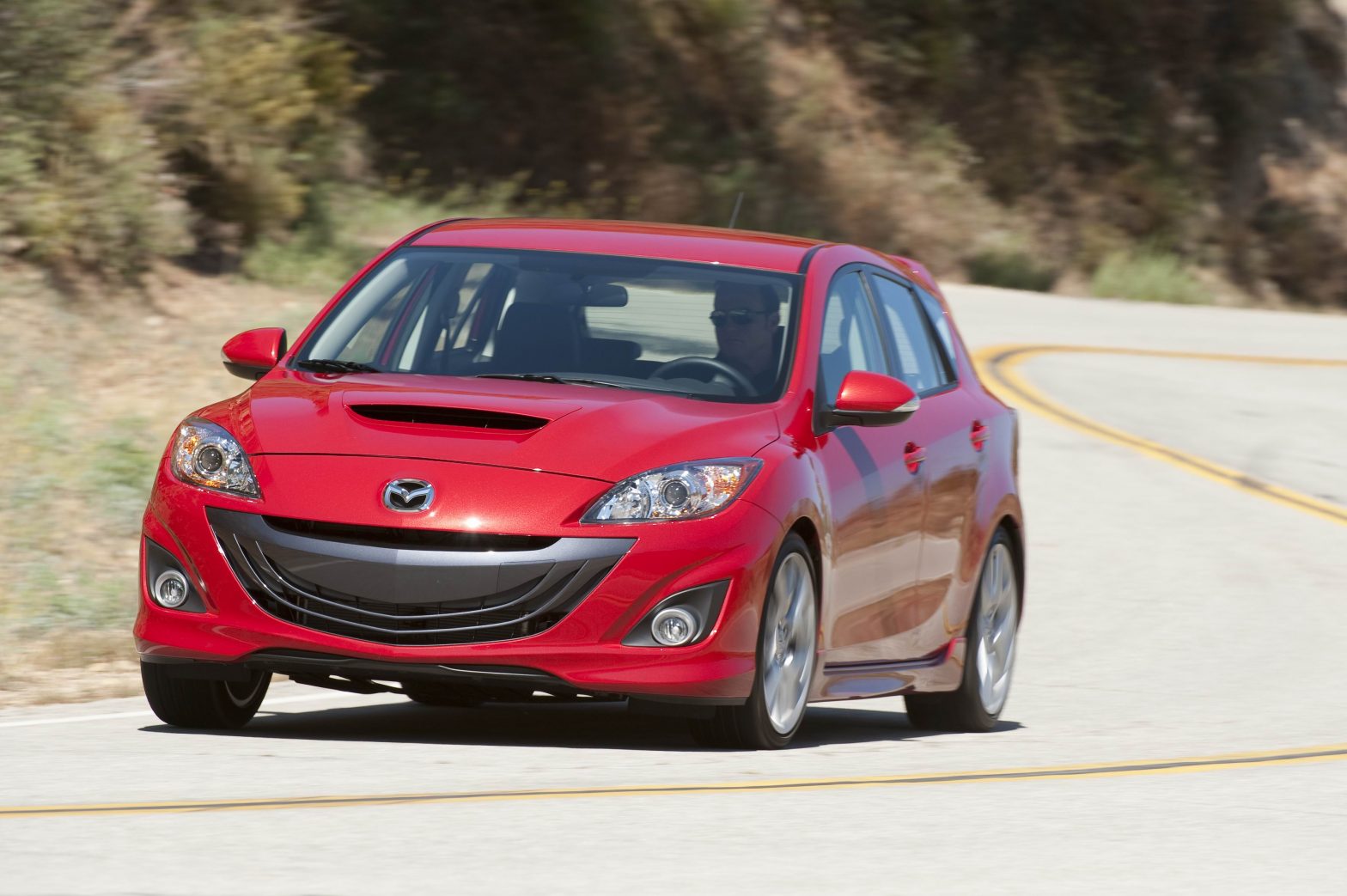 I'll get it out of the way early; I prefer the original Mazdaspeed3 to this second-generation by a rather large margin. This car isn't the same visceral indulgence that the original was. Everything has been numbed to a degree, including the first gen's characteristic torque steer.
That's not to say that this thing is numb. That's not even slightly true, but compared to its predecessor, it lacks the character that made the original car so enjoyable.
What it doesn't lack is speed. Power comes from the same 2.3-liter turbocharged four that powered the Ür-MS3, and delivers 263 horsepower and 280 pound-feet of torque. The powerband is plenty wide, but the turbo runs out of juice at around 6000 rpm, well below the 6700 rpm redline. This is an issue that also plagued the original, but not to this degree. Thankfully, by the time you get to 6000 rpm, you are probably breaking the speed limit already, so you won't really spend much time up there outside of a track environment.
Handling is also a strong point, despite the softer suspension of this second generation. This is still a very talkative vehicle, with a nice amount of feedback coming through the steering. I got most of my information from the suspension though, much like our long-term Mazda2. The body roll didn't destabilize the car, and if anything did a fine job of conveying how much lateral grip was available. There was a tendency towards understeer in hard cornering situations, but it is easily sorted with a bit of braking.
Overall, this car is a seriously good performer, but it lacks some of the character and fun-to-drive nature that made the original such a winner.
—Brandon Turkus, Fleet Manager
One of the most commonly heard praises for the Mazdaspeed3 is that, at under $25,000, it provides some of the best performance per dollar for any car around. That's a true statement. Not only is the MS3 undeniably fast, but its torquey, turbo-boosty character makes it super-intense, too.
But the fact is that there are more interesting sports cars at $25K than ever right now, and a few of them offer driving character that the Speed3 can't match. Rear-drive muscle cars like the Mustang and the Camaro are both 300-plus horsepower at the V-6 level, and close to the Mazda in price. Both offer handling finesse that is often difficult to muster from the balls-to-the-wall Mazda, though they're nowhere near as much raw, visceral fun. A similar argument could be made for Mazda's own RX-8, which, when incentives are factored in, can be had for about the same money as the MS3.
The question really becomes—how do you like your performance served up?
On good roads, driving really hard, the Speed3 experience is one of the driver hanging on, rather than owning the experience. As Brandon points out, steering feedback levels aren't super high here (though I'd question whether or not the last-gen car was much better), so you're really left with only the explosive acceleration to play with. That's a fun pastime for an afternoon or a weekend, but my gut tells me that it might become a little bit tiring as a full ownership proposition. A good, but not great manual gearbox, a lot of understeer, and rapid fuel consumption round that feeling out for me.
And yet, when it comes right down to it, if you handed me the keys right now, I'd take the 3 out for a spin again. Less pondering the car, more driving it.

—Seyth Miersma, Editor-In-Chief
For me, it's not so much the raw power or the functionality of the Mazdaspeed3 that make it one of my favorite affordable cars to drive. It's one of those things that I have trouble explaining concretely, but this car just "works" for me. Every once in a while, I get in a car, and everything about it feels totally natural. Across the board, characteristics of the MS3 come together really well for me, from seating position to steering feel to the weight of the clutch to visibility, and more. From ignition, everything happens naturally, confidently, and without thought, as if the car is that "extension of the self" that drivers, musicians, and riflemen sometimes speak of.
In a sense, I must disagree with Seyth's feeling of lacking ownership of the driving experience; I feel very much a part of it, though perhaps not in the same way that we usually evaluate driver involvement.
Funny thing, when I look at other cars I feel this way about, some similarities emerge (despite some striking differences). The Subaru WRX is one of these cars. So is the Honda Civic Si. Perhaps my nervous system is wired to like small, peaky, quirky, mechanical Japanese cars, be they front-, rear-, or all-wheel-drive. Or maybe it's just a coincidence. Either way, the Mazdaspeed3 would be on my list of cars to consider buying, and it is one I would recommend to any shopper showing a mild bit of interest. The Speed3 is many things, not the least of which is a car with which to get a sense of what sort of riotous fun an affordable, front-drive hatchback can be.

—John Beltz Snyder, Production Editor
Pros

Acceleration, sound, and at-limit behavior are all intense
A seriously good value for the performance on offer
It has an undeniable and unique character that is alluring to many drivers
Cons

Handling is inelegant when compared with rear-drivers, or the Civic Si
Add the low MSRP a healthy budget for new front tires
Many competitors seem more compelling at this price point