Volvo's New Drive-E Powertrains Offer A Turbocharged, Supercharged Option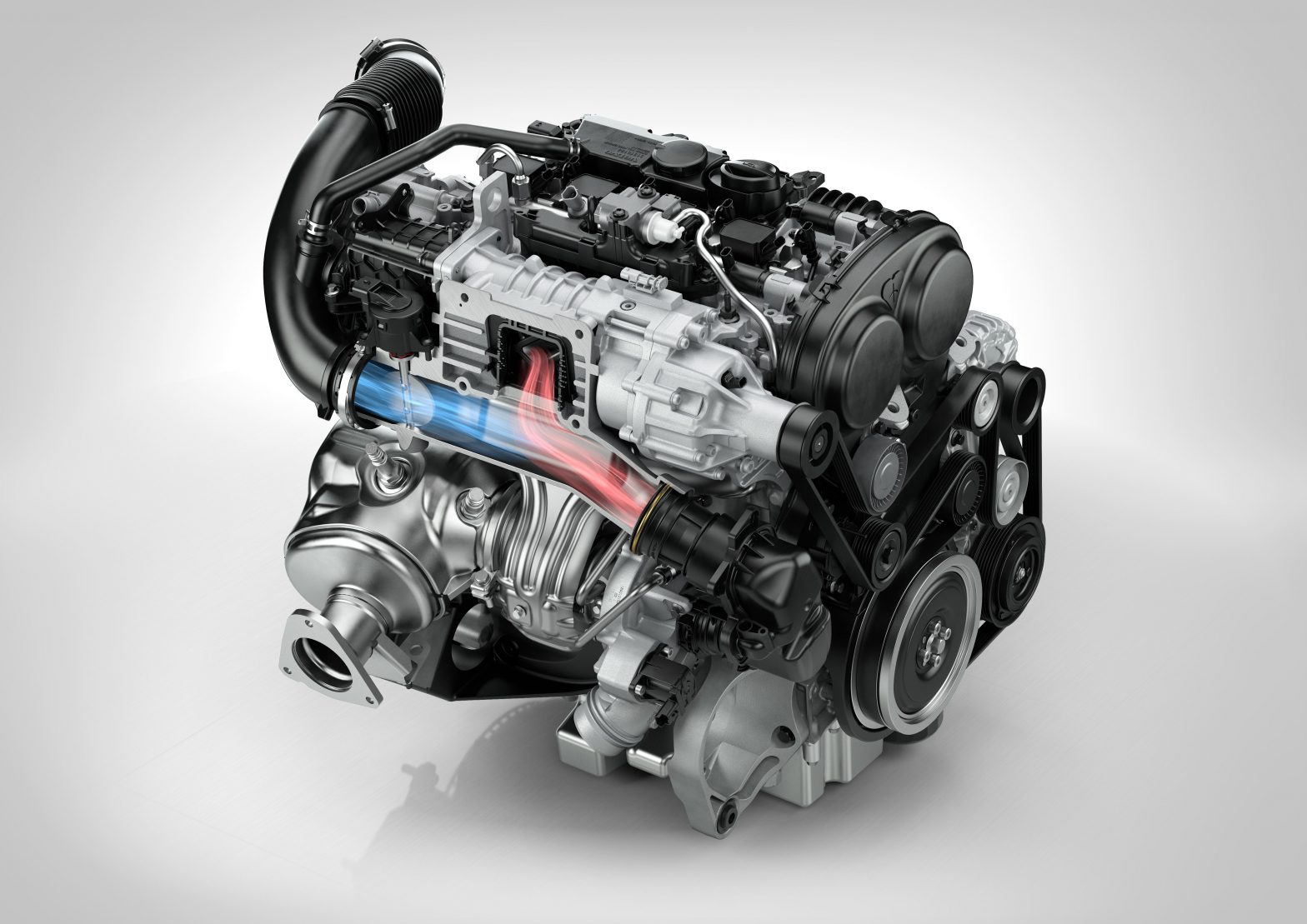 Volvo has introduced a new engine family called Drive-E with two offerings, one of which is both turbocharged and supercharged. The Drive-E powertrains are part of a larger overarching program to build more environmentally friendly vehicles without sacrificing performance.
For the US, there will be two Drive-E gasoline engine options, both 2.0-liter four-cylinders with forced induction. The first is a turbocharged version offering 240 horsepower and 258 pound-feet of torque (an apparent alternative to Volvo's current T5 turbo five-cylinder). The other is turbocharged and supercharged, with 302 horsepower and 295 pound feet of torque (compared to the current T6's 300 horsepower and 325 pound-feet).
To start the Drive-E engines will be available alongside Volvo's current lineup, and will only be available in front-wheel drive. The two Drive-E engines have the capability to power Volvo's entire model range, with higher-performance or more efficient versions possible.
The Drive-E powertrains feature friction-reduction technology for better efficiency. Ball bearings on the camshaft, high-speed variable valve timing, and intelligent heat management with a fully variable electric water pump are all on hand to make things run as smoothly as possible. Start-stop and brake regeneration save precious energy. An eight-speed transmission means better fuel economy, smoother driving, and better response from the engine.
The new powertrain family also foreshadows the addition of electrification to the mix, as the Drive-E powertrains are set up for hybridization. According to Volvo's Vice President Powertrain Engineering Derek Crabb, "Hybrids are definitely going to be a dominant part of the top end of our range."
Scroll down for more details in the press release, below.
Volvo Cars' New Drive-E Powertrains Offer Power and Efficiency
Exciting drivability, targeted best-in-class fuel economy and production flexibility among solutions offered through new Volvo-developed engine family soon making its way to U.S. shores
ROCKLEIGH, N.J. (Aug. 16, 2013) — With the introduction of its new, innovative engine family, Volvo Cars ushers in a wave of transformational change. Its Drive-E powertrains are developed in-house at Volvo's R&D department in Sweden — targeting best-in-class combined fuel economy in some engine versions — and signal an important part of the company's strategy for advancement.
Significant investments in preparation for the new engine family were made in Sweden. Overall, an $11 billion, multi-year push — including engine development, Volvo's future Scalable Product Architecture, and other infrastructure and facilities upgrades – is directly aimed at transforming Volvo's future toward increased competitiveness and technological independence.
"The launch of our new Drive-E powertrains is an important step in Volvo's product investment plan that will result in a stronger, more competitive position in the marketplace," said Volvo Cars of North America President and CEO John Maloney. "A great deal of research went into learning how our customers drive and these highly efficient, low-emission engines were designed to provide greater customer choice while retaining the performance attributes our customers expect."
Drive-E is also Volvo's name for all innovations made to reduce the impact on the environment. The moniker encompasses everything from a sustainable, efficient and clean manufacturing process, along with the use of recyclable materials, to efficient and low-emission powertrains – without compromising performance.
Powertrains Deliver Efficient Power
Drive-E powertrains efficiently deliver what was once only thought possible with six or eight cylinders. Those possibilities further expand when the new engines are teamed with electrification, producing vehicles, such as plug-in hybrids with outstanding range.
"We have created smaller, more intelligent engines with power curves that give exciting drivability compared with engines with more cylinders, yet deliver the fuel economy of only four cylinders. In addition, by adding electrification such as plug-in hybrid technology, we will reach power figures in the V8 territory," said Derek Crabb, Vice President Powertrain Engineering at Volvo Car Group.
The smaller, lighter engines-by nearly 100 pounds on the higher performance engine — also offer considerably lower emissions and higher fuel economy savings — ranging from 13 to 26 percent depending on the engine to which they are compared. Specific fuel economy numbers will become available shortly before cars with Drive-E powertrains reach retail outlets early next year.
Drive-E Powertrains Offer Range
Globally, the complete Drive-E engine range, formerly called Volvo Engine Architecture (VEA) during its development, consists of two four-cylinder engines, one common rail diesel and one direct-injected gasoline version. They replace eight engine architectures on three platforms. Both the diesel and the gasoline versions share the same architecture.
Two levels of forced induction open up the flexibility to cover the whole range, from fuel-efficient derivatives to high-power and torque variants. In order to meet customer requirements, some engines will also gain added performance via electrification or other spearhead technology.
Two gasoline Drive-E engines will be offered in the United States, a 240-horsepower version and a higher performance 302-horsepower version. In the United States, Volvo will continue to offer its current lineup of AWD powertrains, along with Drive-E. As a result, U.S. customers can choose between the new engines and some current engines until Volvo transitions solely to Drive-E.
Drive-E Powertrain Range:
| | | | | | | |
| --- | --- | --- | --- | --- | --- | --- |
| T6 | 4 cylinders | 2.0 Liter | Turbocharged and supercharged | 302 HP | 295 pound-feet | FWD |
| T5 | 4 cylinders | 2.0 Liter | Turbocharged | 240 HP | 258 pound-feet | FWD |
Technical Features
The new engine family reflects thoughtful design features to maximize the engine's efficiency, as well as provide dynamic drivability and performance. Drive-E powertrains offer many technical features:
Friction reduction: Friction-reduction measures have been employed throughout the engine, including ball bearings on the camshaft, high-speed continuous variable valve timing and intelligent heat management with a fully variable electric water pump.
Start-Stop and Brake Regeneration: All Drive-E engines feature start-stop and brake regeneration. The technology uses brake pressure measurement to trigger when to stop and start the engine. The start/stop system is programmed to shut down the engine immediately when the car reaches a standstill. An electric pump keeps oil pressure up in the automatic gearbox while the engine is stopped. The system also includes an improved starter engine.
Turbo Only or Turbo and Supercharger: Using the supercharger to boost the low end torque gives the gasoline 302-horsepower T6 engine a big, naturally aspirated feel. The mechanically linked compressor starts to function immediately at low revs, while the turbocharger kicks in when the airflow builds up.
Eight-speed gearbox: To deliver the desired responsive, smooth and fuel-efficient drivability, the engines are teamed either with a new eight-speed automatic gearbox tuned for improved efficiency. "Think of it like having more gears on a bicycle — you get more chance to operate it efficiently depending on the road conditions. With our new gearbox you get a bigger ratio spread – in essence it gives you better chance of getting good fuel economy from the engine," said Crabb.
Prepared for Electrification in the Future
The Drive-E engines are prepared for future electrification from the start. Key components, such as the integrated starter generator, can be connected easily — and the compact size of the four-cylinder engines means that the electric motor can be fitted in the front or rear of the vehicle. The battery pack will be located in the center of the car.
"A four-cylinder, transversely mounted engine is a way of building up for an electrified future," said Crabb. "Hybrids are definitely going to be a dominant part of the top end of our range."