Singer 911 To Get Cosworth Power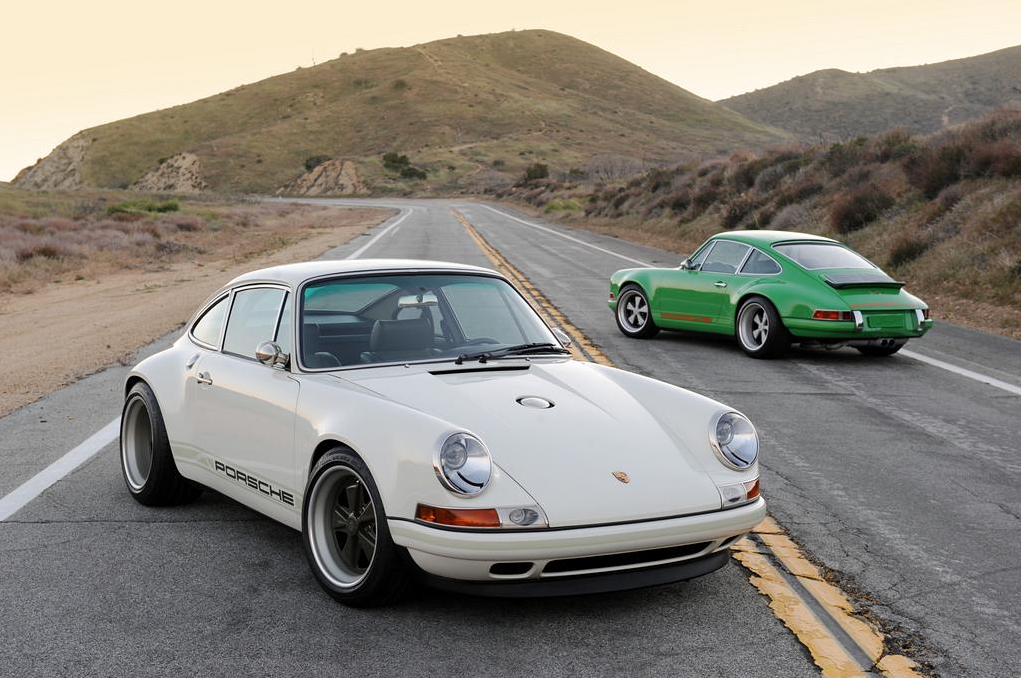 If you haven't yet heard about Singer Vehicle Design, you might be doing yourself a favor by checking them out. The very young company is doing some incredibly cool remanufacturing of air-cooled Porsche 911s, creating stunning carbon fiber bodywork in the mold of 1960's and 70s era cars to wrap 964 911 engines and running gear. Essentially creating 911s that offer all of the appeal of classic era Porsches, but with the performance and technology that new sports car buyers expect and demand.
Now the air-cooled Singers are ready for another boost in both performance and car-guy credibility, as the company has inked a deal with the legendary engine builders at Cosworth. Cosworth engineers will be reworking the Porsche engines to optimize performance. Three tiers of engine will be available because of this work: Touring spec with a 3.6-liter flat-six producing 300 horsepower, Sport with a 380-horsepower 3.9-liter, and Cup with a 3.9- to 4.0-liter six making "more than" 425 horsepower.
We think that Singer's version of the retro-mod idea is intriguing, to say the least. And we've got high hopes of driving a test car for the purposes of a full review the next time we're out in Southern California. Stay tuned.
Read the full Singer press release below.
Singer Vehicle Design Announces New Global Partners Cosworth and Aria Group to Provide Singer 911 with Technological Advancements, World-Renowned Inspiration and Performance
Singer Vehicle Design Completes Third Customer "Singer 911" as Awareness and Profile Spreads Around the World
LOS ANGELES – July 14, 2011 — After almost four years of passionate development and the delivery of its first three optimized, air-cooled Porsche 911s®, Singer Vehicle Design (SVD) enters the next step in the advancement of its company and cars with the announcement of two key partnerships in the development and crafting of SVD vehicles — internationally-renowned motorsport engineers Cosworth will be the exclusive provider of engines to Singer, and globally-recognized composite experts Aria Group will prepare, paint and deliver all of Singer's carbon fiber bodies. These two new partners bring invaluable credentials and experience to the Singer brand, guaranteeing world class production standards while sharing Singer's passion for refining the iconic air-cooled Porsche 911®.
As a classic vehicle design enthusiast, Rob Dickinson, founder and creative director for SVD, took his dream to reality with the production of the Singer 911, which he describes as his vision of an ultimate modern-day, air-cooled Porsche 911®. Regarding SVD's new partners, Dickinson said, "We are thrilled to be involved with these incredible companies who together bring a wealth of heritage, intelligence and global engineering expertise to this labor of love. This is not just about re-imagining an icon; we're working in a collaborative spirit of excellence to build something that celebrates Porsche's genius and the air-cooled era of the world's most important sports car: the Porsche 911®."
From the beginning, Dickinson sought to create the "ultimate classic 911®" by combining the finest characteristics of the air-cooled cars from 1964 to 1998 with a fresh design and engineering perspective, bringing the cars up-to-date for the 21st Century. One part of the allure was to save older 911s from an uncertain future and restore them with new thinking relevant to a new audience unfamiliar with the joys of classic 911® ownership. Says Dickinson, ''there is a generation which has never experienced the magic of an air-cooled 911® and we wanted to offer something that oozed authenticity and offered access to the heart of the original 911's® brilliance.''
SVD bases their machines on the 1990-1994 964 platform for its perfect blend of vintage 911® character and technical sophistication, then dresses them in carbon fiber bodywork that evokes the classic road racing 911s® of the '60's and '70's. With the addition of optimized engines — and transmissions, suspension and brakes lifted from later air-cooled models — the transformation is complete. ''We have respectfully attempted to enhance every element of these cars – they are extravagant machines for sure and we aim to build them like Swiss timepieces," says Dickinson. ''But if any car on the planet is worthy of such obsessive and meticulous attention, it is surely the Porsche 911®.'' Prices reflect this no-expense-spared approach with the cars ranging from $190,000 to more than $300,000, depending on a comprehensive selection of equipment which allows each customer to design a machine to their own specific tastes, be they grand touring opulence or hardcore road and track performance.
Collaboration
''Tackling such an ambitious project on our own would have been impossible," continued Dickinson. "The Singer 911 is an enormously collaborative effort and we see it as an amazing opportunity to showcase the best and brightest developments in the Porsche® world and beyond. We have also taken advantage of our geographic location to partner with some of the finest companies in their fields located here in Southern California — and now we have Cosworth and Aria taking the Singer Vehicle Design project to a new plateau."
Cosworth
Founded in 1958 by Mike Costin and Keith Duckworth, Cosworth's sole purpose was to engineer and build high performance engines for Formula One race cars, however the iconic racing-engine builder is undergoing diversification on a major scale with new forays into the performance aftermarket at their 'Center of Excellence' in Torrance. According to Ken Anderson, Vice President of Sales and Marketing for Cosworth, LLC, the international market has long been searching for a "modernistic retro" vehicle that has the style, attention-to-detail and true definition of quality to gain global stature. "Our partnership with Singer is about taking that level of detail even further," said Anderson. "As the exclusive engine builder for Singer Vehicle Design, we have the ability to provide a unique array of powerplants – making for a very exclusive arrangement."
Cosworth is working closely with engine designer Jae Lee of Mirage International in San Diego, CA in specifying and calibrating these air-cooled creations. And, with Cosworth's precise engineering and development capabilities focused on optimizing the classic flat six air-cooled power plants, SVD is able to offer a full range of engine options, with three tiers of performance levels:
• Touring – 3.6-liter engine, producing 300 hp
• Sport – 3.9-liter engine, producing 380 hp
• Cup – 3.9 to 4.0-liter engine, producing more than 425hp
These engines will present state-of-the-art thinking and development in all areas of the Porsche® air- cooled unit with optimization in cylinder head design, fuel injection, intake and exhaust, to name but a few. Together, Cosworth and SVD plan to eventually brand these "Singer Cosworth" engines for aftermarket sales opportunities.
Aria Group
World-renowned for its high profile concept car projects, product development, prototype fabrication, and specialty or low volume production, Aria Group joined forces with SVD in a mutual commitment to bring the exclusivity of processes such as "pre-preg autoclaving" to a high performance vehicle practical enough to serve as a daily driver.
"The big advantage we bring to the Singer 911 is that we provide the type of technology that is usually only available for military aviation and major motorsports manufacturers," said Clive Hawkins, president and owner of the Aria Group. "We offer a military-perfect prep process that utilizes world-class standards and apply it to Singer's modernized, yet classical approach, to re-create a bespoken dream." Aria turns down 90 percent of the projects it is offered, demonstrating the integrity of its alliance with SVD. "To be a great partner, one has to have great vision," continued Hawkins. "Our role with Singer Vehicle Design will only grow due to the passion that is being sold and our ability to create the experience that only an 'Aria-prepared' body can showcase."
The Aria Group brings an intrinsic strength and high value to the Singer 911 product, offering the type of specialized carbon fiber previously reserved for Formula One standards. Hawkins maintains that "by taking off any removable body work of the original vintage body and replacing it with an optimized carbon fiber body, we not only save 75 percent of the weight, but of more importance, we strengthen the vehicle through a higher level process than any of the top high performance road-going brands."
Overview
According to Dickinson, SVD is on target in its goal of offering a 911® that provides a true duality of approach – that of creating a real sports car that is still an honest daily driver. "Unlike a Ferrari or a Lamborghini, the Singer 911 is a genuinely useable proposition and not a highly strung plaything," said Dickinson. "I liken it to a good companion. It's a beautiful piece of jewelry for sure, but we've maintained the intrinsic versatility of the 911®. Our machines have that vital duality of purpose that every great 911® possesses: the ability to thrill, but also to chill, and simply complete a journey in style and comfort.''
The company aims to produce ten vehicles annually and will continue to expand its product offerings through its restored and modified platforms. SVD will invite the world's press to drive the Singer 911 later this year.
Additional partners and suppliers for SVD include:
• Apex Technology – wiring/electrical/engine mapping
• Bilstein – suspension components
• Brembo North America, Inc. – brakes
• Fuel Safe Systems – fuel tanks
• GROWit 3D – rapid prototyping and manufacture
• Hella – lighting components
• Little John Interior Concepts – seats and upholstery