Revealed: Electric, Three-Row Kia EV9 SUV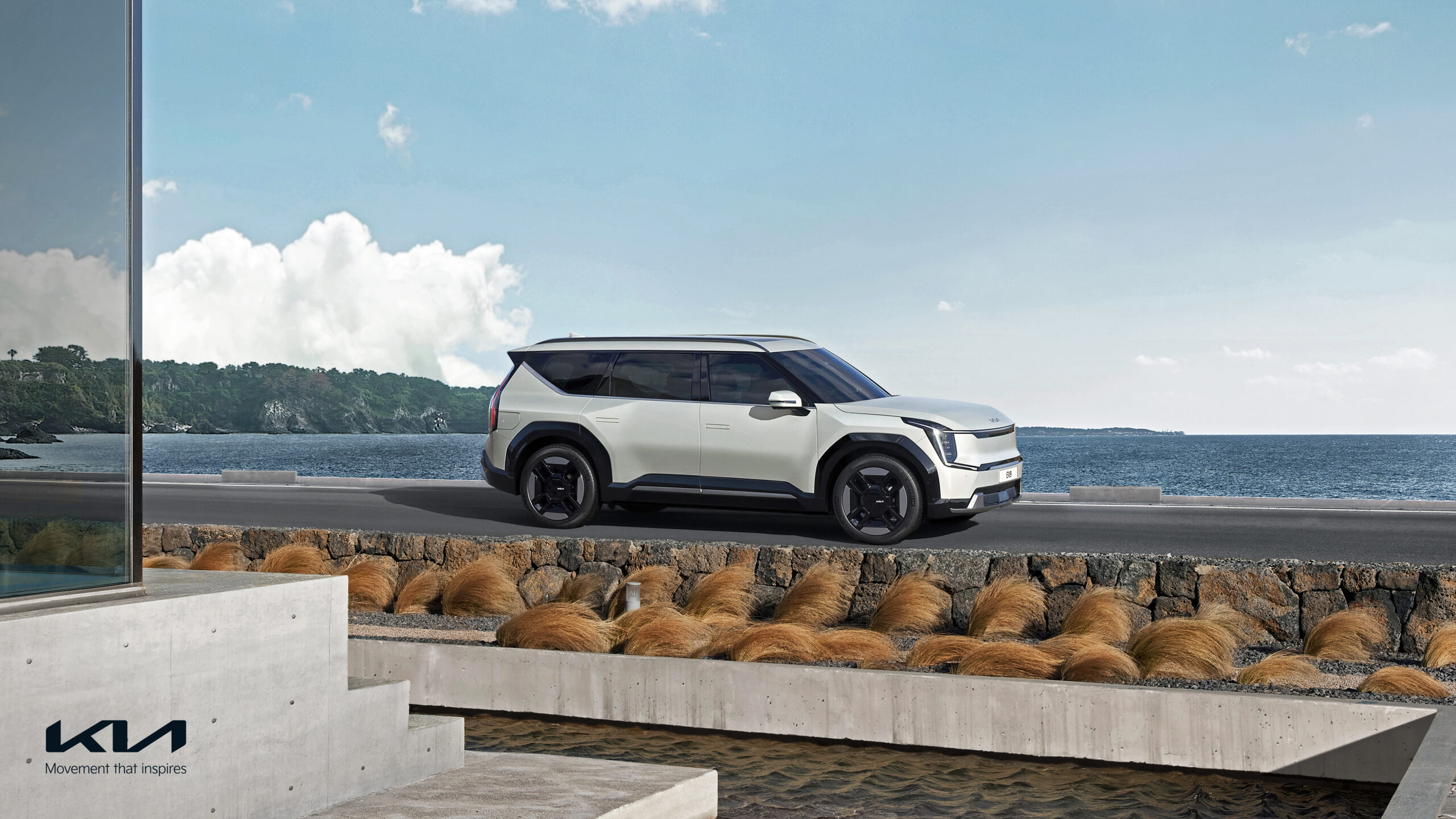 Teased two weeks ago, Kia today has unveiled its first three-row electric flagship, the Kia EV9 SUV. This new electric SUV marks a significant milestone in Kia's journey towards becoming a sustainable mobility solutions provider. Inspired by Kia's 'Opposites United' design philosophy, the EV9's character combines the contrasting qualities of nature and modernity, resulting in an elegant, yet bold exterior that exudes confidence, clarity, and calmness. The EV9's interior is designed to provide a new social space that prioritizes space, comfort, and technology for all occupants, with lounge-style comfort in all three rows of seats.
The exterior design of the Kia EV9 SUV is guided by Kia's 'Opposites United' design philosophy, which harnesses the creative tension generated by the divergent values of nature and modernity to deliver a harmonious whole. The front of the EV9 is denoted by simple clear-cut lines and body surfaces, accentuated by the 'Digital Pattern Lighting Grille' and striking vertical headlamps. The EV9's innovative 'Star Map LED daytime running lights (DRL)' create a new illumination experience and deliver a sophisticated animated lighting pattern that will denote Kia's Digital Tiger Face for the brand's future EV models. The side profile of the EV9 combines a strong and indisputable SUV identity with exceptional aerodynamic efficiency, and the rear of the vehicle is clean and simple, with elegantly detailed slim rear lights that mirror the design of those at the front.
The interior of the EV9 is built on Kia's Electric Global Modular Platform (E-GMP), which has facilitated the creation of generous space for all occupants to connect and relax with lounge-style comfort in all three rows of seats. Offered in both six and seven-seat formats, the EV9 delivers equality of space, comfort, and experience for all occupants without placing all of its focus on the driver. The open, floating panoramic dashboard extends from the steering wheel to the vehicle's center, and the center console is equipped with ample storage options, including a spacious compartment located at its base.
The EV9 is ready to debut globally later this month, and it represents a significant step forward for Kia as it continues its transformation towards a sustainable mobility solutions provider. The Kia EV9 SUV breaks new ground, redefining standards for design, connectivity, usability, and environmental responsibility. With this new vehicle typology, Kia offers customers an exceptionally high-quality proposition and a fresh EV perspective in the family SUV sector, providing instinctive experiences and excellent comfort for all occupants through innovative use of space, technology, and design. The Kia EV9 SUV is an exciting addition to the EV market and will undoubtedly turn heads on the road.