Massive Barn Find in France Unearths Long-Lost Ferrari 250 GT SWB, Much More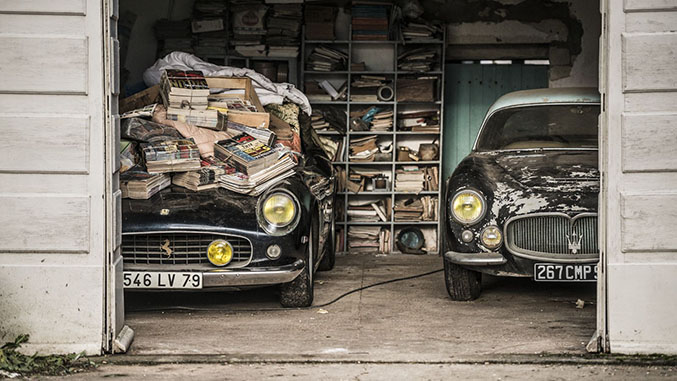 In 1950s, Roger Baillon, an entrepreneur and automotive enthusiast who ran a transport company based in the west of France, amassed a collection of incredible automobiles with a dream to conserve the heritage of pre-war automobiles in museum surroundings. During the 1970s, before he could complete the restoration work he'd planned, his business suffered some setbacks that forced him to sell off fifty cars from his collection and leave another sixty undiscovered gems sitting in makeshift corrugated iron shelters for the last four decades. Recently discovered by the The Collectors' Car Department at Artcurial Auctions, the collection – which includes a Ferrari 250 GT SWB considered to be worth approximately $15,000,000 as it sits – will go up for bid on
February 6th, 2015 at the Retromobile Salon in Paris
.
Artcurial Managing Director of Motorcars Matthieu Lamoure said the discovery of the Baillon collection is "one of the most exciting things I have ever been a part of in this business. It is an unbelievable opportunity for true collectors to find untouched cars of the highest quality and interest."
Other notable cars in the collection include a Bugatti Type 57 Ventoux, a number of Delahaye 135s, a Talbot Lago T26 Saoutchik cabriolet delivered to King Farouk of Egypt and an incredibly rare Maserati A6G 2000 Frua Berlinetta which, like the Ferrari 250, was housed in a separate enclosed garage and is in substantially better condition than the cars found in the corrugated iron shelters, which allowed the cars to be exposed to the elements.
Have a look at the included
gallery
to take in the sheer scale of this incredible discovery, and be sure to check out the video below as well as the press release for more information on this historic find.
BREAKING NEWS: ARTCURIAL DISCOVERS
A FORGOTTEN TREASURE IN FRANCE
– SALE FRIDAY 6 FEBRUARY 2015 –
1961 Ferrari 250 GT SWB California Spider • Chassis 2935 • Ex Alain Delon • Baillon Collection
Estimate : 9 500 000 – 12 000 000 €
1956 Maserati A6G Gran Sport Frua • Chassis 2140 • Baillon Collection
Estimate : 800 0000 – 1 200 000 €
Paris – The Collectors' Car Department at Artcurial has discovered 60 collectors' automobiles, all major marques dating
from the early days of the motor car through to the 1970s. Found following fifty years of lying dormant, the Baillon collection
will be sold by Artcurial Motorcars in the first part of the traditional sale at Retromobile Salon, on 6 February 2015, in Paris.
These motor cars have been tucked away in a property in the West of France, under makeshift corrugated iron shelters and in
various outbuildings.

Matthieu Lamoure, Managing Director at Artcurial Motorcars, declared: « Not since the revelation of the Schlumpf
Collection in Mulhouse, of which Maître Hervé Poulain was the expert, has such a group of emblematic automobiles been
disclosed and what is more, in such original condition! Visitors to the Retromobile Salon will be able to share in our emotion,
much like that experienced by Lord Carrington and Howard Carter entering Tutankhamun's tomb. Artcurial will put on show the
magic of these sixty mysterious mechanical creatures, like a giant work of art: the unrealised dream of its owner brought
back to life…» Pierre Novikoff, motor car specialist declared : « These sleeping Beauties are clothed in the precious patina of time gone by.
A collection like this can't fail to arouse the passions of those who love automobiles, as well as art and history enthusiasts.
Never again, anywhere in the world, will such a treasure be unearthed! »
Bugatti, Hispano-Suiza, Talbot-Lago, Panhard-Levassor, Maserati, Ferrari, Delahaye, Delage…these legendary marques
make up the extraordinary cache discovered by the Artcurial car department team, Matthieu Lamoure and Pierre Novikoff.
Many of these cars were built by highly celebrated coachbuilders such as Million-Guiet, Chapron and Saoutchik, with a
number of Talbot Lago T26s including a very rare Grand Sport Aérodynamique and a rather extravagant Cabriolet once
owned by King Farouk.
Sheltering in a garage, conserved in good condition, the two specialists came across one of just three Maserati A6G Gran
Sports with coachwork by Frua, dating from 1956. Beneath piles of newspapers, they discovered a Ferrari 250GT SWB
California Spider, with covered headlights. It had been bought new by the actor Gérard Blain, then sold to fellow actor Alain
Delon, who was photographed several times at the wheel of this machine, including in 1964 with Jane Fonda during the filming
of 'Les Félins' and on the Côte d'Azur with Shirley MacLaine. One of 37 examples, this Pininfarina-designed cabriolet, its
whereabouts unknown to marque historians until now, is bound to attract the attention of collectors of important historic Ferrari.
This collection was assembled during the 1950s by Roger Baillon, an entrepreneur who ran a transport company based in the
west of France. As enthusiast from the early days, he exhibited, at the Paris Motor Show during the 1950s, a roadster that he
had built. His dream was to conserve the heritage of pre-war automobiles in museum surroundings. During the 1970s, before
he could carry out the necessary restoration work, his dream was shattered when his business suffered a setback. He was
forced to sell some fifty cars, and since that time, the rest of the collection did not move until this discovery.

Talbot Lago T26 Grand Sport coupé Saoutchik
Collection Baillon, © Artcurial
Hispano Suiza H6B cabriolet Millon-Guiet
Collection Baillon, © Artcurial
Talbot Lago T26 Record coupé Saoutchik
Collection Baillon, © Artcurial
Talbot Lago T26 cabriolet Saoutchik ex-King Farouk
Collection Baillon, © Artcurial
**********
High-resolution images available on request
Catalogues available online at www.artcurial.com
About Artcurial – Founded in 2002, Artcurial confirmed its position as the leading French auction house in 2013 with 123
sales organised across 20 specialist departments. In 2013 the auction house achieved an overall sales total of 178.1-
million euros, representing an increase of 24% on 2012, and notably achieved the third highest auction price of the year
in France with the sculpture La Rivière, by Aristide Maillol, that sold for over 6.1-million euros. It has also confirmed its position
as market leader for Comic Strips in Europe, Collectors' Cars in continental Europe, jewellery and watches in France and
Monaco and Old Master Paintings in Paris. With a strong international bias, Artcurial maintains its presence abroad with offices
in Milan, Vienna and Brussels, and travelling exhibitions in the United States and Asia.
Over the course of the last two years, the collectors' car department at Artcurial has grown rapidly, increasing from 30 M€ / 40
M$ in 2013 to 50 M€ / 66 M$ in 2014 (+67%). The sales in France have continued to set new records and attract an
increasingly international clientèle. Artcurial Motorcars has established a reputation for sourcing cars that are new to the
market and for presenting large private collections, creating excitement and attracting collectors.
Sale date :
Friday 6 February 2015
Contact Press :
Rebecca Ruff
UK press consultant
+44 79 73 74 75 96exclusive
[email protected]
Contact Artcurial :
Jean Baptiste Duquesne
Chargé des relations presse
+ 33 1 42 99 20 76
[email protected]
www.artcurial.com