Jordan Taylor Sets An Example (For You And Me)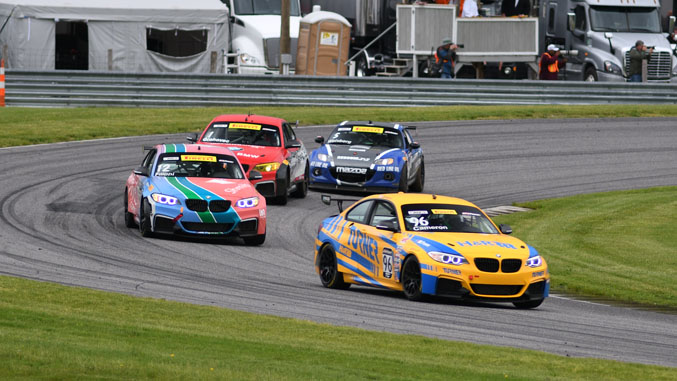 I was recently at the Pirelli World Challenge event at Lime Rock Park, where Winding Road Team TFB was running two BMW M235iRs in TC class. Turner Motorsports also had two M235iRs at Lime Rock. As a nice adder to the weekend, Will Turner, who drove the #95, had IMSA Daytona Prototype driver Dane Cameron in the #96 BMW.
Our drivers, who are 17 and 19 years old, were excited to have a driver of Cameron's caliber in the field. Adding to the amped up competition, Randy Pobst was also running a BMW in TC at Lime Rock.
Everybody loves a winner, so I wasn't surprised that our guys were pumped to have "real pros" in the field with them. But I did think it was a nice touch that Jordan Taylor came over to the hill in T2 to watch Dane. Of course, they know each other, but I thought Jordan made a nice statement making a public appearance watching a Touring Car race.
Too much of amateur racing and spectator racing involves tribalism. No, NASCAR isn't for Neanderthals. Spec Miatas aren't pinatas. IndyCar isn't a snoozefest compared to F1. The guy in P15 (Sato?) isn't a loser. And so on. When you're not on the playing field, you tend to pick a tribe and stick with it blindly. Most of this tribalism is factually wrong, and thus disrespectful, and is off-putting to people outside the sport.
When you're actually on the playing field, like Jordan Taylor, you can enjoy the competition. That might be the competition in DPi, but it might be in a ChumpCar or a kart on your driveway "track". Or it might be a PWC TC race.
The rest of us who are drivers can do the same. And, like Jordan, we can talk and act like we represent the sport. Because we do.