First Look: 2010 Mercedes-Benz E250 BlueTEC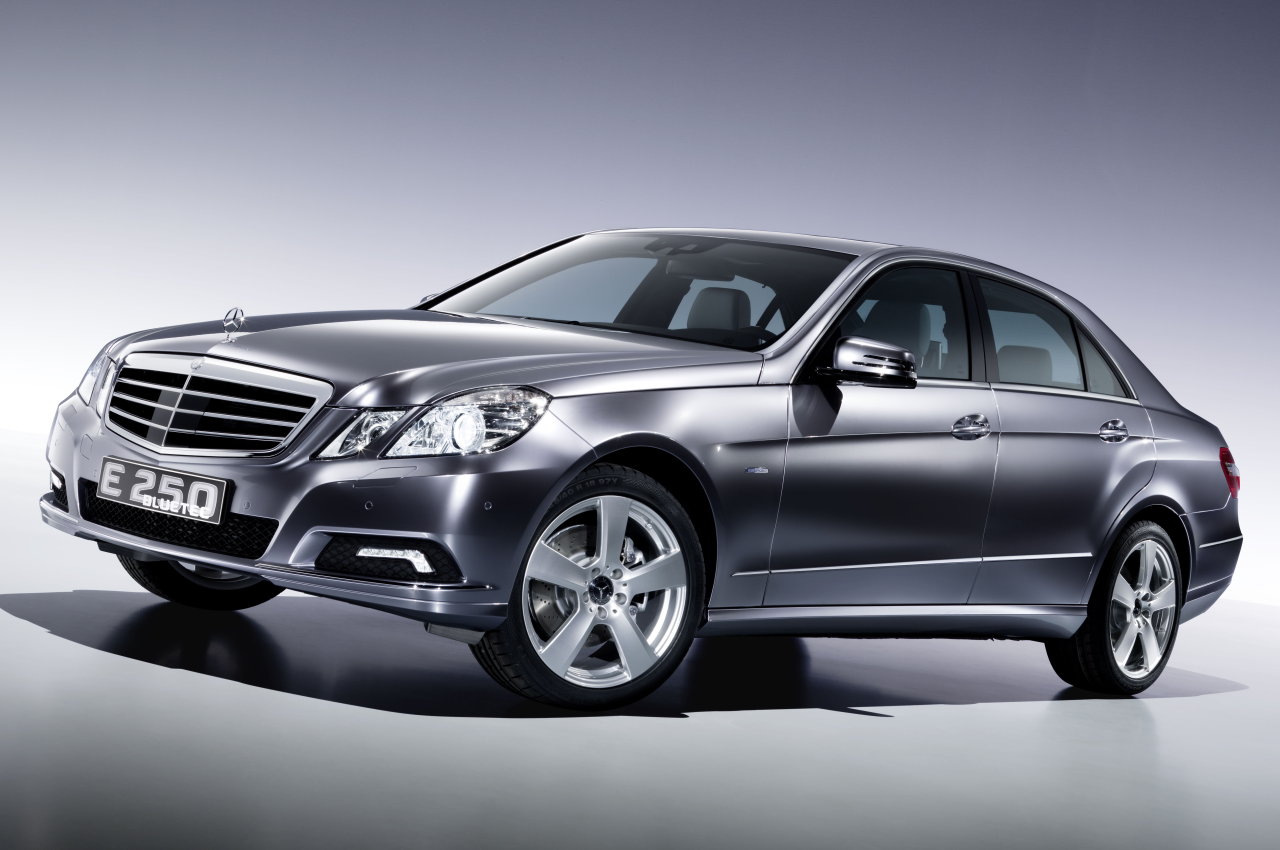 They may not all be featured attractions at the New York Auto Show, but Mercedes-Benz has been splashing new models out nearly faster than we can keep track of them over the last few days. This morning's S-Class orgy followed the E63 AMG announcement this weekend, and now the E250 BlueTEC has rolled out onto the Javits Center floor. While the M-B power machines mentioned above are certainly tempting fare, but consider us early proponents of the new diesel. We've always been BlueTEC fans, and this one sounds like a doozy.
The 2.2-liter turbocharged four-cylinder won't lack for power, with 369 pound-feet of torque available at a super-low 1600-1800 rpm. It'll also be remarkably clean. M-B's AdBlue urea injection system is at work here to lower nasty NOx emissions, and the company is also offering a Selective Catalytic Reduction exhaust system to clean up the tailpipe. All in, the E250 engine will be 50-state-legal in the U.S., and ready to meat Euro emissions standards as far out as 2014. EPA ratings are expected to run around 28 mpg in the city, and 39 on the highway.
Scroll down to read the entirety of the Mercedes-Benz E250 BlueTEC press release.
Cleanest diesel technology, excellent fuel economy, great fun to drive
* E250 BlueTEC
* Unique combination of a highly efficient four-cylinder diesel engine and SCR exhaust technology
* 50-State Bin 5 compliance
* Refined power delivery makes concept car great fun to drive
* Technical data
BlueTEC is the keyword for the future of diesel engine technology. Thanks to the highly- efficient exhaust treatment system developed by Mercedes-Benz, BlueTEC vehicles fulfill the strictest global emissions standards to make them the cleanest diesels in the world. With the E250 BlueTEC concept, which was created specifically for the North American market, Mercedes-Benz is now demonstrating how BlueTEC technology in the E-Class can be combined with a four-cylinder engine with optimized fuel consumption. When fitted to the seven-speed automatic transmission, the E250 BlueTEC boasts fuel economy of 28 mpg city and 39 mpg highway (estimated). The E250 BlueTEC concept fulfills the strictest emissions standards, including Bin 5, and would even meet the considerably toughened limits laid down in European EU6 legislation not due for implementation until September 1, 2014. The EU6 standard specifies maximum nitrogen oxide emissions that are less than half of those permitted by the current EU5 standard. The following is an overview of the current and future limits for diesel vehicles in the EU*:
EU 5 All new vehicles after 09/01/2009 EU 6 / All new vehicles after 09/01/2014
CO (g/km): 0.50 / 0.50
NOx (g/km): 0.18 / 0.08
HC + NOx (g/km): 0.23 / 0.17
Particulate emissions (g/km): 0.005 / 0.005
Group M1 – passenger vehicles with no more than eight seats plus driver. Max. total permissible weight 3,500kg. Test procedure NEDC 2000.
For the E250 BlueTEC, the modern 2.2 liter four-cylinder CDI engine underwent a detailed redevelopment program in order to further reduce the internal raw emissions generated by the engine and to fulfill the legislative requirements for on-board diagnostics (OBD), as well as other factors. The power unit hardware incorporates features from the series production engines, such as four-valve technology, fourth-generation common-rail piezo direct injection, 2-stage turbocharger and exhaust gas recirculation. A highly sensitive electronic engine control system reacts precisely across the full range of operating conditions to optimize the combustion process. The exhaust gas treatment system incorporates an oxidation catalytic converter mounted close to the engine, as well as a diesel particulate filter, which is located at the rear bulkhead in order to shorten its regeneration time.
At the heart of the BlueTEC system are two SCR catalytic converters (Selective Catalytic Reduction) with an "AdBlue®" injector positioned upstream. "AdBlue®" is a synthetic, aqueous urea solution that enables the nitrogen oxide (NOx) to be converted into harmless nitrogen gas in the SCR catalytic converters. The monitoring and diagnosis of the sophisticated exhaust gas treatment process is handled by several sensors, including a differential pressure sensor, a Lambda probe plus NOx and temperature sensors.
For on-board storage of the "AdBlue®" solution, the E250 BlueTEC has a 25 liter tank equipped with a membrane pump, valve, pressure and temperature sensors. The tank volume is sufficient for the duration of a full service interval and is refilled as part of the regular maintenance schedule. The "AdBlue®" tank is integrated into the spare wheel well in the trunk.
E250 BlueTEC combines environmental awareness, driving fun and comfort The combination of the powerful four-cylinder engine with SCR technology makes a convincing argument not only in terms of fuel economy and emissions, but also with impressive performance and the associated fun factor. Thanks to a pair of Lanchester balancing shafts, the concept vehicle's powertrain boasts the exceptionally smooth characteristics expected of a Mercedes-Benz.
Summary technical data for the E250 BlueTEC:
Engine/cylinders – Diesel/I4
Transmission – 7-speed automatic
Displacement – 2143 cm³
Nominal power output – 204 hp
Nominal torque – 369 lb-ft at 1600-1800 r/min
U.S. fuel economy* City Highway – 28 mpg 39 mpg
U.S. emissions compliance – Bin 5
*preliminary figures
In Europe, this BlueTEC technology is available in a series production model starting fall 2009 with the E350 BlueTEC. Under its hood is a V6 diesel engine with 211 hp and 540 Nm of torque. This means that Mercedes-Benz will very soon offer a series production passenger vehicle that complies with the EU6 emissions standard not scheduled for implementation until 2014.