First Look: 2010 Land Rover Range Rover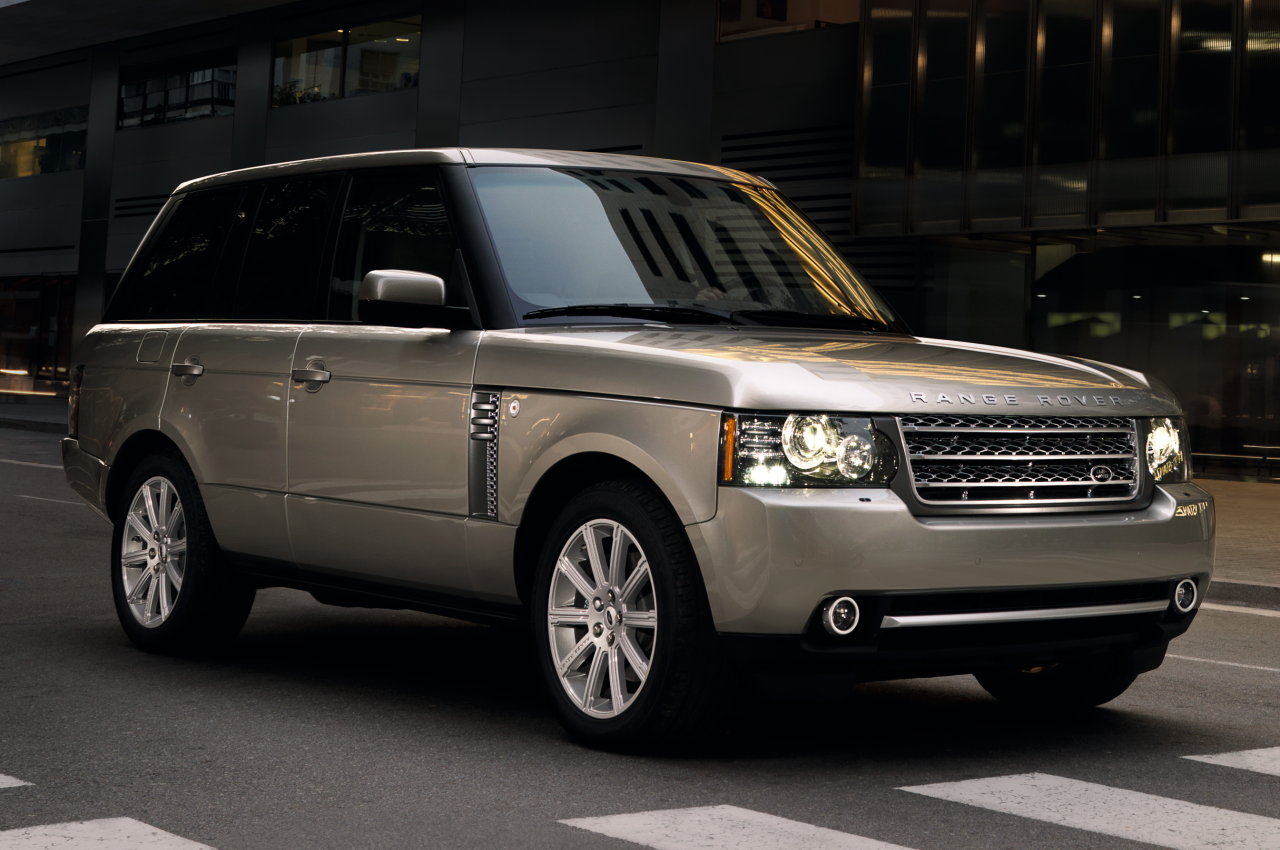 Land Rover is unveiling three models for the New York Auto show, the first of which being the 2010 Range Rover. It features two available engines: a 5.0-liter supercharged V-8 engine that puts down 510 horsepower and 461 pound feet of torque, and a naturally aspirated 5.0-liter V-8 capable of 375 horsepower and 375 pound feet.
The new Range Rover also gets an updated Terrain Response controller, an upgraded interior with new tech, and some subtle design changes.
Scroll down for the press release.

Land Rover's most complete luxury all-terrain vehicle just got better: the new 2010 Range Rover
*
All-new efficient and powerful LR-V8 engines
*
5.0-liter V8 supercharged
o
510 bhp and 461 lb/ft torque
*
5.0-liter V8 naturally aspirated
o
375 bhp and 375 lb/ft torque
*
Subtle exterior design changes enhance the classic Range Rover design with contemporary details
*
Upgraded interior, featuring physical instrument cluster replaced by 12" Thin Film Transistor (TFT) screen with 'virtual' dials and information displays
*
State-of-the-art Adaptive Dynamics technology to further improve the Range Rover's peerless ride quality
*
New brakes for all engine derivatives
*
Updated Terrain Response™ and Dynamic Stability Control System for all-terrain performance
*
Active safety aids including Adaptive Cruise Control, Emergency Brake Assist, available Blind Spot Monitoring and Surround Camera system
Powerful new engines, advanced interior technologies and enhanced driving dynamics reinforce the position of the 2010 Range Rover as Land Rover's most complete luxury all-terrain vehicle. Land Rover's flagship has been comprehensively updated to deliver more refined and efficient performance, along with the ultimate in interior comfort and craftsmanship.
"The 2010 Range Rover is a considerable step forward for what is already regarded as the one of the world's most complete luxury vehicles. New engines deliver formidable power, efficiency and customary Range Rover refinement, and new technologies, such as the 12" TFT instrument cluster. The 2010 Range Rover remains the benchmark and continues to set the pace in its segment," says Phil Popham, Land Rover Managing Director.
The 2010 Range Rover has two brand new 5.0-liter LR-V8 engines – the top of the range 510 bhp supercharged unit, and the 375 bhp naturally aspirated version. Both engines were developed in-house by the Jaguar Land Rover powertrain team, with the requirements of the Range Rover in mind from day one.
The LR-V8 engines have been developed to deliver more power and refinement but without a corresponding increase in consumption and emissions. The result is a pair of lightweight direct fuel injection engines with class-leading efficiency, which provide significantly more usable low end torque and superior dynamic responses without compromising power at higher RPM. Both engines are compliant with stringent U.S. ULEV2 emissions regulations.
The performance of the all-new naturally aspirated LR-V8 is now a virtual-match for the outgoing 4.2L supercharged engine. The new naturally aspirated vehicle completes the 0-60 mph sprint in 7.2 seconds (just 0.1 seconds off the pace of the outgoing supercharged unit). For those who want the ultimate performance Range Rover, there is now the all-new LR-V8 5.0L Supercharged, which is propelled from rest to 60 mph in an impressive 5.9 seconds.
The 2010 improvements include subtle exterior revisions, featuring discrete changes to the headlights, grille and bumper which enhance the classic Range Rover design with more contemporary detailing. The interior benefits from more luxurious materials and finishes which add further refinements to the premium cabin ambiance.
More significantly, the 2010 Range Rover uses some revolutionary new interior technologies which enhance the experience for both driver and passengers alike.
A dramatic innovation is found in the instrument cluster. Here, traditional physical instruments are replaced by a 12" Thin Film Transistor screen which presents all essential driver information via cleverly designed 'virtual' dials and graphical displays.
"The new display technology used by the 2010 Range Rover is a major advance. It gives us tremendous flexibility in presenting information, so that the driver gets precisely the data they require, in all driving conditions," explains Nick Rogers, Chief Engineer, New Vehicle Architecture.
The vehicle incorporates state-of-the-art Adaptive Dynamics technology (optional on LR-V8 naturally aspirated) to further improve the Range Rover's peerless ride quality. All-terrain performance is also enhanced by updates to the Terrain Response™ and Stability Control systems.
To complete the package, the 2010 Range Rover benefits from a series of enhanced active safety aids including Adaptive Cruise Control, Emergency Brake Assist, Blind Spot Monitoring, available Automatic High Beam Assist (AHBA) and an available surround camera system.
"The Range Rover remains the consummate luxury SUV . Its combination of unrivalled all-terrain performance with the ultimate in comfort and refinement, remains a clear industry benchmark," says Phil Popham.
All-new LR-V8 engines deliver outstanding performance and efficiency
*
All-new 5.0-liter V8 design with 510bhp SAE supercharged and 375bhp SAE naturally aspirated versions
*
510bhp engine has 31 percent more power and 12 percent more torque than previous 4.2-liter supercharged engine
*
375bhp engine has 25 percent more power and 19 percent more torque than previous 4.4-liter engine
*
Conforms to stringent ULEV2 emissions regulations
*
Multi-hole central spray-guided direct injection is highly efficient – industry first.
*
High efficiency, 6th generation Eaton™ twin-vortex supercharger
*
Torque-actuated variable camshaft timing on all four cams in V8 engine – industry first
*
Camshaft profile switching and variable length inlet manifold optimzes power and torque
*
Reverse cooling improves engine efficiency and speeds cabin warm-up
*
Class-leading, low-friction design features
*
Lightweight construction uses recycled materials
*
15,000 mile (24,000 km) service intervals
"Both versions of the V8 return impressive levels of power and torque combined with optimized fuel consumption and emissions – the supercharged 5.0-liter engine is one of the most fuel efficient in its class. As well as stunning top-end performance, they also deliver the low-end flexibility essential for real-world driving."
Malcolm Sandford, Engine Group Chief Engineer, Land Rover
The Range Rover gets an all-new engine line up with a choice of two 5.0-liter LR-V8 units in supercharged and naturally aspirated guise. The two engines were developed in conjunction with Jaguar, which is the first time engines have been designed from the onset with the requirements of both brands in mind. Shared primary objectives included the highest possible torque and fast response from low revs.
Although the basic engine architecture of both engines is the same for each brand, Land Rover engine requirements differ to satisfy demanding all-terrain needs. For example, the engines feature a deeper sump to accommodate the extreme tilting angles experienced when driving the Range Rover off-road, and to accommodate the front differential which attaches to it. In addition, belt drives are waterproofed, as are the alternator, air conditioning compressor, power steering pump and starter motor.
The supremely powerful supercharged LR-V8 delivers 510 bhp and 461 lb/ft of torque, while the naturally aspirated version produces 375 bhp and 375 lb/ft of torque. Two of the most advanced engines ever built, they are packed with innovative features to ensure that they are also two of the most efficient in their class.
Both derivatives were developed with an emphasis on delivering a smooth, refined and responsive driver experience, with excellent power characteristics. Compared to the current 4.2-liter V8 the supercharged engine increases power and torque outputs by 29 percent and 12 percent respectively.
Yet when it comes to regulated emissions both engines are incredibly clean, meeting the stringent American ULEV2 (ultra low emissions vehicle) regulations.
Direct injection – increased power and torque, lower emissions
One of the key features of the new LR-V8 is an industry first, centrally-mounted, multi-hole, spray-guided fuel injection system, delivering fuel at a pressure of up to 150bar (2,175 psi) directly to the cylinder. The positioning of the injectors ensures fuel is precisely delivered to the center of the combustion chamber, maximizing air-fuel mixing, and improving combustion control.
Fuel is delivered by twin, high pressure fuel pumps driven via an auxiliary shaft in the all new engine block. Delivery of fuel direct to the cylinder has substantially contributed to improved low speed, dynamic response which is particularly useful off-road while adding to driving pleasure on-road. The charge cooling effects of the direct injection fuel system have allowed the compression ratio of the naturally aspirated engine to be raised to 11.5:1, further improving the engine efficiency.
During the engine warm-up phase, the combustion system employs multiple injection mode strategies to deliver 50 percent more heat for fast catalyst warm-up and reduced emissions.
6th generation Eaton™ supercharger – quieter and more efficient.
A sixth generation, Eaton™ twin vortex system (TVS) supercharger is fitted to the 510 bhp engine. A compact Roots-type unit, it feeds air through twin intercoolers which in turn are water-cooled by their own cooling circuit. The high helix rotor design both improves the supercharger thermodynamic efficiency and improves noise quality to the point where the unit is virtually inaudible. The intercoolers reduce the temperature of the pressurized intake-air and so optimize power.
The air intake has been radically redesigned compared to the previous V8. The intake air path is a direct feed to the supercharger inlet from the centrally mounted front throttle body. Air is delivered through twin air boxes which reduce flow loss and further increase efficiency. Mechanically, the new supercharger and its intercoolers are efficiently packaged in the V of the engine to deliver a low overall engine height.
New variable camshaft timing system boosts engine torque, saves energy
A new type of variable camshaft timing system (VCT) on the V8 engine introduces another industry first. The four VCT units are activated by the positive and negative torques generated by opening and closing the intake and exhaust valves, instead of by oil pressure. This has allowed the engine oil pump to be reduced in size, saving energy and reducing fuel consumption.
VCT units work independently on all four camshafts with 62 degrees of authority on the inlet cams and 50 degrees of authority on the exhaust cams. Timing is optimized by the engine control unit for torque, power and efficiency at every point in the engine's speed range.
The response rate of the new VCT units is 25 percent quicker than before with actuation rates in excess of 250 degrees per second. This delivers a more immediate engine response to the driver's demand.
Camshaft profile switching – flexibility with performance
In addition to VCT, the naturally aspirated LR-V8 is also equipped with camshaft profile switching (CPS) on the inlet camshaft. Depending on the engine's running conditions and the requirements of the driver, the CPS will switch between a profile that is ideal for low speed driving, and another which gives increased valve lift for high performance. This feature helps endow the Range Rover with ample low end torque in demanding terrain, yet fully exploits the potential of the 5.0-liter V8 when conditions allow.
An hydraulically-actuated two-piece tappet switches between profiles on the tri-lobe camshaft altering both the lift and duration. The cam lobe profile selected for engine speeds below 3000 rpm has a duration of 214 degrees and lifts the valves 5.5mm. This optimizes gas velocity for improved low-speed torque and reduces valve train friction for improved fuel efficiency. For high-speed driving, CPS switches to a cam lobe with a duration of 250 degrees and valve-lift of 10.5mm, allowing greater air flow into the engine for high power.
Variable Inlet Manifold (VIM) optimizes power and torque
Complementing VCT and CPS on the naturally aspirated LR-V8 is a new variable inlet manifold (VIM) which can vary the length of its eight inlet tracts to optimize power and torque throughout the rev range. As a consequence, the engine can develop the maximum possible low-end torque yet breathe well enough to develop the maximum possible power at high rpm. Vacuum operated actuators open valves to select a longer, 680mm, inlet tract at low revs, increasing the rate of both the airflow and the engine torque. As the revs climb beyond 4,700rpm, the actuators select a shorter, 350mm, path allowing a greater volume of air into the engine for higher power. The actuator position is continually optimized by the engine control unit for torque and efficiency throughout the engine speed range.
Warm up quickly with reverse flow cooling
The search for greater efficiency has in some areas led to a complete rethink of fundamental engine design concepts. An example is the innovative reverse flow cooling system which delivers thermodynamic and friction improvements. The new design means coolant is pumped through the cylinder heads before flowing through the block and returning to the radiator. Since the cylinder heads remain cooler, the knock threshold is pushed back allowing greater optimization of ignition timing for improved efficiency.
In addition, the 22 kW oil to water heat exchanger, packaged at the core of the engine, transfers heat from the coolant to the lubricating oil during warm up, bringing the oil up to operating temperature 14 percent faster than the previous cooling system. This 'reverse flow' approach substantially improves fuel consumption in the crucial engine warm-up period and helps warm the cabin more quickly.
Strong and compact
The new LR-V8 engines are built around a stiff, all new, aluminum block with cast-in iron liners and cross-bolted main bearing caps, to reduce noise, vibration and harshness. For the first time at Land Rover, the blocks are high pressure die-cast rather than sand-cast, providing a superior finish and dimensional greater accuracy. The engines also have aluminum heads, with four-valves per cylinder and strong, spheroidal-graphite cast-iron crankshafts and steel connecting rods. The cylinder heads and blocks are manufactured using recycled aluminum alloy for the first time, thus reducing the environmental impact of manufacturing the new engine.
The new direct injection engines are more compact than their predecessors. Overall engine length has been reduced by relocation of the oil pump within the engine architecture. Overall engine weight (fully dressed with all ancillaries) is 210kg for the naturally aspirated unit and 236kg for the supercharged unit.
Reduced internal friction combats CO2
Internal friction, a major contributor to increased fuel consumption and CO2 emissions, has been targeted by careful design of the engines' components. As a result, the Range Rover's new LR-V8s achieve another best in class for crank train friction.
All engine bearings were the subject of an extensive optimization, reducing friction without compromising reliability. Diamond-Like Carbon Coating (DLC) has been used to reduce friction on the fuel pump tappets and a solid film lubricant has been used to coat the piston skirts.
Land Rover has developed a unique, intelligent oil-pump pressure relief valve (PRV) which senses oil pressure deep in the engine's oil galleries to more accurately control oil pump delivery. As a result, oil pump frictional losses are reduced during the warm-up period.
The engines have also been designed around a 5W-20 synthetic oil. The new oil has a lower viscosity, primarily at low temperatures, reducing parasitic losses in the engines and contributing to an extension in service intervals from 7,500 miles to 15,000 miles or 12 months. The new LR-V8 engines are also fitted with an electronic dipstick for added peace of mind.
Responsive new transmission
The 2010 Range Rover's new engines are mated to the revised and super-smooth ZF HP28 6-speed automatic transmission. Its characteristics have been optimized by Land Rover engineers to provide rapid and refined shifts. The dramatic enhancement of both power and torque low down the rev range on the new engines have made it possible to actuate the transmission's lock-up clutch much earlier in each gear, reducing slip through the hydraulic torque converter, so helping with the improvements in both fuel consumption and CO2 emissions.
The transmission features an intelligent sport mode, which can sense and adapt transmission characteristics to particular driving styles.
Enhanced vehicle dynamics – both on- and off-road
The 2010 Range Rover benefits from a comprehensive program of refinements to its vehicle dynamics. The enhancements include features that will improve ride and handling during on-road driving, plus a series of measures that give greater capabilities when driving off-road or when towing.
Unique adaptive dynamics system improves ride and control
The 2010 Range Rover has an advanced new Adaptive Dynamics system which further improves the Range Rover's peerless ride quality with greater refinement and superior body control.
It is the world's first production system to employ model-based predictive technology that continually optimizes damper settings for the widest possible range of conditions. Conventional dampers are replaced by precision DampTronic Valve Technology™ damper units, which incorporate continually adjustable damper valves.
The predictive technology enables damper settings on each wheel to be continuously refined between 'soft', comfort oriented settings and 'hard', firm body control settings; damper pressure on each wheel is monitored 500 times per second. The system optimizes the vehicle's body and ride control, instantly responding to both the demands of the prevailing driving style and of the terrain encountered, in both on- and off-road situations.
Braking system gets more power and feel
The Range Rover is equipped with a new braking system which has been comprehensively updated to provide enhanced stopping power and improved driver feel.
The brakes for the naturally aspirated vehicle are based on the four-piston opposed caliper performance system from the outgoing Supercharged model. The updated system employs 14.2-inch (360mm) ventilated front discs with new twin piston cast-iron sliding calipers for enhanced pedal feel.
The rear features 13.8-inch (350mm) ventilated discs with lightweight aluminum single piston sliding calipers.
The braking system for the Supercharged model has been developed with performance brake specialists Brembo™. This system employs 15-inch (380mm) ventilated front discs with unique lightweight aluminum six-piston opposed action monoblock calipers. 14.3-inch (365mm) ventilated discs with single-piston sliding calipers are fitted at the rear.
Greater control and safety around corners
A refinement to the stability control system helps automatically slow the vehicle if taking a corner too fast, thus enhancing driver control.
Enhanced Dynamic Stability Control interfaces with the brake modulator and powertrain control module. If the speed is too great for engine torque reduction to control the vehicle, automatic braking intervenes to reduce the vehicle speed, with braking pressure applied according to the severity of the situation. At decelerations in excess of 0.7g the brake lights are automatically applied to warn following traffic.
This feature is complemented by the new Roll Stability Control system, which is designed to intervene in the unlikely case of an extreme situation in which the possible onset of a rollover is detected. In such situations, the system is designed to take over and perform very rapid, wheel specific braking, to help reduce speed and marginally widen the cornering radius.
Improved performance and stability off-road
The award winning Terrain Response™ system is subject to a whole series of improvements, including enhanced capabilities when tackling challenging terrain like sand or large rocks.
For soft sand – one of the most power-hungry surfaces – 'sand launch control' has now been introduced, which makes for noticeably easier drive-away. New, speed-dependent wheel-slip targets for the traction control system permit only very limited initial wheel-slip, helping to prevent the wheels digging down into the sand.
New for Range Rover, revisions to the rock crawl program improve brake and traction control response times, helping to reduce the wheels rolling in an unintended direction when traversing boulders, and giving a more composed drive through rocky terrain.
Land Rover's much-acclaimed Hill Descent Control system is enhanced on the latest Range Rover with the addition of Gradient Release Control. This inhibits the initial rate of acceleration for descending very steep inclines, to increase control when braking is released at extreme angles.
More stable towing
For safer and more stable towing, the 2010 Range Rover incorporates Trailer Stability Assist. This system detects trailer oscillations by monitoring key vehicle behaviors, such as uninvited steering movements and slight vehicle swing in response to trailer behavior. In these circumstances, the system can initiate engine torque reduction and braking interventions to help bring the towing back under control.
Classic Range Rover style with contemporary details
"We have introduced a number of more contemporary design elements on the 2010 Range Rover, but have been careful not to disturb the vehicle's classic proportions and unique silhouette. The refined detailing and cleaner surfaces of the 2010 model retain the timeless and noble qualities which are traditional hallmarks of Range Rover design."
Design Director, Gerry McGovern
The 2010 Range Rover features subtle revisions to the exterior design, introducing some attractive new design elements which enhance the classic Range Rover style with more contemporary detailing.
New headlights feature the Range Rover's trademark inter-locking circle design, but are more clearly visible, day or night, with LED lamp technology. The headlights are marginally shallower, and 'bookend' a deeper, more upright mesh grille.
A new bumper completes the smoother, more sculpted front end, reflecting the clean surface integration which is now characteristic of Range Rover design. The fog lamps are relocated from the bumper skin to the lower front air-intake.
The side of the vehicle features new 'three-stripe' LED indicators and redesigned three-section fender vents. The same design theme is adopted by the rear LED light clusters, which incorporate 'three-stripe' directional indicators.
Interior showcases luxurious materials and revolutionary technologies
Superbly crafted new materials and some revolutionary display technologies help to improve a cabin that is already widely regarded as one of the automotive world's finest.
To further enhance the premium interior ambience, the 2010 Range Rover introduces new luxury grade European leather trim for the headlining, pillar and door casings. Fascia buttons now feature a satin chrome-plated finish, which are beautifully highlighted by the Range Rover's upgraded waterfall interior lighting. High quality satin black and natural wood finishes complete the sumptuous feel of the interior architecture.
'Virtual' dials and graphic displays replace traditional instruments
One of the major innovations in the 2010 Range Rover is found in the instrument cluster. Here, traditional physical instruments are replaced by a 12" Thin Film Transistor screen which presents all essential driver information via cleverly designed 'virtual' dials and graphical displays.
The system's message center (the area between rev counter and speedometer) can be customized by the driver to display personal prioritized information, from system warnings, outside temperature and vehicle information to less critical data such as audio and telephone displays.
The message center also relays off-road information, such as steering angle, wheel articulation, suspension settings and Terrain Response™ settings.
Fingertip control of settings and menus on the TFT screen is provided by an updated steering wheel which incorporates a five-way controller.
Update Touch-screen Technology
The touch-screen retains all the functionality of the previous display, but the graphics and menus have been redesigned for easier and more intuitive operation, allowing the number of 'hard' buttons around the screen to be reduced by a third. As before, functions such as satellite navigation, DVD video, and audio systems can be controlled via the display.
An updated voice control system with enhanced voice recognition software complements the touch screen, and can be used to control a range of entertainment and comfort features such as the audio system and climate control.
Advanced vehicle technologies enhance convenience and safety
"The technologies built into the 2010 Range Rover are designed to improve convenience and safety, reducing the stress of driving in modern motoring conditions, on all terrains. With technology sharing the workload, the result is a more relaxed, alert driver."
Paul Walker, Chief Program Engineer
The 2010 Range Rover incorporates a comprehensive selection of advanced vehicle technologies which enhance convenience and improve active safety for the driver.
Adaptive Cruise Control
The 2010 Range Rover features Land Rover's Adaptive Cruise Control system (ACC) for the first time. The system employs a 76GHz scanning radar to locate vehicles moving in the same direction, and is designed to maintain optimal vehicle speed by using acceleration, deceleration and braking to keep a specified distance from the traffic ahead.
ACC comes with four driver-selectable settings, designed to suit individual driving style and traffic / road conditions. The driver can select a 'headway' of between 1 to 2.2 seconds, with a default setting of 1.8 seconds; this equates to a 50 meter distance from the vehicle ahead when travelling at 62 mph (100km/h). The system is designed to operate at speeds of up to 112 mph (180km/h).
Vehicles fitted with the ACC system also benefit from a new Advanced Emergency Brake Assist system. Working in conjunction with the Forward Alert System's radar, this primes the vehicle's braking system, and even initiates braking in extreme circumstances if a collision is judged possible. Valuable improvements in braking distances have been recorded in the testing of this system.
Updated infotainment systems
A new hard-drive navigation system provides faster route calculation, larger area map coverage and improved reliability. The navigation system adopts an improved navigation structure which now also features 'towards guidance'. This supplements the junction map and icon-based information with details of the actual road signage viewed by the driver along the route.
The available new Portable Audio Interface allows connectivity to an array of personal audio storage devices, USB sticks and MP3 players, enabling the various devices' functions to be accessed and controlled via the fascia-mounted touch-screen system. One of the connectivity ports is a dedicated iPodTM point made exclusively by Land Rover, for continued functionality in extreme driving conditions, by helping to prevent the device coming loose from the socket.
And a purer, crisper radio sound is now available thanks to the introduction of an optional HD Radio in the U.S. Along with the fine listening experience, come additional features such as song title and artist information.
Enhanced safety and visibility
The 2010 Range Rover has a blind spot monitoring system available which uses side-mounted radar sensors to detect vehicles and other solid objects in the vehicle's blind spot area. If an object is detected, a bright amber warning icon is illuminated in the driver's door mirror.
Available as an option, is a new Surround Camera system which supports easier parking, towing and off-road maneuvering. It features five digital cameras which relay a near 360-degree view to the touch-screen display. The cameras function immediately as the vehicle is started, and have options for selecting and zooming in to assist with close quarter parking and with towing.
The patented 'reverse tow assist' function (selected from the touch-screen menu) helps perform accurate towing maneuvers. The wide fields of view on the side cameras give a clear view of the reversing trailer and the images are electronically manipulated to provide an undistorted view. Guide lines overlaid on the rear camera image illustrate both the vehicle and trailer's trajectory and these move in line with steering inputs, making it easier for the driver to predict where the trailer will move to, before performing the reversing maneuver.
Specific characteristics such as type of trailer, number of axles and width guides can be fed into the system to enhance the system outputs.
The Range Rover's front headlights incorporate optional high beam assist technology. This can automatically switch on high beam headlights where external light levels are below the system's threshold. Importantly, the system is also designed to detect preceding and approaching traffic, and in a split second will automatically switch back to low beam to avoid dazzling others.
All-new electrical architecture
The performance of many of the 2010 Range Rover's advanced technologies is enhanced by a completely new electrical architecture which supports more efficient integration between the various systems. Information is shared between electronic components via a high speed Controller Area Network (CAN), with a fiber optic Media Orientated System Transport (MOST) network controlling the modules of the infotainment system, enhancing reliability and saving weight.