Expanding The 718 Lineup: The 2020 Porsche Boxster T And Cayman T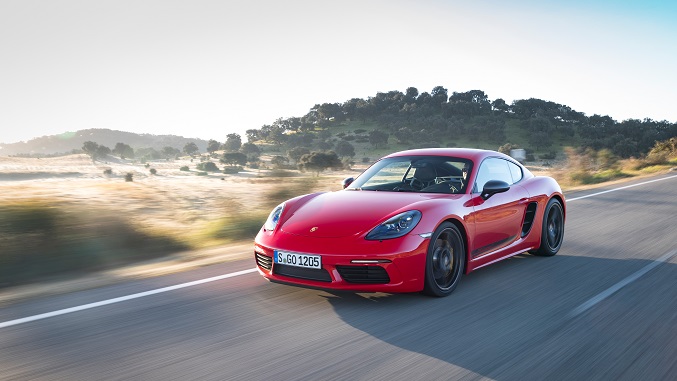 Porsche has introduced a new T variant for the 718 Boxster and Cayman featuring a handful of standard features that improve an already excellent chassis. The PASM Sport Suspension, which is optional on 718 S and GTS models, is standard on 718 T models, which is comprised of shorter springs, retuned adaptive dampers and a 0.78-inch lower ride height compared to the standard 718 Boxster and Cayman models. A mechanical limited slip differential, again optional on 718 and 718 S models, is also standard for the 718 T variants. Furthermore, the 718 Boxster T and Cayman T are equipped with 20-inch 911 Carrera S wheels as standard, painted in a special Titanium Grey finish (one of the best-looking wheels ever bolted to a Porsche hub in our opinion).
The 718 Boxster T and 718 Cayman T have the same 2.0-liter turbocharged four-cylinder boxer-engine as the standard Boxster and Cayman under the rear hood, which develops 300 hp and 280 lb.-ft. of torque. Combined with the optional PDK transmission and utilizing its intuitive launch control, regardless of whether the car has a solid roof or not, it can reach 60 mph from standstill in just 4.5 seconds. Porsche continues to do right by enthusiasts by offering a standard 6-speed manual transmission, though equipped with a short-throw shifter that's reminiscent of the 718 Spyder and Cayman GT4.
The interior features special accents that remind the driver that these cars were designed to be fun to drive from the ground up. Sport Seats Plus with more pronounced bolsters and special, breathable fabric are standard, while full bucket Seats that are normally reserved for 718 GTS, GT4 and Spyder models, can be tacked on as an option. It wouldn't be a special, performance Porsche without door opening loops instead of handles, as well as "718" stitched into the headrests. Special contrasting stitching can also be ordered as an option, with a cool of palette of Guards Red, Racing Yellow, Lizard Green, or GT Silver to choose from.
Unfortunately it'll be a while before the 2020 718 Boxster T and 718 Cayman T arrive on our shores in the US; they're available to order now, but are expected to reach U.S. dealers in Summer 2020. The base MSRP isn't bad at all considering the Cayman GTS fetches quite a bit more: $66,400 for the Cayman T, while the 718 Boxster T will cost enthusiasts $68,500.
Info and photos courtesy of Press.Porsche.com.